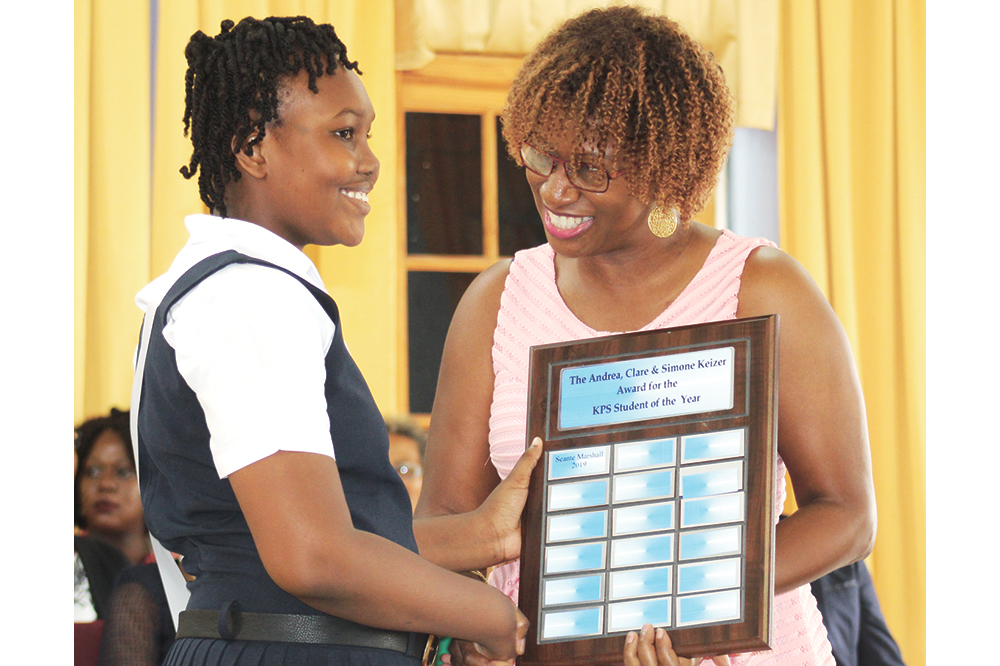 Top CPEA performer eyes marine biology
An aspiring marine biologist is this year's top local performer at the Caribbean Primary Exit Assessment (CPEA) examinations.
Seante Marshall, the 11-year-old daughter of Sean Marshall and Ikarmola LaBorde placed first with an average of 96.80 per cent.
"When I heard, I was excited. I was in between expecting it, meaning that I knew I would do well, but I was not actually sure I was going to come first," the Ratho Mill resident told SEARCHLIGHT on Monday at the Kingstown Preparatory School (KPS).
She said when she woke up on Monday and she was told the good news, she was excited but wanted to go back to sleep.
"I was at home when the results came out. I was not planning to go to school, so it took me about an hour to get there," said Seante smiling.
Seante also topped the Language aspect of the CPEA with 98.67 per cent. This feat was also achieved by Kate-Lynn Meeliah Bobb of the Stubbs Government, Aroma Sweet Toria David of the Richland Park Government, Josea Alexander Thomas of the Richland Park Seventh Day Adventist and Jaden Abigail Edwards-Barry of the KPS.
Seante said Social Studies is her favourite subject and it showed as she was one of five students who earned a perfect score in Social Studies. The others were Kayleigh Hannah Kristen Tianna Bullock of the Calder Government, Christi Reesa Williams of the Fancy Government and Jabari Cyril Phillip Joseph of the Georgetown Government.
"Social Studies is my strongest subject because I like learning about other places and different things and other customs," said Seante who is looking forward to taking up her place at the Girls' High School (GHS).
"I want to go to the GHS because my family went there, and I will like to continue that tradition," Seante commented.
According to Seante, her recipe to success is working hard and not being overwhelmed by the work.
"I stopped going on my iPad and phone as much leading up to the exams," said Seante while adding, "if you want to do good, study hard and do not lose your aim/goal and do not get overwhelmed with the work. You have to find a balance between work and relaxation."
Seante told SEARCHLIGHT that she is leaning towards marine biology because she likes the ocean and learning about its mysteries.
"I am not completely sure what my career is going to be but I am aiming towards a marine biologist because I like learning about the ocean," Seante said.
The 11-year-old thanked her teachers who she said kept supporting all the students and work.
During the KPS's annual graduation ceremony yesterday at the New Testament Church of God at Wilson Hill, Seante was named both the Valedictorian and the Student of the Year. She also received awards for placing first in the CPEA and for top performance in language arts, mathematics and social studies.