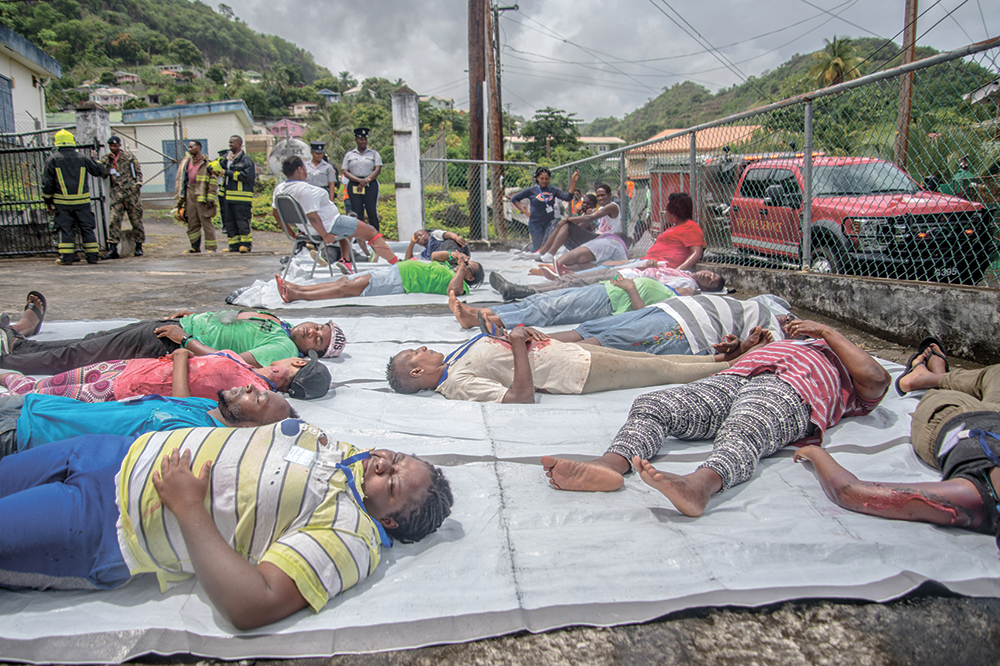 'Fake News' video of exercises puts some in panic
A "fake news" video recording, produced to give some level of authenticity to exercises relating to Tradewinds 2019, was so realistic that it scared several persons here and in the Diaspora.
Exercise Tradewinds is a military initiative which uses simulations to test the country's emergency response mechanisms and its Incident Command and Control Systems. Some 19 countries are part of the initiative including the United States of America (USA), Canada and France.
The "broadcast" from the fictitious World News Network (WNN) was over five minutes long and spoke about an eruption of the La Soufriere volcano and the evacuation of areas close to the volcano; a hostage situation at the Argyle International Airport (AIA) where a former employee was holding persons at gunpoint in a conference room; the discovery of two explosive devices at the Calliaqua Police Station and at a grocery store in East St George; and missing hikers among other incidents.
The video, which appears to have been recorded by someone holding a device up to a television screen, was published on social media and immediately triggered panicked responses from persons.
The video also elicited a response on Wednesday from acting Prime Minister Sir Louis Straker who in a Live briefing on Facebook, assured Vincentians that all was well while explaining the purpose and origin of the recording.
But while the video's content startled some persons, others who knew what it was about openly joked about the reaction of persons who thought it was real. One person suggested that Vincentians should read more.
On Wednesday, during a briefing at the Central Police Station in Kingstown, Commissioner of Police (COP) Colin John said the recording caused alarm, which was not the intention of Tradewinds.
He said in his opinion, enough was done to sensitize the public, including public relations exercises by a team in areas of the country that would be directly affected by the simulations.
The COP stressed that meetings, television programs, radio programs, call in programs and exhibitions were held to sensitize persons in addition to a social media push through Twitter, Facebook and Instagram.
John however said he would not use the word "leaked" to describe how the video made it into the public domain.
He said the video was sent out for people involved in the exercise to be alerted and similar recordings can be found on YouTube and other places.
"It wasn't a security breach or sinister motive that resulted it in being out there," said Commissioner John who added that the video being released to the public, although it should not have been, assisted them in seeing how the public would react if the scenarios were real.
Assistant Superintendent of Police (ASP) Junior Simmons who was directly responsible for public relations leading up to Tradewinds, said their public awareness campaign began since 2018.
He said in his opinion, the several events, exhibitions and radio jingles served to sufficiently inform the public, "and we think that we did our best".
ASP Simmons noted that at the end of the video, it indicated that it was an exercise and he does not think persons should have been alarmed.
Commenting, American Douglas Fitzgerald, lead planner for exercise Tradewinds, said he has been working with the initiative for seven years, and the news recording brings a sense of realism to the people taking part. He added that it is a tool that is used to bring the exercise alive and gain feedback.
Catherine Lewis, a representative from the United States Southern Command Public Affairs division explained that WNN is a fictitious news network that has been developed for Tradewinds training audiences.
"Nothing actually happened, there were no real-life incidences. It's all fictitious just like the volcano eruption did not happen, just like there was not an actual earthquake and it was just created for training purposes to see how people would react to the events," said Lewis.
Tradewinds comes to and end today June 21.