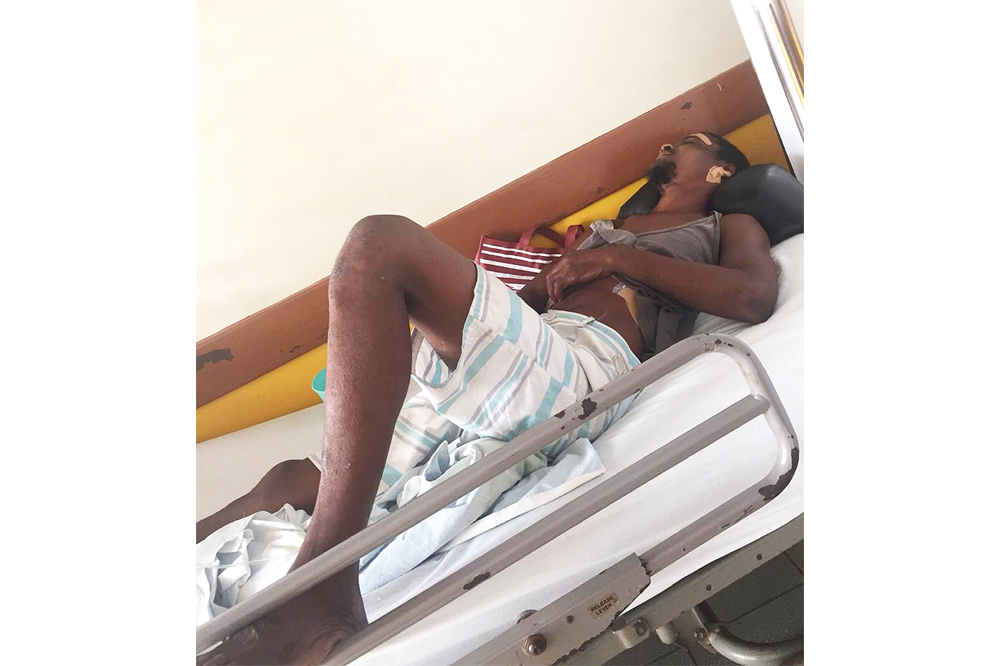 Union Island man dies after knife attack
Alex Stewart believes that negligence played a huge part in the death of his brother Richardo "More Fire" Stewart.
Ricardo was stabbed while hanging out at a snackette in Ashton, Union Island, after 8 pm last Wednesday June 12, but only made it to the Milton Cato Memorial Hospital (MCMH) on Saturday.
Alex said that on the day his brother, a resident of Jerome, Union Island, was wounded, the operator of the snackette had asked him to come hang with her as they were good friends.
He said Richardo was at the establishment when a man ordered a meal and when the business operator asked to be paid for the food there was a bit of hesitation on behalf of the customer.
Alex said that Richardo told his friend that it appears as if the customer had no money and he suggested that the woman take back the food.
Reports are that the man responded by asking Richardo if he wanted to be stabbed and when Richardo walked away, the man attacked him from behind and stabbed him with a knife on his forehead, at the side of his face and in his left lower abdomen.
Alex said after the stabbing the man grabbed the food and fled the scene and his brother was taken to the hospital in Clifton.
The angry man said that it seems to him that the hospital did not have the proper medication, and his brother was bandaged and a call to the coast guard to get him to Kingstown was not successful.
"They said that the coast guard was busy and could not come and normally, they would take somebody off one the flights, but that did not happen and all the people with private planes were busyalso," said Alex who noted that his mother eventually got a private plane to take his brother to Kingstown on Friday.
Alex said that before his brother left Union Island, the nurse telephoned the mainland and informed medical personnel there that an ambulance would be needed at the Argyle International Airport (AIA) to transport Richardo, but when the plane landed, the wounded man had to wait about 30 minutes for the ambulance.
The ambulance took Richardo to the Stubbs Polyclinic and he was later transferred to the MCMH where he underwent surgery but died in the Intensive Care Unit (ICU). He is said to have developed an infection.
"I think this is negligence. They could even have get someone off the flight. The man was there two days and with internal bleeding and the thing is also, the police don't have a report and when he passed away, that is when they really trying to look into the matter," said Alex.
Alex said that his brother is not a troublesome man, but he was an alcoholic.
"If I tell you the honest truth, me and me brother good and I use to tell him about the rum, but he never trouble people. I don't feel pleased at all. He wasn't a kind of man to say he have a trade or upscale job; he used to just hustle because he did not reach far in school because he has a problem with eyesight," said Alex who revealed that his brother celebrated his 35th birthday last April 1.
Alex said that what also angered him is that his brother's attacker remained on the loose until Sunday.
Police have detained Union Island resident Delroy Tittle in relation to the stabbing.
"His death could have been avoided," stressed Alex who thinks that medical care on Union Island is severely lacking with only one doctor and limited medication.
He said while there are about three to four nurses on the island, prescriptions oftentimes have to be taken to the one privately owned pharmacy on the island and they do not always have the required medication.
"The hospital condition is inhumane", said Alex who noted that his brother had started to show signs of infection as his stomach had already began to "swell" before he left the southern Grenadine Island.
Police are investigating what could be the fourth killing here for 2019, but up to press time no one had been charged.