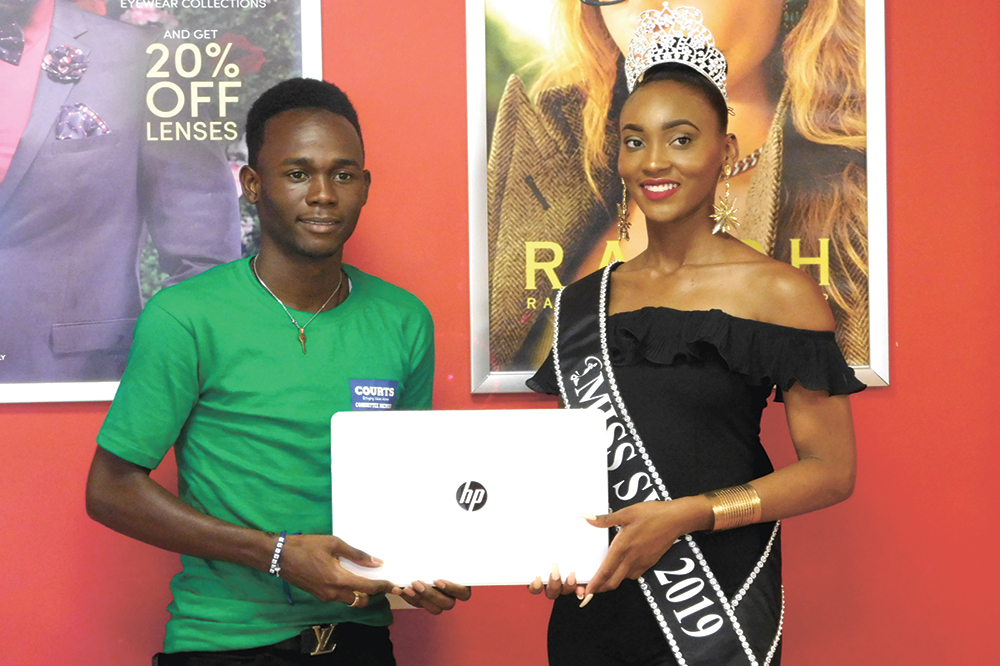 Miss SVG rewarded with new laptop from Courts
It has been almost two weeks since Sharikah Rodney was crowned Miss SVG 2019, but the presents are still coming.
Her latest gift was a laptop from Courts St Vincent Ltd which will help when she goes off to pursue her studies at university.
"We pride ourselves on working with our country with the community. That's what we do. We are not only about electrical and furniture, but we are about giving as well, so that's why we decided to make it our annual event of giving something to Miss SVG, whoever it is, doesn't matter who," the assistant commercial manager, Indra Grant told SEARCHLIGHT last Friday when they handed over the laptop to Rodney.
Grant said that Courts has been donating a laptop to Miss SVG for over a decade and she knows that it will be used well, especially since Rodney is scheduled to pursue her studies soon.
As the newly crowned Miss SVG, Rodney won an EC$80,000 scholarship which she intends to use to pursue forensic accounting at the University of the West Indies in Jamaica or Barbados. She is also considering universities in the United Kingdom.
And the national queen is appreciative of Courts St Vincent Ltd's gesture.
"…Winning Miss SVG has been quite an experience and it is an honour to be here with Courts today and receiving this laptop. It can help significantly in future, especially when I go off to do my studies, so I will definitely remember Courts for that, for playing that part in my studies so yes, I'm completely happy," she said.