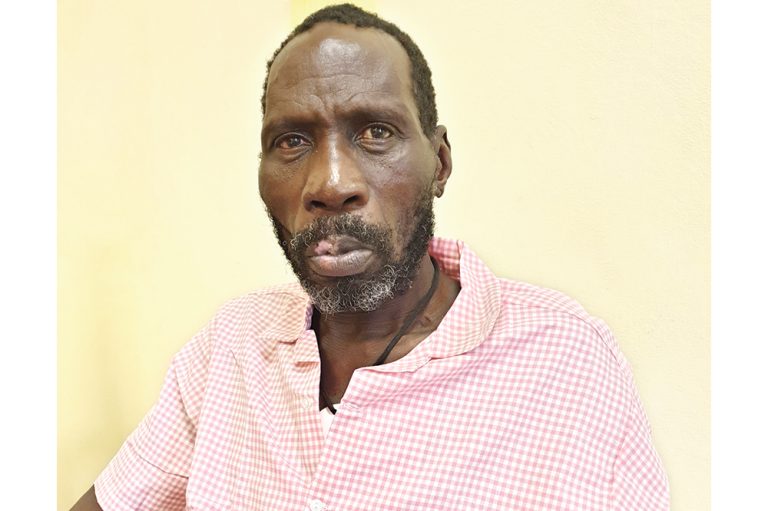 Ghanaian abandoned by ship 27 years ago, fighting to return home (+Video)
by Lyf Compton
Over 27 years ago, Ghanaian Hassan Kennedy left his homeland aboard a yacht, hired along with two of his friends, as crew.
His journey took him to Venezuela and Barbados. He eventually landed on St Vincent.
But according to Grenadian Ayyub Abdullah, the day the sailing vessel landed here, Kennedy and his two friends were given a day off. They decided to come ashore on St Vincent for a few hours, but when they returned to the spot where the vessel had docked (somewhere in East St George it is believed), the yacht was gone.
Abdullah, who first met Kennedy in 1992, said that he was told that there was a dispute between the operators of the yacht and the Ghanaian crew over promised wages and the men were left behind.
Kennedy's story is one of misfortune, according to Abdullah who reached out to SEARCHLIGHT via email on Tuesday, asking this newspaper to shed some light on Kennedy's plight and help him to return home.
Kennedy is said to have lost contact with his family members when he landed on Vincent and for the last 27 years, has remained here as he is unable to make the necessary connections and afford a ticket that will see him repatriated.
After the yacht left the men behind, they were detained by local authorities, charged under the immigration laws and imprisoned.
Abdullah said that later, the sister of one of the men took that man to Canada, while another of the Ghanaians forged a bond with a local church and later married one of its members. However, Kennedy ended up on the streets of Kingstown, eking out a living from washing cars and doing odd jobs.
Abdullah told SEARCHLIGHT that when he met Kennedy, he was told by the Ghanaian that he wanted to return home. He said Kennedy told him that he was once beaten by some men who refused to pay him after he had washed their vehicle.
Abdullah is of the opinion that Kennedy's situation and experiences are what have led to him being a patient at the Mental Health Centre (MHC) in Glen for the last several years.
On Wednesday, SEARCHLIGHT visited Kennedy at the MHC. He verified that he arrived in SVG about 27 years ago aboard a sailing boat on which he was working and was later arrested on immigration charges.
There is a slight language barrier as Kennedy is able to understand English well, but seems unable to speak it with fluency.
He said that shortly after arriving, he was arrested because he did not have the required travel documents and was later sent to prison. SEARCHLIGHT was not able to ascertain at which point Kennedy was removed from Her Majesty's Prison (HMP) and at which point he ended up at the MHC, but there he has remained for years.
"I want to go back home long time," he told SEARCHLIGHT while stating that he knew about the visit of the Ghanaian president and he is hoping that light can be shed on his plight.
The visit he spoke about was the 24-hour visit to St Vincent and the Grenadines (SVG) on Wednesday by President of the Republic of Ghana, Nana Addo Dankwa Akufo-Addo.
Kennedy said he was a tailor in Accra before embarking on the journey that led him to SVG. He said that he never intended to remain in SVG this long.
The Muslim said he has overstayed his time here and he has no money, but would like to get back home to his family in Accra. He said he has no children, but he left a girlfriend back home in Ghana.
"I feel good," he said about the possibility that he may get to leave SVG at last and notes that Ghana has mental health institutions, but he does not want to go there.
He also noted that since he has been here, he has spoken to family members, but he has not heard from them in a very long time.
Kennedy wears a pendant on a string around his neck, a piece he says reminds him of Africa and where he wants to be.
Abdullah is hoping that Kennedy is repatriated soon and said he has been able to locate Kennedy's family members and they are willing to accept the Ghanaian back into their arms.
However, Abdullah also noted that he has contacted the Ghanaian authorities about the issue on many occasions but has not received the attention he thinks will bring the situation to a conclusion.
He is of the opinion that this is because it does involve prominent people.
"Injustices have been committed. All I want is for the authorities to assist him to get home," said Abdullah.
On Thursday, SEARCHLIGHT was able to contact Ghanaian Nuhu Iddrisu who said he is Kennedy's brother. Iddrisu, a firefighter in Accra, Ghana, said the family believed that Kennedy was dead and were very happy when they were contacted by Abdullah and told he was alive.
According to Iddrisu, Kennedy left Ghana when he (Iddrisu) was a boy and back in those days, there were many stories about persons stowing away on boats and being tossed overboard during voyages.
"It's probably about 30 years since he was missing. We want him back with us. His father has a house here, where he will live with us," said Iddrisu via WhatsApp call.
He added that Kennedy's real name is Hassan Ali Hassan and he was not aware that the name was changed until they heard from Abdullah.
"We want to know what all is needed to get our brother back to us. We will like the people who can help us to help us," Iddrisu stressed while adding that he is grateful that the situation is getting the attention it deserves.
Prime Minister Dr Ralph Gonsalves on Wednesday, ahead of the visit of President Akufo-Addo told SEARCHLIGHT that he had never heard about Kennedy's plight and would look into the matter.
"We don't have all the information. We will gather all the information and we will send it. I wasn't aware of it until it was brought to my attention. Twenty-five years is a long time, but nobody has ever checked me on it", Gonsalves told SEARCHLIGHT.
An immigration official told SEARCHLIGHT that normally, non-nationals usually source their own funds when deportation orders are given.
The official also noted that at times, persons have remained in SVG until they could buy airline tickets to leave and, in some instances, the government paid for the tickets.
On September 1, 2010, Attorney Jomo Thomas filed a Habeus Corpus motion in the High Court that led to the release from prison of two Africans who were jailed for over five years without being charged.
Those men, Benjamin Fife Danquah of Ghana and Emmanuel Johnson Chijioke of Liberia were said to have been falsely imprisoned, a breach of this country's constitution and international human rights laws.
On their release, the men were provided accommodation at the expense of the Government and told to provide information relative to their nationalities and details of their addresses. One of the men eventually left SVG while one is said to now reside on Union Island.