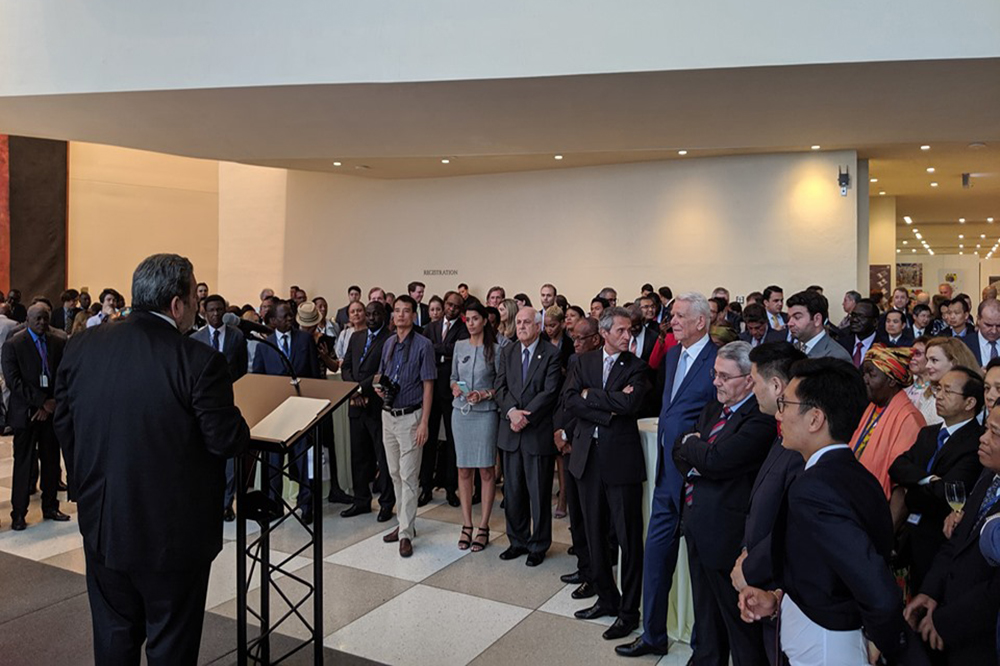 UN votes today on SVG's bid for Security Council seat
Member states of the United Nations (UN) will vote today to decide whether St Vincent and the Grenadines will sit as one of the non-permanent members of the Security Council.
Prime Minister Dr Ralph Gonsalves, at the launch of his most recent book on Monday, said that this bid has been in the works for over 10 years, as it was mentioned in the manifestos of the Unity Labour Party in 2010 and 2015.
Since then, the Prime Minister has restated SVG's intention to run for a non-permanent Security Council seat on several occasions.
The Security Council is one of the bodies of the UN which addresses matters of peace and security as well as conflicts across the globe and how to resolve those conflicts.
It has five permanent members: China, France, Russia, the United Kingdom and the United States and 10 non-permanent members which are elected for two-year terms by the General Assembly.
St Vincent and the Grenadines is seeking a seat as the representative of the Group of Latin America and the Caribbean (GRULAC) for the 2020 – 2021 term.
"I'd be very surprised and disappointed if we don't get the two thirds of the General Assembly. Out of the 193 votes, we need to get 129/130 and I have been counting heads and I feel sure we are above that number, but as they say in baseball in the United States, it's not over, til its over. It's not over til the fat lady sings and we are …I think we are in a good place," Gonsalves said.
On Tuesday, the Permanent Mission of SVG put on a display for the Member States of the UN to give them a "Taste of St Vincent and the Grenadines".
This display included long tables covered with booklets that featured the Amazona Guildingii with an olive branch beak to symbolise peace, and dozens of miniature bars of Vincentian Chocolate.
Gonsalves said that from reports, persons enjoyed the display and said that it was done in a classy manner.
"…It's inexpensive. We don't have any money to carry anybody on any cruise, but we can offer a brochure and a chocolate bar from St Vincent to draw attention and it is different," he said, noting that SVG's campaign for the seat began as long ago as it did because SVG does not have the funds to inject into a major campaign.
"We have led this campaign going now for 11 years. When people want to interpret this as Ralph wanting to self aggrandise – how I could start a campaign in 2009, I didn't know if I was going to be elected in 2010?," the Prime Minister said. "I didn't know if I was going to be elected in 2015…decided to have a long campaign to choose this period to go, 2020-2021 and for the election in June 2019, because we don't have money to spend on a big campaign. We have to win the campaign with ideas. We have to win the campaign with how we have conducted ourselves internationally and especially at the United Nations."
This country's international agenda for Corrective Action includes: tackling terrorism; stemming the spread of weapons of mass destruction; dealing with human trafficking; taking a stand against illegal drugs and small arms; treating appropriately with refugees; stopping violence against women and children; tackling scarcity of food and water and other humanitarian concerns; continuing the war against diseases; addressing Climate Change comprehensively; and righting historical wrongs.
Gonsalves said that his son, Camillo Gonsalves' recently launched book, 'Globalised, Climatised, Stigmatised' as well as his own most recent book, 'The Political Economy of the Labour Movement in St Vincent and the Grenadines' were both part of the campaign.
A summary of SVG's campaign has also been published in local newspapers today.
And Gonsalves said this is so "that whether we win or we lose, whether we get the seat or we don't get it, the people of St Vincent and the Grenadines will be able to read…what we have been about".