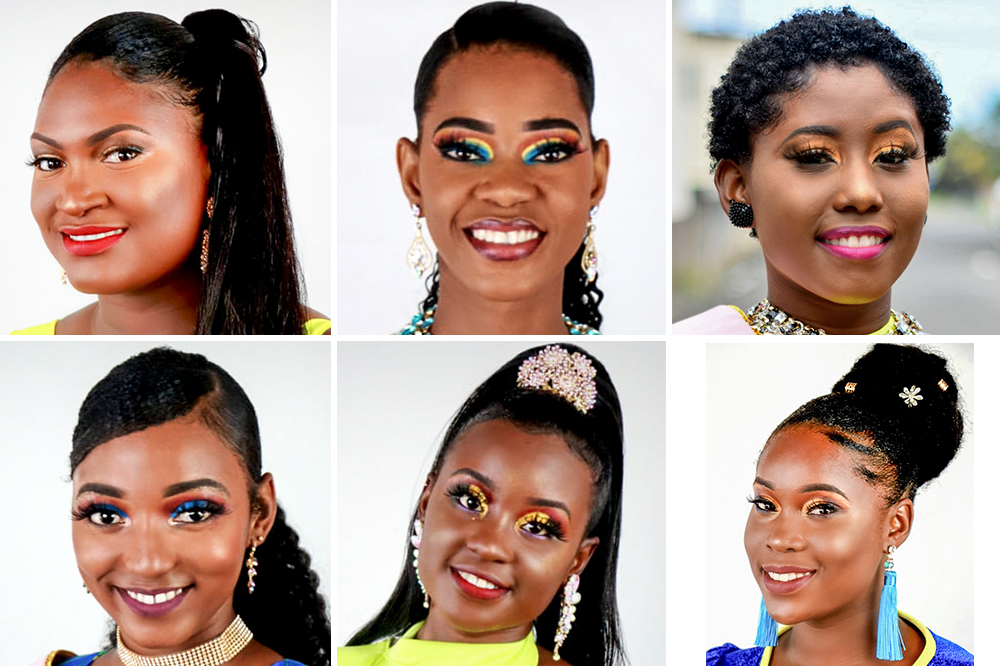 Six to vie for Miss Windward 2019 crown
The Miss Windward 2019 pageant, which takes place this evening, June 7 at the Chilli Playing Field will see six women competing for the title. The delegates represent different communities on the Windward side of mainland St Vincent.
Twenty-year-old Pallavi Browne is Miss Georgetown. She is a graduate of the St Vincent and the Grenadines Community College (SVGCC) Division of Arts, Sciences and General Studies where she pursued studies in Law, History and Sociology. Pallavi is currently pursuing a degree in International Relations at the University of the West Indies, Mona Campus and hopes to be an Ambassador or a Diplomat in the near future. In her spare time, you can find Pallavi indulging in dancing, fashion and modelling.
The community of Diamonds is represented by 20-year-old Ronique Rolene Cain. A graduate of the North Union Secondary School and the SVGCC, Ronique holds an Associate`s Degree in Hospitality and Tourism Management. Ronique aspires to be a hotel manager where she will be able to ensure that guests to the island enjoy their stay and return in the future. Ronique hopes that by entering the Miss Windward pageant, she can show women that all scars are beautiful and they can achieve anything they put their minds to, once they are committed and dedicated.
Zanel Cumberbatch is Miss Stubbs. The 22-year-old grew up in the small South Leeward community of Chauncey then later moved to Diamond. She attended the Barrouallie Secondary School and later the SVGCC Division of Technical and Vocational Education. Being the eldest of three siblings, Zanel was assigned many different tasks, such as taking care of her younger siblings. Zanel is a very even-tempered person. She enjoys being around friends, meeting new people and learning new things. In the future she wishes to be a guidance counselor especially for young girls.
The town of Biabou is being represented in the pageant by Kevenique Ellis who grew up in the community of Byera and lives in Cedars. The 21-year-old's hobbies include singing and dancing and she also enjoys reading and listening to various genres of music. A former student of the Girls' High School, Kevenique continued her studies at the St Vincent and the Grenadines Community College and aspires to become a flight attendant. She views the pageant as learning experience and hopes to take the lessons learnt along with her on this journey, which will contribute to her development.
Sabrina Johnson is Miss Lowmans Windward. She grew up in a household with six siblings and has always been grateful for her large family. She is a graduate of the Emmanuel High School Mesopotamia, where as a student she developed a strong love for netball. Sabrina looks up to her mother and attributes most of her confidence and success to her. Sabrina hopes to become a teacher so that she may not only use her knowledge and teaching skills to educate, but to also motivate and encourage the younger generation to make a change within their community.
The community of New Grounds will be represented by Ishanna Phillips. The 18-year-old is a graduate of the North Union Secondary School and is currently completing studies in Entrepreneurship and Small Business Management at the SVGCC Division of Technical and Vocational Education. She is a very determined individual, someone who does not give up easily, yet pleasantly calm. She chose the field of Entrepreneurship and Small Business Management because she hopes to become a successful business owner in the future, whether to provide a service or to introduce new products, which will benefit our society. Apart from the above, Ishanna enjoys dancing, singing, acting, speaking in British accent and most importantly spending time with loved ones.
The show beings at 8:00 pm and will feature performances by Dymez & da Pixel, Ron Pompey, Curty Banton, the Windward Calypso Tent and Sion Hill Euphonium.