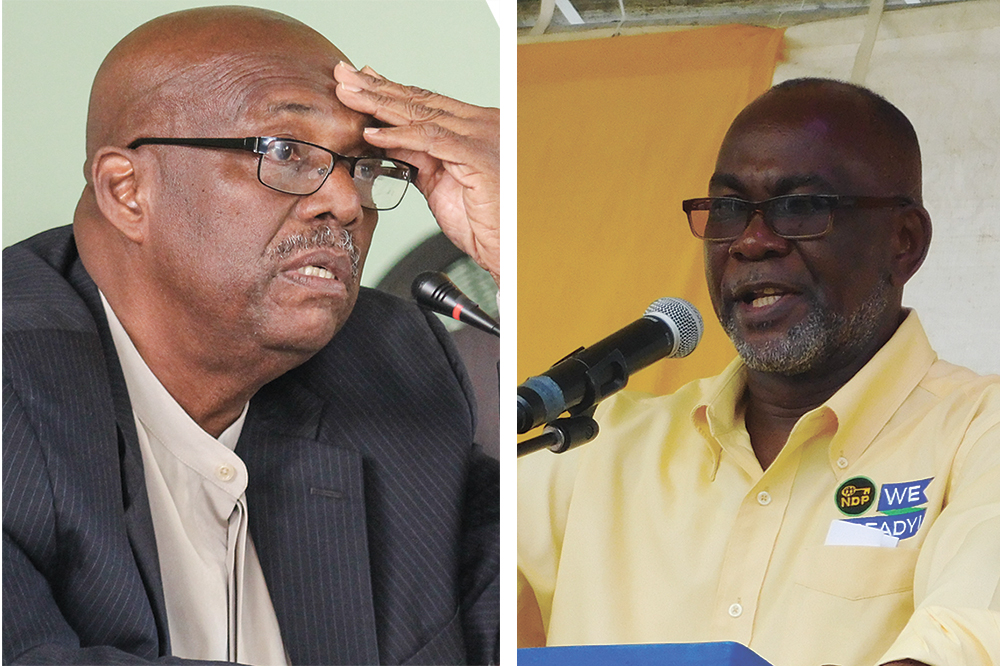 Eustace serves 'The Major' humble pie on live radio
'Unfortunate' is how President of the New Democratic Party (NDP) Dr Godwin Friday described comments made by NDP Vice President St Clair 'Major' Leacock about former leader of the party Arnhim Eustace.
Friday, in an interview with SEARCHLIGHT on Wednesday said Leacock's comment was "unfortunate" and that Leacock had acknowledged it and apologized.
"Mr Eustace accepted the apology and that is the end of the matter," Friday said.
He however declined to confirm reports that Eustace would not be contesting the next general elections.
"Eustace is the elected representative for East Kingstown and whatever decision is made will be involving him and his constituents who he have represented for 21 years," said Friday, adding that he would not comment on Eustace's candidacy without Eustace being part of the forum.
Leacock had told Xtreme 104.3 FM's morning show on May 21 that Eustace would not be contesting the next General Elections, and in a matter of weeks, Eustace's successor would be named.
"He has had operations on his knees, and you can't run if you can't walk. Mr Eustace can't do all those hill climbs that he has
to do and as an elder statesman of the party, he will let his wisdom and knowledge go to whoever will contest that seat," Leacock commented on radio.
But in response, Eustace, in a statement read on Nice Radio on Tuesday, May 28, described the Central Kingstown representative as "out of place" and "previous".
Eustace said that greater maturity, discipline, and respect for him and the people of East Kingstown should have been shown by Leacock, a military man and politician.
"Soon, and only at the time of my choosing will I inform the good people of my constituency that I have had the honour to represent these past 21 years of my decision. I will never delegate that responsibility to anyone else to do. Neither the people of East Kingstown nor I would be denied that dignity.
"I wish to point out that whoever succeeds me would not be denied my support because I have a physical disability. The declaration of any representative of the NDP that if you can't walk you can run is both vulgar and backward," Eustace told listeners.
He added, "… I urge Vincentians to come forward for public office, regardless of their sex, religion, age or disability. Our NDP is the party of inclusion, ours is a big tent."
Eustace said he had taken a long time to respond because he looked at the interest of the party, but he felt obligated to respond as he regards what Leacock said as out of place in relation to the people of East Kingstown and himself.
The day following Eustace's statement, Leacock, also on Nice Radio, apologized to the former leader of the NDP.
"The first place for me to start would be for me to offer an apology, a retraction of sorts and in the same breath express regret that there has been this episode between president Eustace and myself," Leacock commented on Wednesday.
"Let me state emphatically that Mr Eustace is the long serving representative of East Kingstown and it is Mr Eustace's right to so indicate when he wants to remove himself from the body politic of East Kingstown and St Vincent and the Grenadines and I accept fully that an announcement of the departure will be best effected by him so stating," said Leacock.
Leacock stressed that he regrets pre-empting Eustace's announcement to leave, if in fact there is ever such an announcement.
"One has to learn to humble oneself. I have never in my years of service to Mr Eustace spoken to him in a disparaging way and never intended to speak to him with disparagement or put down or to assault his character, indeed I cannot," said Eustace.
He added that he holds Eustace in the highest regard and he does not look for reciprocity.
"…Sometimes one has to small up oneself so that the bigger picture may flourish," said Leacock.
Within minutes of Leacock's statement, Eustace called the station stating that he accepted Leacock's apology.
"I have heard Mr Leacock and he did indicate that he apologized for the incident. In the circumstances, I accept that apology and I do not wish for us to continue in this vein. Our problem is Ralph Gonsalves," Eustace said.
This is not the first time that Leacock has had public spats with Eustace and the members of the NDP. In December 2016, Leacock said he had been the victim of friendly fire from supporters of the NDP, then in December 2017, Leacock was rebuked by Eustace for publicly expressing his displeasure about a senatorial appointment with which he disagreed.