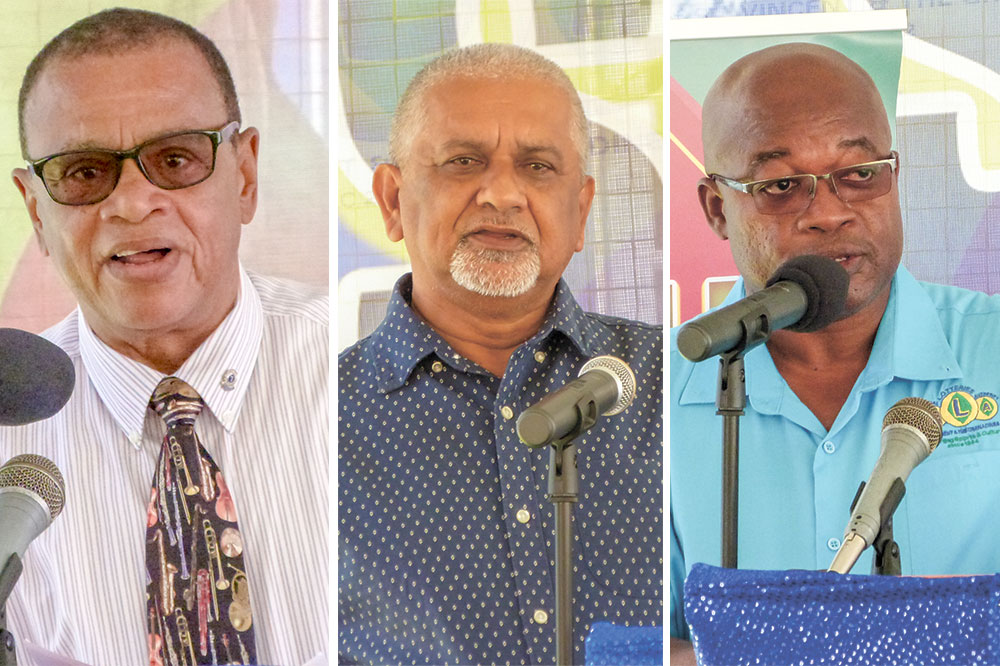 NLA offers house, car and cash to one lucky person
Some persons must work very hard for a long time to be able to own a house and car and amass an extra $50,000 in the bank.
However, one person will win all of these as the grand prize in the National Lotteries Authority (NLA) game "Set for Life(SFL)" which culminates this December.
The "Set for Life" game, which will see draws taking place every month starting in June, went live on Tuesday, May 21 with tickets available at every authorized Lotto agent.
"We at the National Lottery would have some lucky person winning a house, which is currently under construction, in Lower Queen's Drive, valued at $450,000," Manager at the NLA, MacGregor Sealey announced at the official launch at the Victoria Park on Monday. Further, he announced that the micro red seven seater vehicle valued at $130,000 will also be added, along with $50,000.
Second place is promised $50,000, and third place will be given $25,000.
Sealey explained that this is the second time "Set for Life" will be played, and commented that the last time it went down "pretty well."
"We feel very strongly that with the level of support that the National Lottery has received from the public, the playing Vincentian public, it is an opportune time, and a great opportunity, on this our 40th year, celebration of our 40th year of independence that we offer something tangible in the form of a house, a vehicle, cash to a lucky Vincentian as our special independence gift," the Chairman at the NLA, Murray Bullock explained.
The NLA Product Development Officer, Anthony Dennie, further informed that the three bedroom, two bathroom house is being constructed in the Queen's drive area, in a gated community, in a new development called Queen's Ville.
He stated that the draws leading up to the final draw on December 20 will take place on June 8, the night of Soca Monarch, August 2 and 30, September 27, October 25, and November 30.
On June 8, there will be a "Set for Life" fete in Victoria Park, with the admission price being a single SFL ticket. At the end of this fete, which will see local artistes like Luta, L Pank, Hance John and others perform, a draw will reveal one winner of a $5,000 prize.
Another draw like this will be repeated on the night of Soca Monarch.
In August there will be 24 draws, Dennie informed, "We know August is the back to school time of year, and we're pretty much cognizant of that at the National Lotteries Authority." In Barrouallie and in Georgetown there will be 12 draws each for prizes of $1,000.
In Heritage Square in September, a prize of $5,000 will be won.
On October 25, and November 30 each, one person will win $5,000, and another will win $1,000 to be given each month for a year.
There will be two consolation prizes on the night of the big draw, for $1,000 per month for a year.
All winning tickets throughout the year will be placed back into the pool for a chance at the final night.
Dennie explained that the tickets are available via terminals at all authorized agents, at the price of $10 per ticket. Persons should fill out their contact information on the ticket in pen, and submit it to a box especially marked for the Set for Life game. It is vital that ticket stubs are kept as a mark of purchase. The tickets contain the date and place of purchase, and each ticket has a seven digit number.
Dennie ended with a warning, "One of the rules is that no children be allowed to play our games, and we're asking persons that they don't buy a ticket and be like, "Well lemme do this one for me son or me daughter, and let me put on his or her name, no. We're asking that you put your name. Right? Because 18 years and over is the legal age when it comes to the whole matter of playing our games."