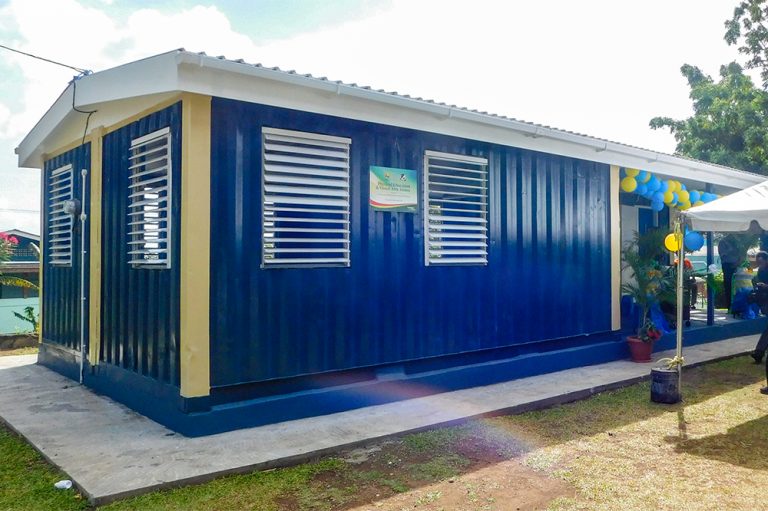 Front Page
April 30, 2019
SMSS gets new Physical Education and Visual Arts Annex
Last week, art students at the St Martin's Secondary School did their work on a table in the corridor.
This week, they will do so in the comfort of the new Physical Education and Visual Arts Annex on the school's compound.
The official handing over ceremony for the annex, which was built by the St Vincent Electricity Services (VINLEC), took place on Friday, with many representatives from the Ministry of Education, and officials from the VINLEC in attendance.
Monsignor Michael Stewart, a representative from the board of directors of SMSS expressed gratitude on behalf of Bishop Gerard County, the board and school, to VINLEC for their input in providing the facility.
Monsignor Stewart, making reference to collaboration, said that "as long as there is willingness to bring our resources together for the good of development of civil society, our efforts will bear appropriate fruit."
Elizabeth Walker, the chief education officer, also made remarks at Friday's ceremony, where she said that it was an occasion for which the ministry was proud.
Walker said that the country was changing and requires leaders in education to modify and provide students with skills and attitudes to excel in their chosen fields.
Wendell Edwards, principal of the all-boy institution also echoed these sentiments, and said that students ought to be given the opportunity to develop in a holistic manner.
And he spoke about the many benefits that are derived by students who engage in visual arts and physical education programmes.
"Visual arts programmes have potential to improve students concentration and critical thinking skills. It enhances communication and listening skills and also encourages focus and discipline in our students," he said. "Physical education and sports help to develop a healthy body. It increases one's physical competence, self responsibility, enjoyment, and formation of long-lasting friendships. We must also be mindful of numerous career paths one can pursue in this field."
Edwards thanked the electricity company for their intervention and expressed hope that the beneficiaries would make optimal use of the annex.
The Physical Education and Visual Arts Annex is constructed from two shipping containers which were provided by the Roman Catholic Diocese of Kingstown, with physical work being executed by a team from VINLEC.