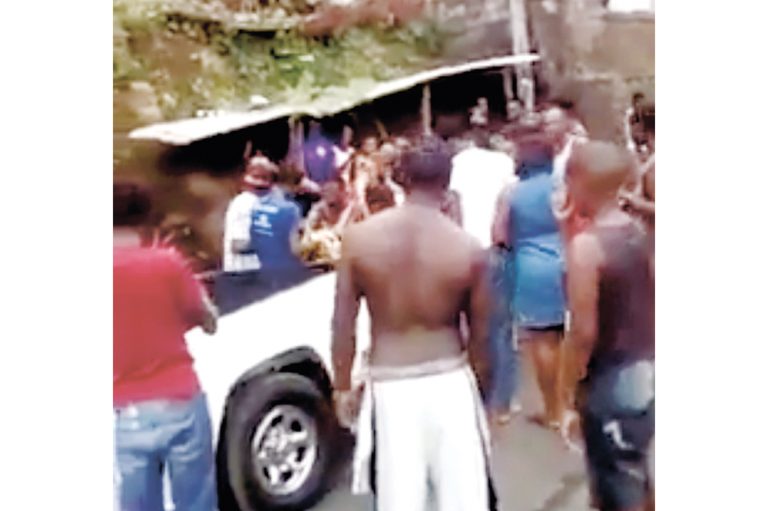 Front Page
April 26, 2019
South Rivers villagers beat male crossdresser
Residents of South Rivers have mixed feelings about an incident that took place in their village on Sunday in which a young man was beaten, allegedly for pretending to be a woman and luring men into sexual acts.
The incident came to the fore after a video was published on social media showing one man hitting another, as the younger man walks in the public road at South Rivers.
The men are followed by a group of persons, and at one point the man doing the hitting is restrained by a woman. The person being assaulted is eventually rescued by a female motorist who drives him away from the area.
On Thursday, SEARCHLIGHT visited South Rivers and spoke to several residents to find out what really happened, as it had been claimed on social media that the younger man was beaten for simply being gay.
But residents said that was not the case, as gay men live in the village and at no time have any of them been attacked because of their sexual orientation.
According to a female resident of the area, a villager, in his 20s, told persons that he had a met a girl on Facebook and had invited 'her' to spend the Easter holiday weekend at his home with his family.
Reports are that the young man turned up dressed like a woman and at one point, even went to the disco in the area, where he danced with men. Unconfirmed reports are that the young man performed oral sex on more than one man in the area.
Residents of the area claim that the young man spent about three days at the home of his host, and it was only on Easter
Sunday that the family realized that their guest was a man after a child observed him urinating while standing.
Speaking to SEARCHLIGHT on the condition of anonymity, a female resident said that she has gay relatives and totally condemns the beating, but she believes that the young man was wrong to pass himself off as a woman and trick unsuspecting men.
"That's dangerous because some of the guys up here are gangsters and don't like them sort of things, so he coulda get kill for that," said the woman.
Another man from the area said he was on the block when he heard a man (who we will identify as Jerry – not his real name) bragging that he "now deal with mister woman".
According to the man, Jerry said the crossdresser told him that he had come to spend time with a man in the area and the man was not treating him well.
Jerry reportedly said that they spoke for a while and ended up kissing.
"He was bragging and saying he deal with the man woman," said the resident who added that when Jerry found out that the woman was a man, he was distraught and started acting hysterically.
Another man said he observed the person in question in a dress and dancing with men in the "Africano Disco". He said he did not know that the person he saw dancing was a man because he looked like a woman.
A young lady who said she knows well, the person who invited the young man to South Rivers, said her friend did not know his guest was a man and if he had known that from the start, he would not condone it.
"My friend nah like boys, he think been a woman, he nah been know," said the female.
A man listening to the conversation said the cross dresser is lucky he was not there or he would have hurt him seriously for tricking people in the village.
However, some residents feel that the men who interacted with the crossdresser knew he was male and only acted out because they were caught in gay activity which is still widely frowned upon here.
Neither the South Rivers host nor his young visitor could be reached by SEARCHLIGHT for comment.
Yesterday, police said they had arrested and jointly charged Kadir Nedd, a 25-year-old school teacher of South Rivers and Ezra Cruickshank, a 35-year-old entertainer of South Rivers with the assault of a 17-year-old unemployed person of Edinboro.
"The accused men allegedly slapped the complainant about his face and hit him in his head with their hands at South Rivers about 9:00 am on April 21," a police report said.
The men are expected to appear before the Magistrate's Court to answer the charge.