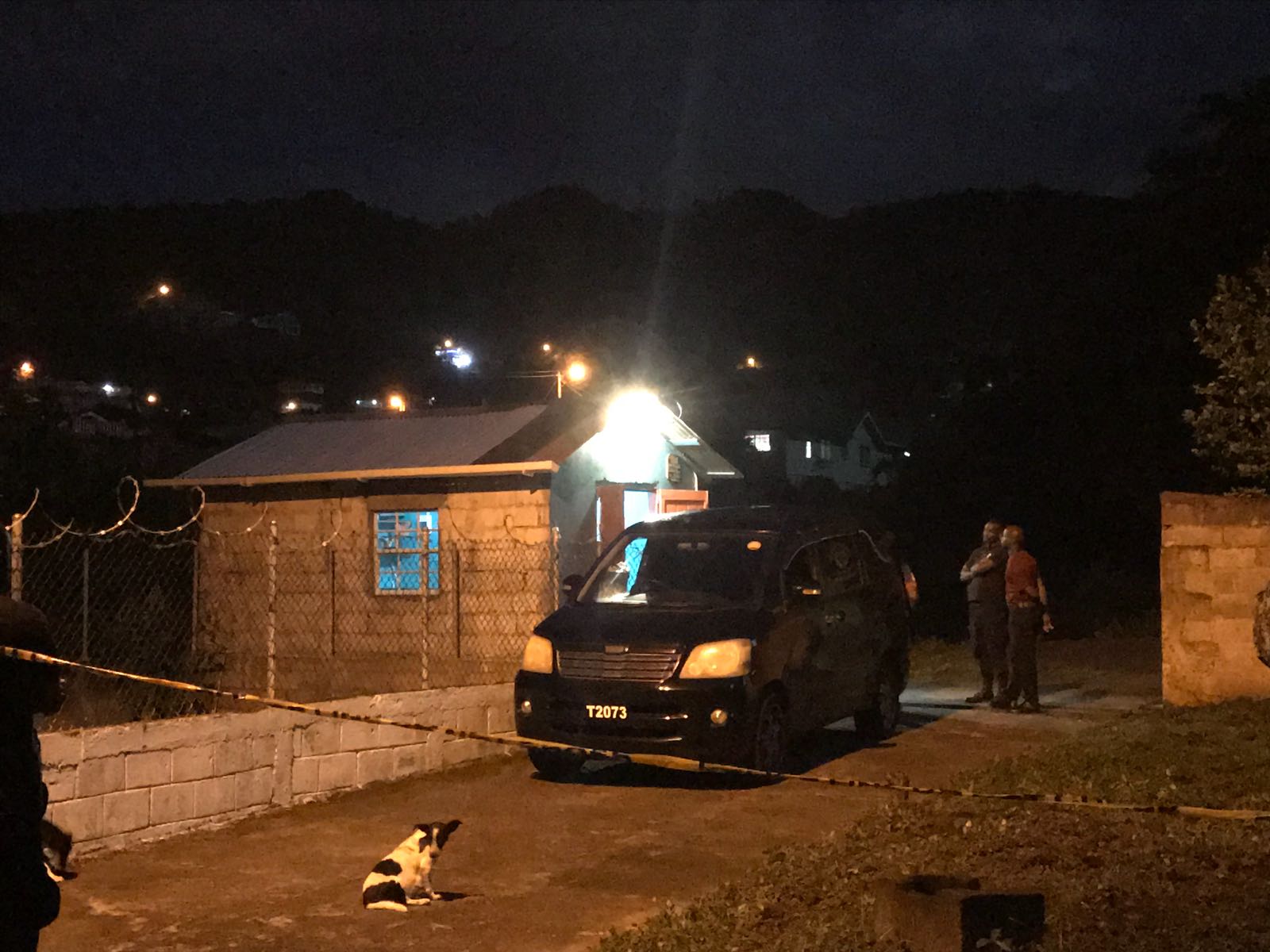 Man shot in front of pregnant girlfriend
Despite witnessing the death of her lover last Friday, Marchon Miller is trying to remain calm for the sake of the child she is carrying.
Miller's boyfriend, Billy 'Slip' Adams was shot and killed at her sister's shop in Swamp Gut, Layou at around 8:35 p.m. while hanging out with friends.
"Right now, I'm pregnant, carrying his baby and all that stuff, so right now I just have to humble and don't stress myself," she told SEARCHLIGHT. "I'm just trying to keep a kind of cool head, because it done happen. Ain't nothing I could do about it."
The Layou resident said that she was with Billy and another friend in the shop, when the dogs started barking outside.
She also said that Adams sent the friend, who they call 'Popcorn', to investigate.
Miller further said that Popcorn called out to Adams, who then got up from where he was sitting, and it was at that same time he was shot.
"I fly over from where I was and catch Billy head, and lay him down on the ground and tell him hold on. He was breathing still. I lock him inside the shop and run to call for help," she said.
Miller told SEARCHLIGHT that it was when she returned to the shop with help that someone felt Adams' pulse and told her that he was dead.
The expectant mother said that she did not feel good about the violence that has been taking place.
She also said that she was fearful of what might happen to her.
"I can't go and say I going walk down the road, because I don't know what going to happen. I don't know if they saying if is me next, if is one my cousin next and all that stuff. It's a kind of scary feeling," she said.
Miller said that her boyfriend could be "mouthy", but that he was a friendly person who would talk to everybody, unless "he don't appreciate you, he will not say nothing to you."
In October 2016, Adams was shot three times, and on July 12, Matthew 'Deportee' Quashie was sentenced to 20 years in prison after a nine-member jury unanimously found him guilty on four counts, including attempted murder.
Adams was also listed as a prosecution witness for an upcoming case in relation to the murder of 38-year-old Layou fisherman, Joseph 'Evans' Lynch, who was killed on September 1, 2012.
Adams, then 26, along with Adolphus 'Beanie Man' Foye, also known as 'Bun-up', 17, and Andy 'Ginger' Quashie, 26, farmer, were arrested and charged three days later for the crime.
Adams and Foye were freed of the murder, while Quashie is still imprisoned awaiting trial.