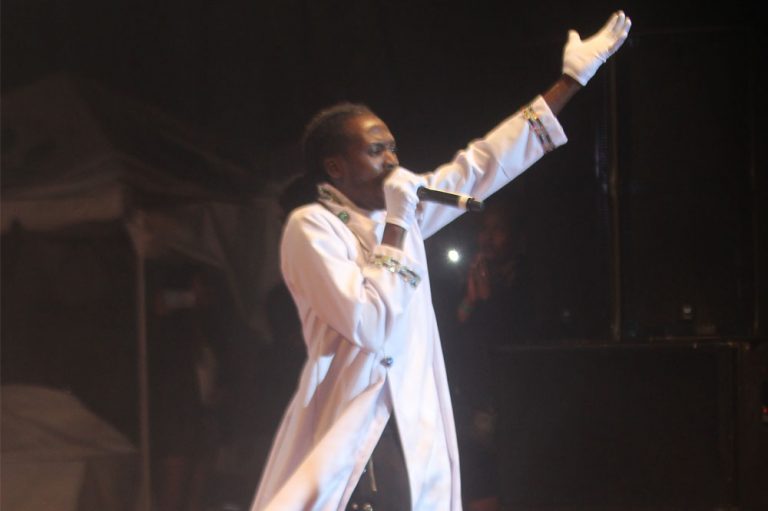 New Soca Monarch's sign ah de cross, runs dem (+Video)
by Lyf Compton
The smell of talcum powder and other substances filled the air last Sunday morning at the Victoria Park as revellers waved wooden crosses while chanting "Amen".
Had it not been for the smell of insecticide sprayed from aerosol cans to create lighted flares, one may have thought one was at a meeting of Spiritual Baptists. But the event was the Soca Monarch competition and the flame-throwers were being used to welcome soca artiste Delroy 'Fireman' Hooper.
The energy of the crowd and the anticipation of Fireman's performance were palpable and when the now 10-time Soca maestro arrived on stage, Victoria Park erupted in a frenzy unlike anything that has ever been seen before during the annual Soca monarch competition.
"Over the years he has used the power of Soca music to bring people together," a pre-recorded introduction stated while men dressed as priests began crossing the stage, one of them carrying a incense burner and three carrying crosses in procession.
"When yo see hypocrite and haters…," belted out Fireman and the crowd seemed to go even wilder if that were possible.
And when Fireman was eventually crowned, it was no surprise that a segment of the crowd broke down the barricade and had to be restrained by police as they tried to get on to the stage to greet their "hero", one man even bowing to the entertainer.
"I love them, and they love me, and they make me and without them I am nobody… the crown is not for me it is for my fans," Fireman told journalists moments after being crowned Vincy Mas's 2018 top Soca man.
When asked what inspired him to write 'Amen', a song that has received backlash from some in the local Christian community, Fireman said that he is a spiritual person. Amen means "so be it" and is usually uttered at the end of prayers.
"…And music comes from heaven, the last time I checked and because music comes from heaven, spirituality is part of music and people always tend to gravitate towards spiritual stuff no matter how a man is," Fireman commented.
Fireman, who faced strong competition from his musical nemesis Gamal 'Skinny Fabulous' Doyle, said he was never fazed by Skinny's theatrics which for the second time in Soca monarch history included a man using a jet pack.
"This is not the first time I defeat him with the jet pack and all that stuff," Fireman boasted.
He has proclaimed that he is the "Triple X, Mega Dog, Heavy Metal, Pound For Pound, Undefeated, Undisputed, Unstoppable, Silent, Violent, Weapon Of Mass destruction, Victim of the Tsunami, The Chosen One, Concrete With Steel Reinforcement, and Specially Certified Aggregate."
The eccentric entertainer who hails from North Leeward but lives in Georgetown also revealed that he wants to win 15 crowns before retiring.
He described as "stupid" statements that he is too old to be involved in the nation's most anticipated musical competition.
"This is my job. I can't stay away from my job, I don't work anywhere, how can I stay away my job?", the artiste questioned moments before revellers ignored the police, came onto the stage and swept him up into their arms, trying to take him from the stage with the police in tow.
In second place was Skinny Fabulous who performed 'Avengers'.
A master of theatrical performances during competition, Skinny did not disappoint with his presentation which saw him dressed as the 'Black Panther', one of Marvel Comics's superheroes.
During the presentation, other Marvel characters joined him on stage and the audience was treated to the spectacle of Spider Man sliding from the roof of the stage, to appearances by Hulk, Deadpool, Captain America and female warriors from the mythical city of Wakanda.
But the highlight of the act was probably the appearance of a man in an Iron Man (another Marvel superhero) suit with a jet pack who flew from the stage, seemingly crashed, knocking over a speaker and a firework stand; his jet pack blowing away the umbrella of one of the photographers, before lifting off into the night's sky and disappearing over the stage.
The competition saw a tie for third between Antonio 'Small Circle' Edwards with "Egg Plant" and Shane 'Hypa 4000' Husbands with "Top Man Certified".
Fourth place went to Hance John with "Bad So", in fifth place was Recardo 'Recka' Wilson (Shella Posse) and sixth place went to Johnroy 'Mad King' Haywood (Water Bubble). Denis Bowman with "Making Waves" was seventh, Kester 'Flanka' Chapman was eighth with "Maco Man' and ninth was Chewalee Johnson with "Watch Madness". In 10th place was Keith 'Grabba Finese' Charles with "Peaches Mother", 11th was Joel 'Tha Fugitive' Bibby with "Firebomb" and in 12th place was Tracy 'Scarbz' Cozier and Kesslon 'Sicko' Shallow with "Feeling the energy".