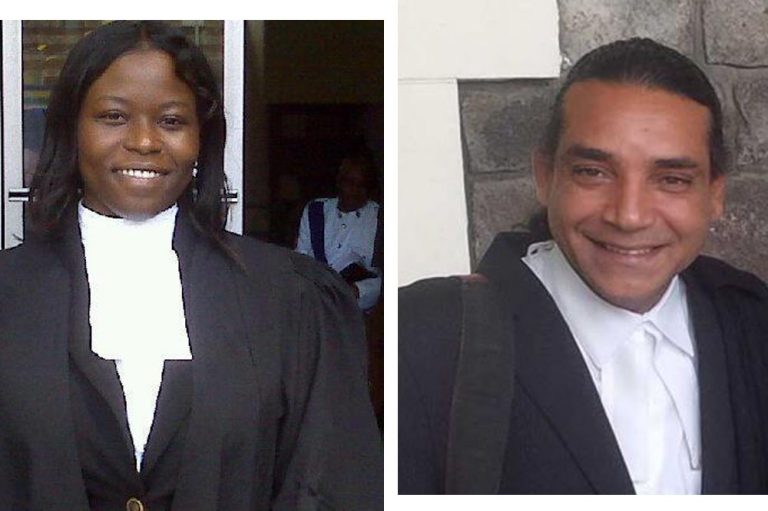 Siblings, husband and wife wrangle at rum shop (+Video)
Ronnia Durham-Balcombe, a lawyer who is alleged to have been struck in the face by lawyer Ronald "Ronnie" Marks says she is disgusted and embarrassed about what transpired.
On Saturday, at a shop in Prospect, Ronnia's husband Cameron "Dinky" Balcombe and Ronald were involved in a dispute that saw Ronald allegedly drawing his licensed firearm and allegedly pointing it at Cameron.
Ronnia said she arrived at the shop a few minutes after the dispute between Ronald and her husband and was told that Ronald had slapped Cameron after an exchange of words.
But Ronald told SEARCHLIGHT on Thursday that he was defending himself when he drew his gun and he never struck Ronnia or her husband as they are alleging. He said that he has a damaged hand and it is not possible for him to make a fist.
"Dinky came to the shop where I does be every Saturday and claimed that he had some engine troubles, starter problem and I asked him what happen quite friendly and everything," Ronald said. He added that he suggested to Cameron that if the vehicle was having starter problems, he should have driven it straight home instead of "blocking up" the entrance to the shop.
"He started to get real angry and cursing and thing and I said if it was me, I would have done fix that long time and that must be the mistake I make…."
According to Marks, both men then exchanged insults. He admits that he was drinking but he was not as intoxicated as Cameron and his wife are claiming.
Ronald said that Cameron then pushed his hands in his (Ronald's) face, following which he retreated into the shop and Cameron and a man who was with him rushed into the shop.
Ronald said someone tried restraining Cameron but was unsuccessful.
"When I see he still coming towards me, I draw my weapon quickly and just put it by my waist and from the time I do that, the man turn from a big bad dog to a little girl…he scream out 'Oh God' and run outside…," said Ronald who added that Cameron called the police and when the police came he told the cops that Cameron was the one who assaulted him.
Ronald said that many persons witnessed the incident, and nobody has any reason to tell lies. He said while he may have said a few things to the police in the recording that he should not have, he was not the one that started the dispute.
"I have to be the craziest man in the world, watch the size of Dinky to me. I have a broken finger that I just took off the cast on the Friday, so what condition I could be in? I even told him that, I can't fight him," said Ronald who noted that he couldn't leave as persons had suggested, because he was helping to manage the shop that day.
Commenting further on the incident Ronnia said, "I am very embarrassed, I am disgusted by Mr Marks's conduct, I am scared, I am worried, because I am saying, had my husband had his firearm with him, we never know what could have turned out here," Ronnia told SEARCHLIGHT in a telephone interview on Thursday.
Ronnia said she is going through a lot of emotions, but most of all, she is embarrassed. She said when she arrived at the scene, she began recording what was happening with her cellular phone because in her opinion, Ronald was intoxicated and uncontrollable.
She claimed that she was struck in the face by Ronald, something that he has denied, following which she reported the matter to the police and submitted her medical injury forms to them.
According to a police report, Ronnia Durham-Balcombe, a 31-year-old lawyer of Prospect, is alleged to have been assaulted by Ronald "Ronnie" Marks, also a lawyer.
Marks, 45, who also resides at Prospect, is alleged to have caused actual bodily harm to Durham-Balcombe "by boxing her on the right side of her face." The police report said the incident reportedly occurred at Prospect on Saturday, June 23 at about 4:30 pm.
Ronnia said that she is not sure why Ronald has not yet been charged for assaulting her.
"To the best of my knowledge no charges have been laid against Mr Marks that I am aware of, but I would have gone and made my report and submitted my injury report form.
"I do not want to speculate and put anybody a bad light and I am sure that they will do justice to this case and I am sure they are taking the matter seriously," Ronnia stressed.
She noted that any lawyer convicted of a crime can be disbarred.
She said she is not sure if the disagreement between Ronald and Cameron was politically motivated but noted that Ronald made statements that were defamatory and racist, and that Ronald said he has no idea why "NDP people" were coming into Prospect.
Cameron is a former candidate of the New Democratic Party (NDP) in the North Central Windward constituency, while Ronald is a former senator of the Unity Labour Party (ULP) and maintains strong ties with the ruling party.
Ronnia also alleges that Ronald's sister Patricia Marks-Minors, who is also a lawyer, knocked her phone from her hand and stomped on it when she discovered that Ronnia was recording the incident.
She also alleges that when she bent over to retrieve her phone, Patricia grabbed her neck and she grabbed Patricia's hair and they tussled for a short period before letting go of each another.
Ronnia said after she and Patricia parted, Ronald began coming towards her, "…and he saw me standing there and he looked at me and bit his lip and he give me one box on the right side of my face."
She said at the point that she was hit, persons were restraining her husband and the police told her to make a report at the Calliaqua Police Station.
But Ronald said on Thursday that Patricia never knocked Ronnia's phone from her hand like she is claiming but instead pushed it away. He said also that he never said "NDP come to pollute the place" and he never struck Ronnia.
"I said why all them NDP people come to contaminate the place with all their hatred and vexation and violence, I told that to someone, not to he Cameron," stressed Ronald.
"It is really an unfortunate incident. It could have been avoided but it seems as if it was calculated," said Ronald who added that his sister has filed a complaint against Ronnia for assault and he will soon file a formal complaint against Cameron for assault and against Ronnia for making a false report against him.
Ronald also claimed that on Wednesday, the same vehicle that Cameron was driving on Saturday drove into the shop's yard with the windows up and left without anyone coming out.
Cameron could not be reached for a comment. Calls to his cell phone went unanswered.