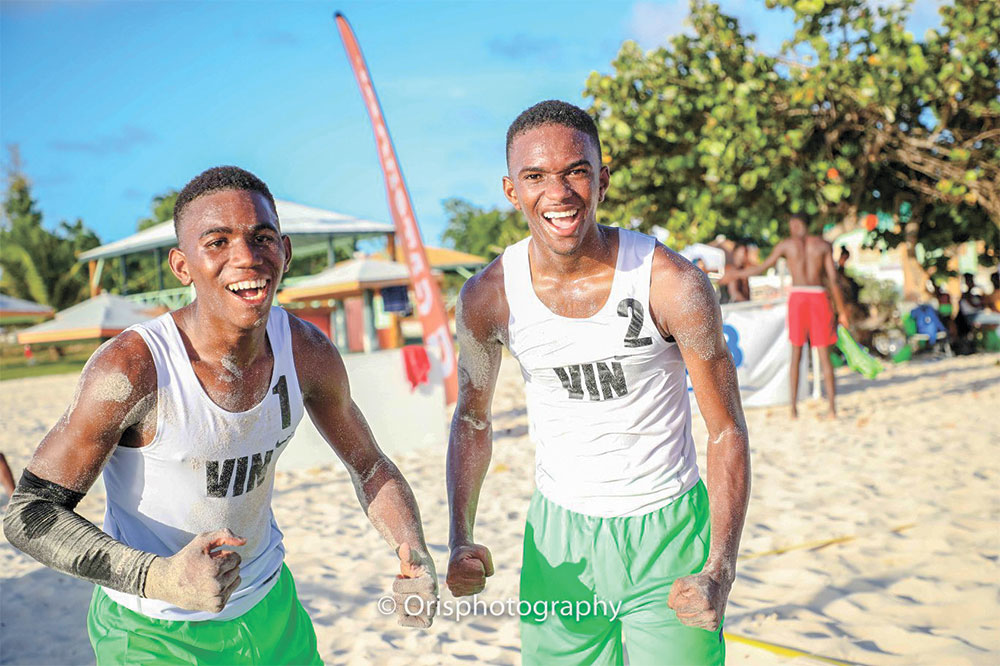 SVG again qualifies for Youth Olympic Games Beach Volleyball
St Vincent and the Grenadines' male duo of Enrico Louraine and Micah Glasgow spiked their way to the top spot in the male segment of the Eastern Caribbean Volleyball Association (ECVA) Zone, of the NORCECA Round of the Youth Olympic Beach Qualification Tournament, which ended here on Sunday afternoon at the Fort James Beach in Antigua.
Most significantly, they will head to Argentina in October, to be part of the Youth Olympic Games (YOG).
The pair formalized their unbeaten run in the tournament in near dominating fashion, over Grenada's Deshan Alexander and Chad Phillip, 21-18 , 21-17.
The final was a copy of their previous five matches, as none of Louraine and Glasgow's opponents were able to take a set from them.
The Vincentians thus ended with an 8:0, win/loss ratio, as the male duos from St Lucia, Dominica, St Kitts and Nevis, all went under 0-2.
But on the female side, it was not the same measure of success for the two Vincentians, Sherese Cyrus and Holly Ann George, as they finished fourth.
Dominica's pair of Adicia Burton and Ethlyne Lockhart won the female bracket, thereby earning a spot in the Argentina showpiece.
A delighted St Vincent and the Grenadines coach, Nikita Campbell, hinged the male success on their "communication, and not being over confident".
Campbell was even more buoyed by the fact that there is not a designated beach volley court for players to train.
"Training was done at Villa beach on Tuesdays and Thursdays, where we did physical and basic ball control drills, and at Buccament Bay on Saturdays," Campbell told SEARCHLIGHT.
Campbell noted that it was a fairytale journey for the winning Vincentian team, as Glasgow was a late replacement, after the original selectee was not attending practice.
The same was the case for the females, as George was a replacement.
Louraine and Glasgow are the second set of male beach volleyballers, who qualified for the YOG.
In October 2013, Delshun Welcome and Rodel Fraser defeated all before them at the qualifiers, which were held at Pigeon Point, St Lucia.
They then booked a ticket for YOG, which took place in Nanjing, China.
The team of Welcome and Fraser became the first Vincentians to qualify for Olympic Games.
Campbell was also the coach for Welcome and Fraser.