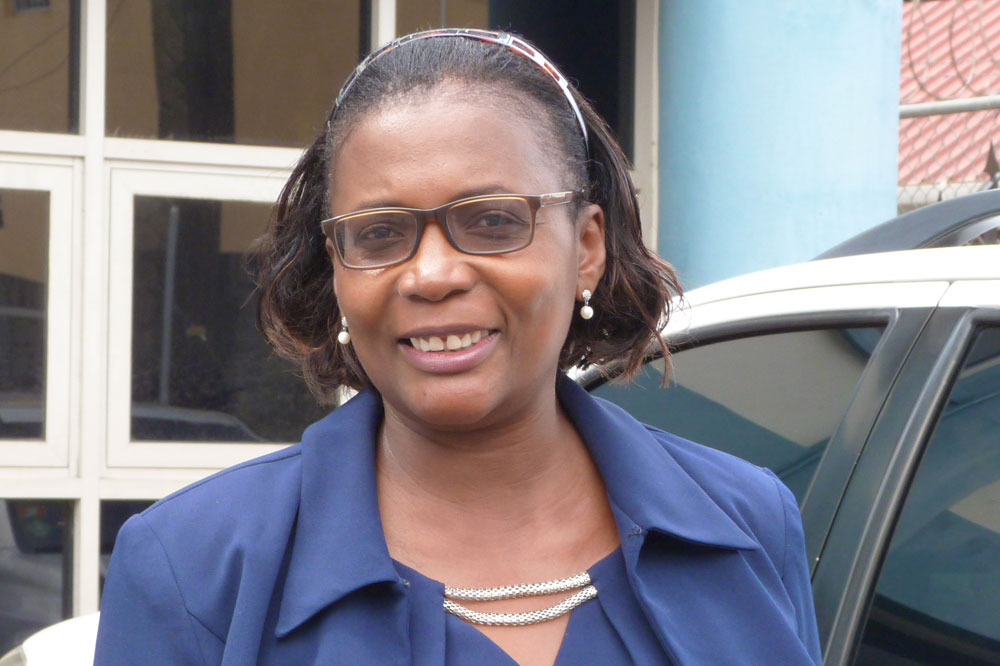 Stop demonising, undermining MHS – Medical doctor
If the Vincentian public continues to torment, vilify and accuse the staff of the Mental Health Centre (MHC), they should be ready to bear the consequences of their actions.
Dr Karen Providence, Registrar of Psychiatry at the MHC made this impassioned statement on Tuesday at the Kingstown Magistrate's Court where she had been summoned to explain why the psychiatric reports of three men, who had been at the facility undergoing evaluations for over one month, were not available to the court on June 18.
Dr Providence presented the three reports dated June 15, then poured out information on the challenges that the MHC has to contend with, from internal ones, to the resistance of the general public.
She spoke of interdepartmental challenges, and cited social challenges as well.
The doctor informed that a patient is to stay at the MHC for two to three weeks for evaluation. She indicated that the 'vast majority' are well known to the centre and have repeated admissions, "Yet in trying to be fair to the client, in trying to be fair to maybe a victim or victims…, and the obligation to society to protect it from violence," she indicated that the MHC follows a system.
Within a report, a brief summary of the work done, there must be a collection of 'collateral information' from other sources.
"We must have collateral sources," Providence insisted, adding that in most instances, these sources, who are relatives of patients, are not available.
"Families are not doing their part in interacting with the Mental Health Centre so that we can have a good understanding of what the patient is like." "We do not know who that person is… we might have some idea what the background is but it doesn't give us everything that we need to prepare a report," she insisted.
"I don't want to absolve the Mental Health Centre by any stretch, but we have in excess of 200 patients at the Mental Health Centre. There are 153 men at the Mental Health Centre, about 50 per cent of those patients are custodial, meaning they live there…" the doctor disclosed.
She explained that they don't need to be there and can be discharged.
Mental health patients are not contagious
"Not everyone will be able to do that, certainly we know… but there are many of those patients who have influential family members who have committed them to the Mental Health Centre," she stated.
Providence revealed that many of the patients at the Centre are also mothers, with children.
She lamented that many of the patients at the MHC do not receive visitors.
"Mental health patients are not contagious. If you walk into the Mental Health Centre, you're not going to contract a mental health problem…. So there's no justification for not visiting family members who are committed to the Mental Health Centre."
She voiced that she was not sure, therefore, how persons could think to make 'informed' statements about the MHC.
Speaking on the workload, she stated that the two psychiatrists have to provide their services to the Milton Cato Memorial Hospital, the Georgetown Psychiatric clinic (which sometimes has in excess of 30 patients), the prison, and the MHC.
"None of it is satisfactory," she said, "Absolutely none of it."
Vincentians tormenting and vilifying doctors
She said that the Vincentian public continues to demonize and undermine the Mental Health Service. When the public makes comments such as "Kill Dr Providence! Stone Dr Providence! Hang Dr Providence!" on Facebook, prospective doctors see this and do not want to be in this position, she said, while warning that there would be no more doctors if people persist.
"If we're going to torment our local doctors. Vilify them. Accuse them," the doctor asked persons to be ready to bear the responsibility of their actions.
"When young people commit suicide because they are frightened of speaking to mental health professionals," she indicated that they should know that they would be responsible.
"No doctor would dare to give any medication to any patient without first determining that that medication would be beneficial to the patient!" she exclaimed.
Bar Association could revitalise Mental Health Association
She ended with a plea for persons to visit the Centre, and a suggestion that the, "Bar Association perhaps you could take the initiative to revitalize the Mental Health Association."
Earlier this year, Dr Providence was vilified on radio and social media by some members of the public after former model Yugge Farrell was sent to the MHC for psychiatric evaluation by the court.
Farrell had appeared before the Kingstown Magistrate's Court on January 5, charged that she did cause a breach of the peace by using abusive language to Karen Duncan, wife of Minister of Finance Camillo Gonsalves. When Farrell returned to court after two weeks, the psychiatric report presented in court said she was not fit to plea. The attacks on Providence came after she called in to a morning radio talk show to explain the procedure under which persons are sent by the court to the MHC for evaluation and that such referrals were routine.