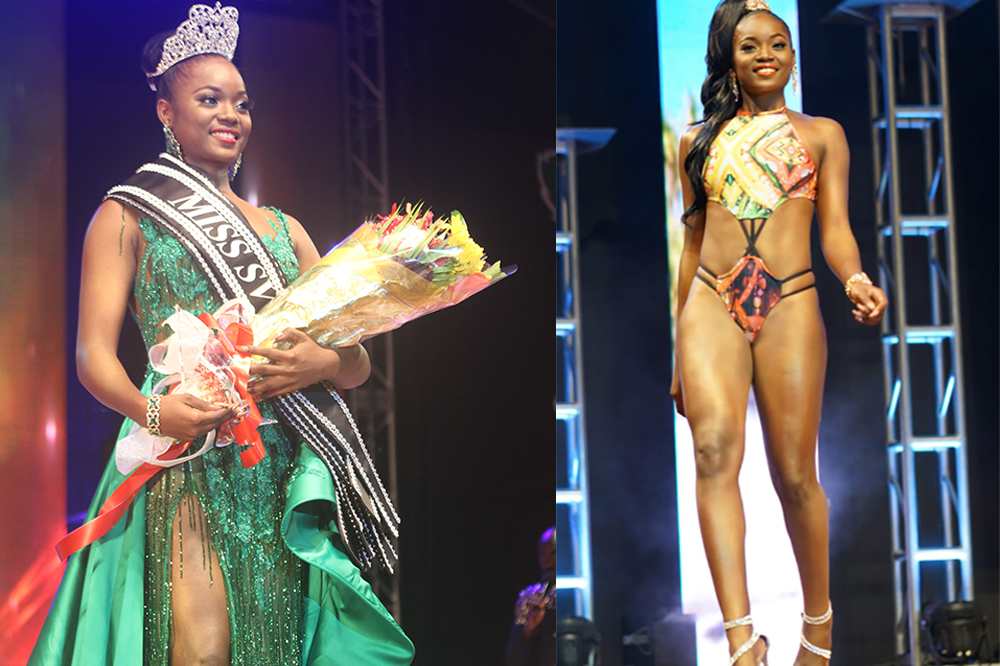 Miss Lotto takes Miss SVG 2018 crown
Not in a million years did Georgetown resident Shellisa Nanton think that she would be crowned Miss St Vincent and the Grenadines and have the means to pursue a university level education.
But that is exactly what happened, as in the wee hours of Sunday morning, the 23-year-old was crowned Miss SVG 2018, earning in the process a university scholarship compliments the government of SVG.
"I came from such an under privileged home, poor home I should say, and I never thought, oh my God, this simple girl from the rural village of Overland would be Miss SVG ever. I never thought it would happen," Nanton told SEARCHLIGHT yesterday, one day after being crowned.
Sponsored by the National Lotteries Authority (NLA), Nanton, apart from taking the coveted crown also won the evening wear (a gown designed by Kimon Baptiste) and interview categories of the competition. She also took the Miss Photogenic award.
She said that as a child, she had dreams of entering the Miss SVG pageant.
"I have entered pageants before and I have always adored the girls who entered the Miss SVG pageant and I wanted to give my mother and father a better life and I needed that scholarship," said the daughter of Benson and Lineth John who has two older sisters — Shoneuly and Choneeke.
She said that taking part in the pageant disrupted her life, but it was well worth it as she is now able to better herself and uplift her family.
"It was a lot of hard work, a bit frustrating at times because I work full time at the airport on a shift system and that was very difficulty for me to find time to train physically and mentally prepare myself."
Nanton is employed at the Argyle International Airport (AIA) as a Customer Service Representative and is also a licensed nursing assistant.
She said having to travel between Georgetown where she lives and Kingstown where the training sessions were held was very hectic, so she moved to Arnos Vale.
"…that was one of the most difficult parts because I have never been away from my mother that long. She has been really supportive. So just being away from them and finding time to train was the most difficult part, but I enjoyed it because I was able to share my story and inspire others and evoke positive change in so many youths so that for me was the best part," said Nanton.
She said on the night of the show, she was scared but kept her composure and remained confident and it worked.
"When I heard my name called as the winner, I was up there and I kept looking at my sister in the crowd and thinking about all we've been through together as a family and I was just thinking about the hard work and the sacrifices that I made, all of us has made, to make this possible…. I started to cry. There were so many emotions flowing through me, I can't explain how I felt but I am very happy," Nanton told SEARCHLIGHT.
She said also that she is proud of herself for winning the interview segment of the show because while training, she was not very confident in that area. She thanked her coaches Insa Prince and Latiesha Sandy and her chaperone Aviar Charles.
In relation to the scholarship, Nanton is hoping to pursue studies in health sciences.
"I am in love with [nursing] and my philosophy is, do what you love, and you would be good at it. I really love nursing and want to continue, and health sciences will offer me a lot more in the medical field and also allow me to give back to my country in the area of health care."
"I am very grateful that I got the opportunity to meet so many impactful women and we have impacted lives on our journey and I think it was really an amazing opportunity to be around such a positive group of women," said Nanton who would also like to encourage other young ladies to take part in the pageant.
"It is a pageant of class that opens doors and gives you a platform, so I would encourage persons to enter and the Beauty Shows Committee is a great committee," said Nanton who was crowned by Miss SVG 2017 Jimelle Roberts at Carnival City, Victoria Park.
In second place in this year's pageant was Miss Mustique Company Limited – Criscione Morgan, while Miss Vincentian Chocolate – Cameisha Foster was third. Foster also won Best Talent.
Winning in the Best Swimwear category was Miss Metrocint General Insurance Company Limited – Nazira Graham. The Miss Congeniality award went to Miss Massy Stores SVG Limited Morrissia Williams. The other competitors were Miss FLOW Solange Fernandez and Miss GECCU Azanie Lavia.