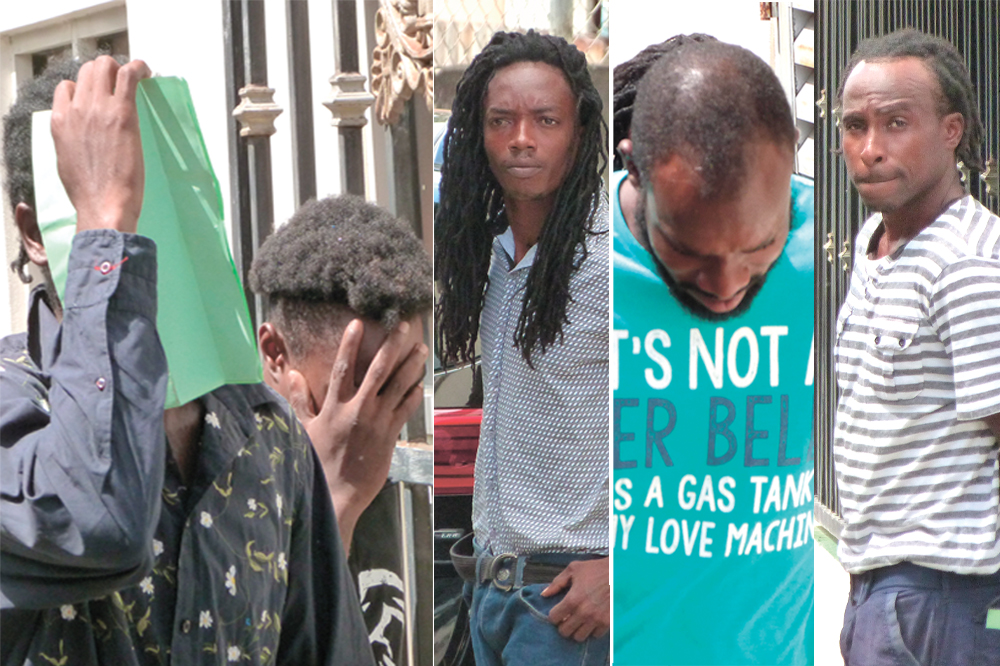 FIve hauled before court in funeral violence incident
Five men have been charged in relation to the most recent case of vigilante justice in which a widower was beaten at a graveside in Chauncey.
Last Sunday was the day of the funeral for Jetonnia Thomas, who died at the age of 32 years from a heart attack, and it was the day widower Paul Stephens was targeted by a group brandishing stones, sticks and a brick.
Stephens had previously been the subject of rumours after his wife's sudden death, in which people were claiming he had slit her throat. However, an autopsy ordered by the police revealed the cause of death to be heart failure.
However, it would seem that rumours still followed the husband, and he was beaten by a group of persons, while his wife's coffin was being lowered into the grave.
The incident was filmed, and the police detained five men in relation to the incident, reportedly including relatives of the deceased.
They were charged before the Kingstown Magistrate's Court yesterday, after being given a long orientation in the holding cell outside the court.
Kazim 'Meds' Alexander, Timron 'Base' Padmore, Dane Daniel, Junior 'Trunkie' Charles and Jeronza Thomas, were each charged with having in their possession on May 27, in a public place, namely the Chauncey cemetery, offensive weapons. Alexander pleaded guilty to having an 8 inch concrete block and a piece of board. Daniel and Charles pleaded guilty to having a stone, while Padmore and Thomas pleaded not guilty to possessing a stone.
All were charged jointly with on May 27, in Chauncey, with causing a disturbance to an assembly lawfully engaged in the performance of a religious ceremony, to wit, the funeral service of Jetonnia Thomas. Daniel and Thomas pleaded guilty to this charge, but co-accused Alexander, Charles and Padmore pleaded not guilty.
Lastly, they were charged with unlawfully and maliciously wounding Paul Stephens, on the same date, and in the same place. This time, Daniel, Charles and Padmore pleaded not guilty, but Alexander and Thomas pleaded guilty.
Prosecutor Corlene Samuel said that she accepted all the pleas, but would be proceeding against all of the defendants. She indicated that she had no objection to bail, with the exception that Daniel surrender his travel documents as he was expected to travel soon.
Senior Magistrate Rickie Burnett asked Daniel about this, and he informed that he normally travels around this time to pick fruit. The defendant thought that he probably wouldn't get through to go this year, but said that if he did, it would be in June and July.
Burnett granted bail to the defendants in the sum of $5,000, with one surety and ordered that they have no contact with Stephens. Daniel is to surrender his travel documents to the court.
The matter is set to return to court on July 30.
Sunday's attack on Stephens brings the number of incidents of vigilante justice in the last two weeks to two. On May 18, Simeon "Gabo" Francois, who was wanted in connection with several sexual offences against a 10-year-old girl was beaten and handed over to police at Petit Bordel. Deputy Commissioner of Police Frankie Joseph is encouraging persons to desist from such acts.