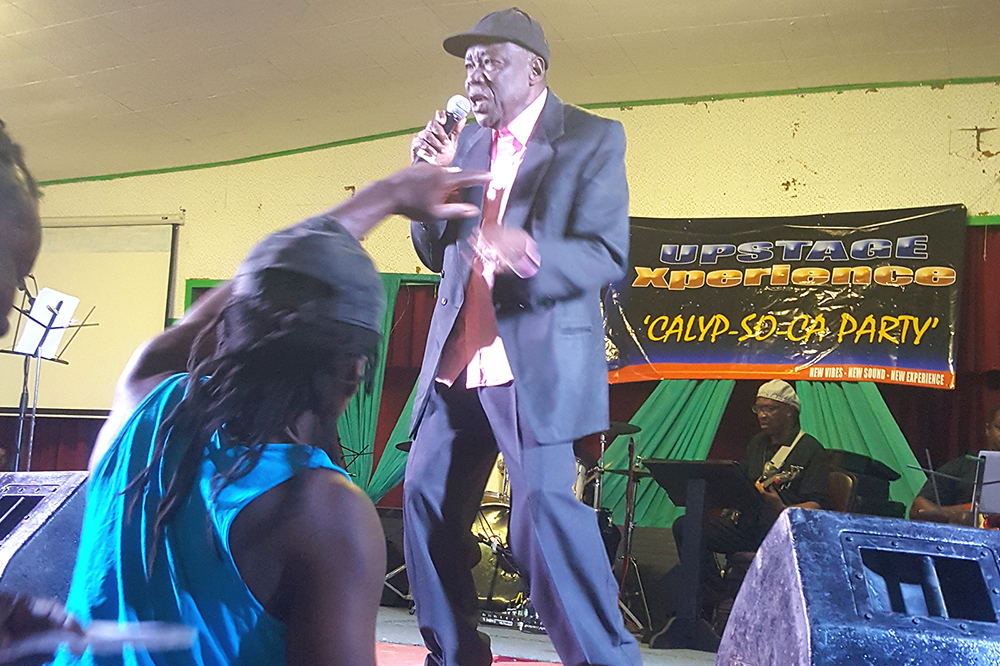 Calypso tent looking to dominate competition
The Upstage Xperience Calypso tent showed last Wednesday why for the last six years, artistes from that tent have been dominating the National Calypso Competition.And, Stephen Huggins, one of the directors of the tent said while he has not heard songs or seen performances from other tents, he is confident that someone from his crop of artistes can once again take the national crown.Upstage's Lornette 'Fya Empress' Nedd won the competition last year.
"I am optimistic, but you still have to listen to what the other tents have to offer, and we haven't heard those yet, but if I were to judge from the standard that we have, I would say that there is a very good chance, and I don't think the other tents would surpass us," said Huggins.
In relation to the show on May 16, Huggins told SEARCHLIGHT it was impressive."I could only go from the report from the public and the public reported it was really good. I think that everybody who was there enjoyed it and I did not hear anybody say that they were disappointed," Huggins said.
He however noted that there are still a few singers who have to rise to their true potential but overall everybody gave an excellent performance, "and I think the crowd was satisfied, more than happy."Last Wednesday's show was Upstage's third show for the year.
The first show was held at Calliaqua and the second in Sandy Bay and Huggins said that patrons' reactions were the same.Upstage boasts 22 artistes, of which 20 were on show last Wednesday.Among the performers were Fitzroy "Ebony" Joseph with his song "Bandit". This was a crowd favourite as the veteran calypsonian used his style to talk about substandard products sold in Kingstown, labelling the peddlers of these goods as bandits.Another singer who got the artistes off their feet was Fitzroy "Iceman" Ragguette whose song "Landing on the Airport" got tent goers hyped. Some of them even used the paper the night's program was printed on to make paper planes which were flown across the stage.Michael "Lord Have Mercy" Ollivierre also hyped the crowd with "Evaluate".
He sang about those who he thinks need evaluation by the Mental Health Centre.Zamfir "Man Zangie" Adams with "Garifuna", Shaunelle McKenzie with "Life isn't fair", Joanna Christopher with "Everything gone up" and Cleopatra Hendrickson with "Common Sense" were also hard hitters on the night as was Shena Collis with "Come guide me" and Jerome 'Parry' Samuel with "Jesters and Abusers".Also performing was M'riah 'Siah' Robertson with "They love mini vans". Siah is the holder of the National Junior Soca Monarch crown. Kristian 'Lil Chris' Christopher and his sister Kristiana 'Singing Kristy' Christopher performed their songs "Oh what a tangled web" and "Change the face of Vincy Mas".
Last year, the siblings won two of the three crowns at the junior competitions. It was the second year that they were achieving this. Lil Kris completed a hat trick in the primary school segment of the junior calypso competition and his sister won the secondary school calypso category.Also performing at the show were Parnel Browne, Cecile 'Lil Bit' King, Brianca 'Briah' Matthias, Gillian 'Feisha' Smart, Alpheus 'Observer' Duncan and Gosnel 'GC' Cupid.Orande 'Bomani' Charles did a medley of songs to close the night.
Huggins said that the tent may see an additional member this year as former member Derron 'Full Clip' Dennie has shown interest in returning and has put out a Ragga Soca track that is expected to create a stir.Upstage's next show will be held on May 30 at the Russell's Auditorium. That show will feature Barbadian Anthony 'Mighty Gabby' Carter. Carter and a musical arranger will be working along with artistes to give pointers and tips.