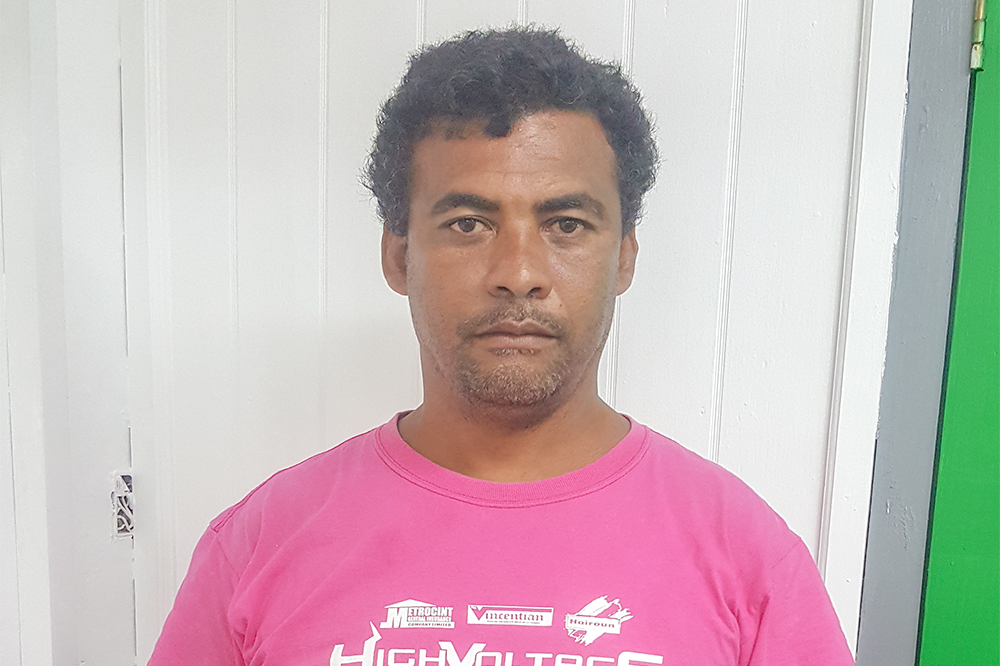 Mas band leader takes issue with Coreas Food container
Kingsley Collis, one of the youngest leaders of a traditional mas band in the country, is upset about how he was treated by members of the local constabulary last Friday, April 4.Collis, who operates the High Voltage Mas Camp on Lower Bay Street, was taken from his place of business by members of the Special Services Unit (SSU) sometime after 5:20 p.m. after a dispute broke out between him and workers from Coreas Food Division.
Collis's mas camp adjoins the Coreas Food Division building and on Friday, the distribution company was attempting to place a container in the parking space directly in front the building Collis rents, when Collis objected and blocked the parking space.
"I sat in the area on a table cutting out head pieces for my 2018 mas production and said I not moving and they were parked in the road taking up the traffic lane," recalled Collis.
He said he refused to move as the container would block his mas tent, making it hard for persons to find him.
Collis said that while he was telling the men to put the container somewhere where it would not obscure his business, a traffic cop came on a motorcycle, spoke to him, but he still objected to the container being placed in the position.
"I experience it (being blocked by a container) before and that time it stayed there for the entire mas season and nobody could find where I was. That time in 2014, it was two 40-foot containers on the side of me," said Collis, adding that he reported the matter to then Commissioner of Police (COP) Keith Miller.
"Miller addressed the situation and Coreas moved it and put it in their Car Park and that has not happened since 2014, but now they come back again, and I protest, and they call SSU," said Collis.
"Three jeep load of SSU came. I was surprised and stunned by the response and they came with guns and they take the table I was working on, throw it under the gallery after pulling me off and throwing me in the back of the truck and embarrassing me," Collis told SEARCHLIGHT while adding that his brother who was there fled the scene in fear, after observing the officers brandishing guns.He claims that while he was being driven to the police barracks, one of the officers told him that he was lucky that so many cameras were around, or he would have been beaten.
"He saying they would slap me up and when I reach in the station, they carry me traffic branch and I was being loud and saying it not right and a sergeant grab me up off the chair and try to slam me against a wall several times.
I had to put up my hand and he telling me he going throw me in a cell," recalled Collis."It is inhumane how they want to treat people. I never used expletives and when they came, I had a scissors and I throw it down to not look hostile," Collis explained.
He added that they wanted to put him in a cell, but an Inspector came, evaluated the situation and he was released without charge."I am emotionally disturbed and embarrassed. Up to now, the container still there. If it not moved, I will just have to go back.
They said they would try move it and up to this time, after 4 (Monday May, 7) it wasn't moved.When contacted on Monday, Manager of Coreas Food Division Jimmy Ford said his company normally parks containers there and the warehouse manager explained to Collis that this was an extra container and it would soon be moved, so as to not block the mas tent."…but he insisted that it should not be there.
He is not there other times of the year and we park there all the time.
The issue is a temporary situation where we offload and move after," said Forde, while adding that Collis could place his mas tent banner on the container for the short time the container is there.
"There is no intention to block him out. We don't have any hard feelings towards him, a few days before we donated chicken to him for a BBQ.
We love to work with him and we support his mas," Forde told SEARCHLIGHT while adding that the container must be placed somewhere as Coreas supplies the nation with chicken wings."We working together, we have no issue with Kingsley; we have sponsored him from time to time," Forde stressed.
Commenting, Station Sergeant Henry Providence of the Royal St Vincent and the Grenadines Police Force's (RSVGPF) Traffic Department told SEARCHLIGHT that before something like a container is placed in Kingstown, the business place or owner has to seek permission from either the police, the Kingstown Board or the Planning Department.
"I believe that Coreas has permission to put their containers at the food division location,, said Station Sergeant Providence.