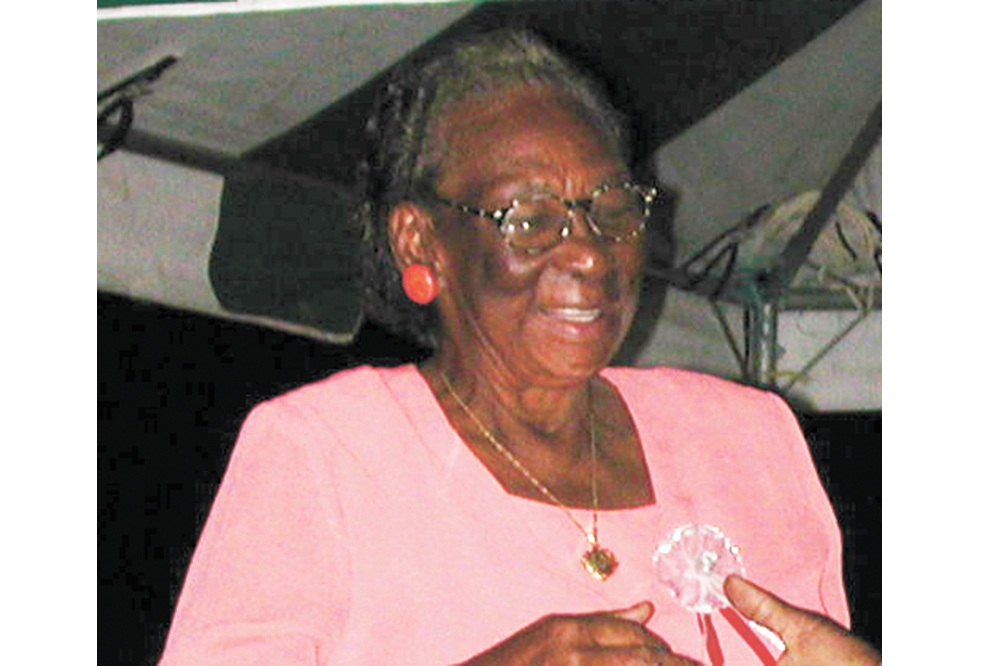 'Granny' Rose passes at age 89
GERMAINE 'GRANNY' ROSE, a woman whose name  is synonymous with early childhood education in St Vincent and the Grenadines (SVG), passed peacefully on Wednesday at the age of 89 years.
Granny Rose, as she was affectionately known, dedicated over 60 years of her life to the care and education of children, with many of those years spent nurturing pre-schoolers at the Young Women's Christian Association (YWCA) and fostering countless children who were welcomed into her home at Stoney Ground.
In an interview with SEARCHLIGHT eight years ago, Granny Rose shared that she established a rapport with children from an early age, having started teaching at age 14 when she opened a private school at Long Wall. Later, she began teaching at the Kingstown Anglican School and accessed numerous courses in education in order to improve her skills. She visited New York and England and observed their teaching practices and strategies which she implemented into her own teaching methods when she returned home to St Vincent and the Grenadines.
Although she was unable to remember the exact year when she became involved in early childhood education, Granny Rose said it stemmed from her involvement in the various activities of the YWCA. It was through that organization that the YWCA Pre-school and Nursery was established close to 40 years ago, and Granny Rose remained unwavering in her commitment to the children and their parents until she retired six years ago from the YWCA as director.
She was an active member in the Pre-school Services Committee, now known as the National Association of Early Childhood Education (NAECE), where she met with a number of stalwarts in Early Childhood Education and planned zonal and other activities for Child Month.
At a sitting of Parliament yesterday, Prime Minister Dr Ralph Gonsalves described Granny Rose as a strong, patriotic woman with an optimistic and clear vision for the future of the country.
"… We have lost a titan," he said. The sentiments of the Prime Minister were endorsed by Member of Parliament for Central Kingstown St Clair Leacock who also eulogized his former teacher.
Granny Rose worshipped at the St George's Cathedral in Kingstown and was a member of the Mothers' Union. She survived her late husband Reynold by 24 years and together they had six children: Renwick, Antonia, LaFerne, Conley, Dexter and Clintel.
Her son Dexter told SEARCHLIGHT that for the past six years, she had been suffering from "the mind devastating diseases of Alzheimers and Dementia."
Granny Rose passed peacefully at the Thompson Home at Richmond Hill where she had spent the last three years as a resident.
The Chair, Directors, Management and Staff of Interactive Media Limited extend sincere condolences to the extended Rose family, in particular Renwick and Dexter, both of whom are shareholders of the company, with Renwick being a columnist and member of the board of directors.