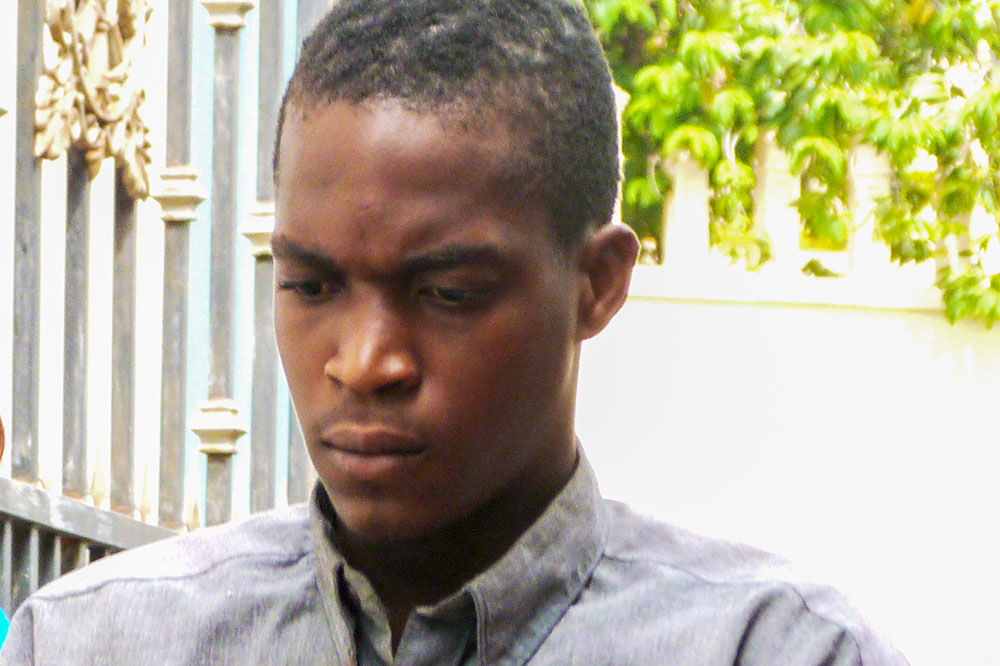 From the Courts
September 27, 2022
Man to serve 16 year prison sentence for killing his father
A YOUNG MAN who hit his father over the head multiple times with a hoe, killing him, and then dragged and buried his body in a field, will spend a total of 16 years in prison.
While sentencing Keron Samuel on Friday, September 23, High Court Judge, Brian Cottle put on record the series of events that led up to the murder that shocked residents of Evesham.
It was October 1, 2019, when the wife of 59-yearold George "Coban" Benjamin Samuel went searching for her husband, but did not find him. She called her husband's cellphone but it rang inside of a basket in the house.
However, she noticed some spots of blood on the ground, and discovered "disturbed earth near the root of a shrub in the garden."
She called the police. While she was awaiting their arrival, she asked their son, Keron when last he had seen his father. He told her that he believed he had seen him the previous day.
The police arrived and they were taken to the area of disturbed soil. It was excavated, and the body of George was found. It was nude from the waist down.
Investigations were launched.
A neighbour informed the police of an altercation that he had witnessed some days before. He explained that he heard Keron threatening to kill his father, and saw him attempt to strike a blow with a cutlass. However, the blow did not land as the father was able to run away.
Keron was interviewed by the police, and he confessed that there had been a quarrel between himself and his father on the evening of the 29th of September, 2019.
During the quarrel he struck his father over the head three times with a hoe, killing him. Keron told them that he dragged his father's body to a nearby field and buried it in a shallow grave.
He concealed the grave with cut leaves and shrubs.
The following morning he swept the path where he had dragged the body, and cleaned up the interior of the house where the killing had taken place.
A post mortem examination revealed that George Benjamin Samuel died of blunt force trauma to the head and face.There were multiple fractures to his skull, and there was extrusion of brain tissue.
"This is an unfortunate and tragic circumstance, because this is a death that was caused by a son who took his father's life," said defense lawyer, Shirlan Barnwell at the High Court on Wednesday, September 21, two days before Keron was sentenced for the offence of murder.
The lawyer had already prepared written submissions for the judge's perusal.
Assistant Director of Public Prosecutions,Tammika DaSilva-McKenzie, had also filed sentencing submissions on behalf of the crown.
Further, a social inquiry report had been prepared by the social welfare department, as is usually done prior to sentencing.
Barnwell, during her mitigation, revealed that the social inquiry report "does give some indication that his family life was somewhat troubled or dysfunctional."
"…The court must be able to have some understanding or at least some consideration as to the social influences that sometimes lead to some incomprehensible acts that are committed by young people," the lawyer commented.
Keron has two older siblings, and his relationship with them was said to be "severely strained."
He apparently struggled to maintain a "healthy bond" with his brother, who was diagnosed with a mental illness.
The relationship between his parents was described in the document as difficult and traumatic, "to the degree that Mr Samuel
was forced to leave his house as a teenager because he was described as difficult and disrespectful."
Keron told the welfare officer "that he suffered physical, emotional and sexual abuse at the hands of his father."
The young man finished secondary school without passing any of his subjects. He had been suspended often for fighting while at the institution.
"This is not normal childhood," the lawyer said. With his path to further education at a dead end, the teenaged Samuel is said to have worked in several jobs including farming, masonry and as a gardener "to make ends meet".
Some community members know him to be a "simple youth who was not prone to violence", and a respectable person.
"Overall he is viewed as a respectable young man, although close members of the family have reported that there was some degree of conflict between Keron and his father which caused the act of him killing his father and also which they found very shocking," Barnwell stated.
Within two months of his incarceration Keron was examined at the Mental Health and Rehabilitation centre, and found to suffer from major depressive disorder.
"I don't think that is something that one just develops overnight," the lawyer observed.
Furthermore, two and a half years afterwards, in a prepared psychiatric report, he was diagnosed with bipolar two disorder.
"This is a mental disorder which causes extreme mood swings, includes emotional highs which is referred to as mania, or hyper mania, and low – which we normally talk about depression," Barnwell outlined.
"That is something that I think the court ought to consider," she posited, and within the context that his mother did say in her interview that they had considered getting help for him a few years prior, because they thought something was wrong with him.
"It's a struggle because without having that expert report at the time it is just an inference or for the court's consideration, for the court's compassion," she added.
Keron voluntarily signed up for counselling after being incarcerated shortly after the offence.
More information on the sexual abuse allegations that Keron made were revealed during sentencing.
The young man apparently is claiming that this began when he was 16 and ended when he was 18 years old, which is the time that he left to go to live with other relatives.
He told the social worker that he could not bring himself to report it to his mother because he felt she did not pay him sufficient attention.
Neither of his older siblings confirmed any of this. Keron further said that the relatives he stayed with at 18 did not treat him well so he begged to return home. On the night he killed his father, he submitted that his father had begun to physically assault him, he took the hoe he had underneath the bed and dealt the fatal blows.
In considering the sentencing the Judge decided to begin at 30 years of incarceration, as he viewed the offence to be sufficiently serious to fall within the range of 20 to 40 years set out in the sentencing guidelines of the Eastern Caribbean Supreme Court(ECSC).
"I arrive at the starting point for the following reasons: this prisoner had the hoe at the scene available for use as a weapon. I note that it is not usual for persons to store garden implements under a bed. He used that hoe to kill his father. At the time of the offence he was an adult."
Justice Cottle then considered the aggravating and mitigating features of the crime and of the offender. Some of the aggravating factors are that: the murder occurred at the home of the deceased, a weapon was used, and the body was concealed.
On the other hand, he was 20 years old at the time.
"There is every hope in my view for his eventual rehabilitation," Cottle said.
Keron had pled guilty thereby allowing his family to avoid the ordeal of a trial; he has a history of abuse suffered at the hands of his father; he
had undiagnosed mental disorders, and "since his incarceration he's been participating in treatment for his mental condition and I view that as another expression of his genuine remorse."
He also had no previous convictions.
The mitigating outweighed the aggravating factors on the scale of justice, and six years were lifted from the sentence.
The court was left with a sentence of 24 years, which was further cut by one third as the young man admitted his guilt.
He was ordered to spend 16 years in prison. He has already served two years, 11 months and 21 days.