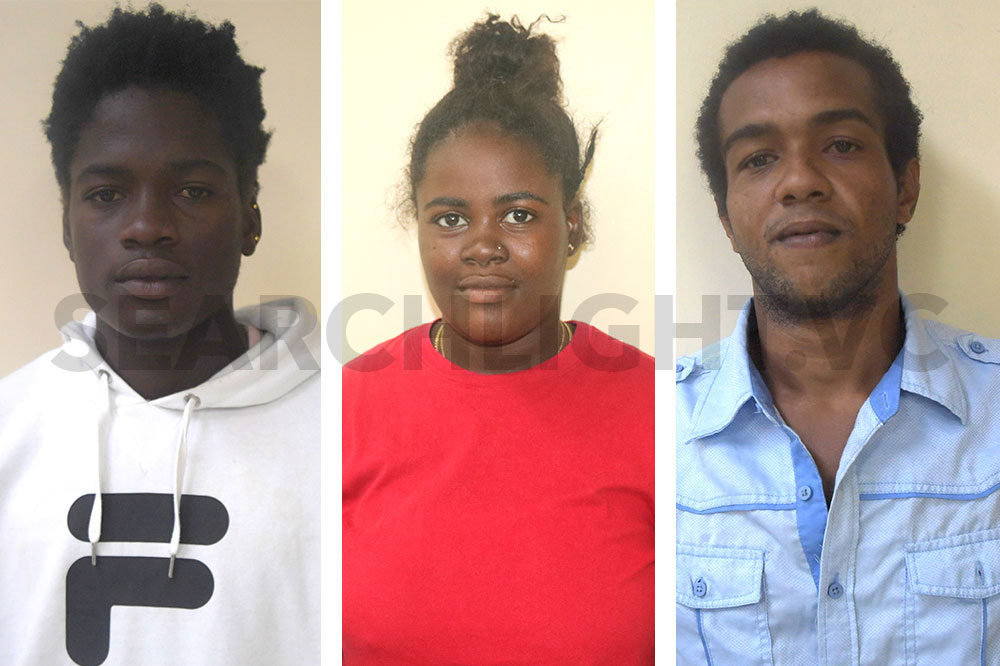 From the Courts
September 27, 2022
Armed robbery suspects load up on more charges
Two young men and a young woman continue to rack up criminal charges and have been remanded for another week as police continue investigations.
Michael Richards, Kerri-Ann Richards, and Daunté Ajalon John returned to the Serious Offences Court (SOC) on September 21 after spending over a week behind bars.
More charges were awaiting their return.
John and Richards are accused that they, on August 31, at Diamond, were armed with a gun when they robbed Toshika Abbey of Diamond of a Digicel D1 cellular phone valued at EC$249, as well as EC$129.75 in cash.
All three accused are charged that they, on September 8, at Diamond Estate, without lawful excuse, damaged the left mirror and left fender of scooter R7252, the property of Hector Perdomo Gutierrez, valued at $370.40.
Solely, Michael Richards is charged that on August 6, at Calliaqua, he stole one black, brown and white ram goat valued at $450, the property of Nichael Ryan of Golden Vale.
Diamond residents 17 year old John and 18 year old Kerri-Ann as well as Brighton resident Michael, 23 years old, are already accused of the armed robbery and wounding of Hector Perdomo Autierrez.
Michael is also facing a burglary charge.
On September 13, the prosecution had asked that bail be denied to the trio because investigations were ongoing, and the firearm claimed to have been used had not been recovered.
Bail was denied and the matter adjourned to last Wednesday.
The prosecution noted that there is a series of incidents being investigated, and these new charges are the fruits of the investigations that took place over the week the three were on remand. They continued to object to bail as they feared the investigations would be hindered.
Chief Magistrate, Rechanne Browne said that in light of the ongoing inquiries the three young men would be further detained. She noted that they are innocent until proven guilty, and that they would not be on remand ad infinitum but for a further seven days.
Bail review is set for tomorrow, September 28.