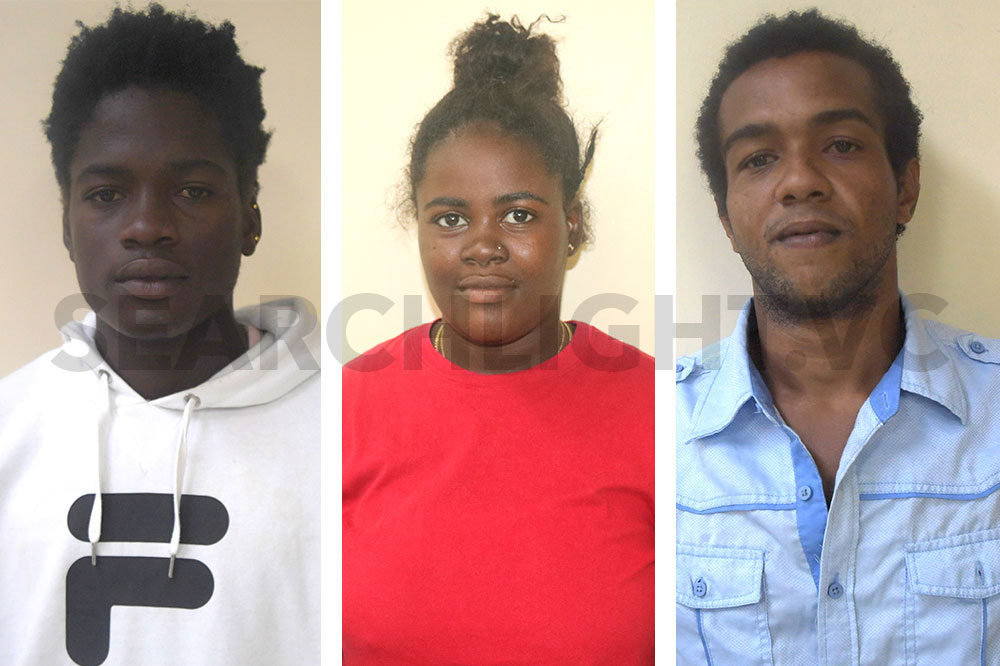 From the Courts
September 16, 2022
Trio remanded on armed robbery charges
TWO TEENS and a 23-year-old who are on armed robbery charges have been remanded for a just over week while police try to track down the firearm allegedly used.
Daunte Ajalon John, 17 years old; Kerri-Ann Richards, 18 years old, and Michael Richards, 23 years old (not related to Kerri-Ann), are all Diamond residents.
They were escorted to the Serious Offences Court (SOC) on Tuesday, September 13, where two charges were read to the trio and one additional charge was read to Michael.
The accused are all charged that on September 8, at Diamond, while armed with a gun, they robbed Hector Perdomo Autierrez of Campden Park of one digital wrist watch, one TCL cellular phone, and EC$3000 in cash.
The total worth of the property taken from Autierrez is said to amount to EC$3950.
Tied together with the first charge, is a second charge accusing them of wounding Autierrez.
These charges are laid indictably and therefore the trio did not have to enter a plea to them as yet, because if a trial is to be conducted it will be done at the High Court.
Michael is further charged for a separate incident, in which he is accused that between August 9 and 12, at Diamond, he entered the dwelling house of Margrette Jackson as a trespasser and stole a laptop, a transformer, a blender, and a flat screen television, together worth EC$7850.
He pleaded 'Not Guilty' to this offence.
The prosecution lodged an objection to bail for the two men, but not for Kerri-Ann. They said that the police are carrying out investigations, and the firearm and items allegedly used and taken have not been recovered as yet. They asked that the men be remanded for a week or two in the first instance so that the investigations would not be hindered.
They did not object to bail for Kerri-Ann, who is the mother of a baby.
The teenagers are school drop outs – with Kerri-Ann leaving education behind in form two and the 17-yearold not wanting to attend school because of a supposed hand injury.
Kerri-Ann lives with her mother.
Chief Magistrate Rechanne Browne therefore inquired why bail was being objected to for the men, but not Kerri-Ann. She pointed out that if bail is being objected to it should be for all, as it is alleged that all were involved. Further it is alleged that a firearm was used and further headway needs to be made.
She took the decision to deny bail to all three, and that this would be reviewed on September 21.