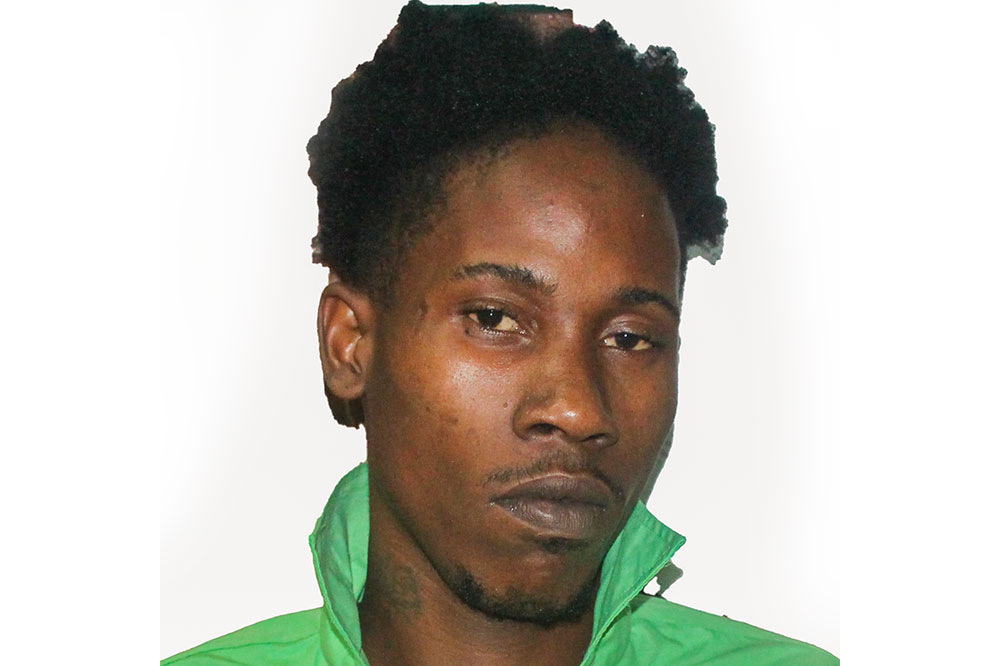 From the Courts
September 9, 2022
Young man who claims he feared for his life jailed for possession of illegal firearm
One of four occupants of a vehicle in which an illegal revolver was found admitted to possession of the firearm, and was yesterday, September 8 sentenced to 42 months in prison.
According to the police members of the Rapid Response Unit(RRU) were on mobile patrol along the Glen public road close to 10.00 p.m on September 6 when they spotted a vehicle going in the opposite direction, and signalled for it to stop.
A subsequent search of the four occupants of the vehicle as well as the vehicle itself, resulted in the find of a .38 Smith and Wesson revolver with six bullets on the floor near the front passenger seat of the motor vehicle. Twenty-five-year-old Barrouallie/Glen resident, Zouck Mills told the officers, "Ah mine. Allyuh win. Man out there want kill we".
The offences of illegal firearm and ammunition possession were pointed out to the four individuals, and they were taken to the Central Police Station. Three of the occupants were later discharged while Mills received multiple charges.
At the Serious Offences Court(SOC) yesterday, September 8, he admitted guilt to illegal firearm and ammunition possession on September 7, at Glen.
When given a chance to speak, the 25-year-old defendant, although not represented by an attorney, had a lot to say.
He said that he is a man trying to do something with his life, however there are "some individuals" in this country, a lot of youngsters doing a lot of "stupidness".
The arts and crafts vendor claimed that everything started when he was hustling one day in 2019 and was robbed by some persons. He alleged it was a whole team of guys.
He said he stopped vending for months and when he resumed vending the guys "rushed" him.
Mills claimed that it is one group who is "harassing" and "terrorizing" him.
The defendant further alleged that last week he was told by the police that they heard that gunmen were looking for him.
Mills further submitted that his life has been threatened on a number of occasions.
"I just concerned of protecting myself so I going mek sure get myself a firearm," he told Chief Magistrate Rechanne Browne.
"I can't walk in peace," he said, "it ain get nowhere I could go in peace for them guys."
"I can't sit down pon my a**" , and wait for them to kill him, he said further.
Mills wanted to pay a fine. He said that he didn't really want to live a life of "badness" noting that his girlfriend is "expecting".
"Nah for say I looking for badness", but only to safeguard,he repeated.
The magistrate said that the law does allow for a fine of $20,000.
Mills said once he gets a little time to pay, he has something on the "outskirts" and people willing to help him.
"But the law also says seven years imprisonment for this offence," Browne told him, and that a number of things are considered.
"Sometimes rest and reflection, a little absence from action and the possibility more so of rehabilitation," is good, she noted.
"I understand and respect that," Mills replied.
"And it's a peace of mind," the magistrate commented, "because based on what you are saying I cannot imagine how it is every day to be worried about whether or not I will make it the next minute."
The defendant, who has a criminal record, argued that, "it's the same thing in prison too."
The court stood down the matter to consider the sentencing guidelines of the higher court.
Browne started at 50% of the maximum, which is equivalent to 3.5 years' incarceration.
She then considered aggravating factors such as the motivation being revenge, the gun being discovered in his possession during the night and in a lonely area, and that he was with a group of persons.
The court also noted his dress, a camouflage pants and black hoodie and that there seemed to have been an element of planning.
In terms of Mills himself: his character is tainted by a previous record and he was considered to have shown no remorse.
However, his youth was a mitigating factor.
Because of his guilty plea his sentence was reduced by one third, to reach a final count of 42 months incarceration.
The sentence for ammunition possession is 10 months in prison.
Both sentences will run concurrently.