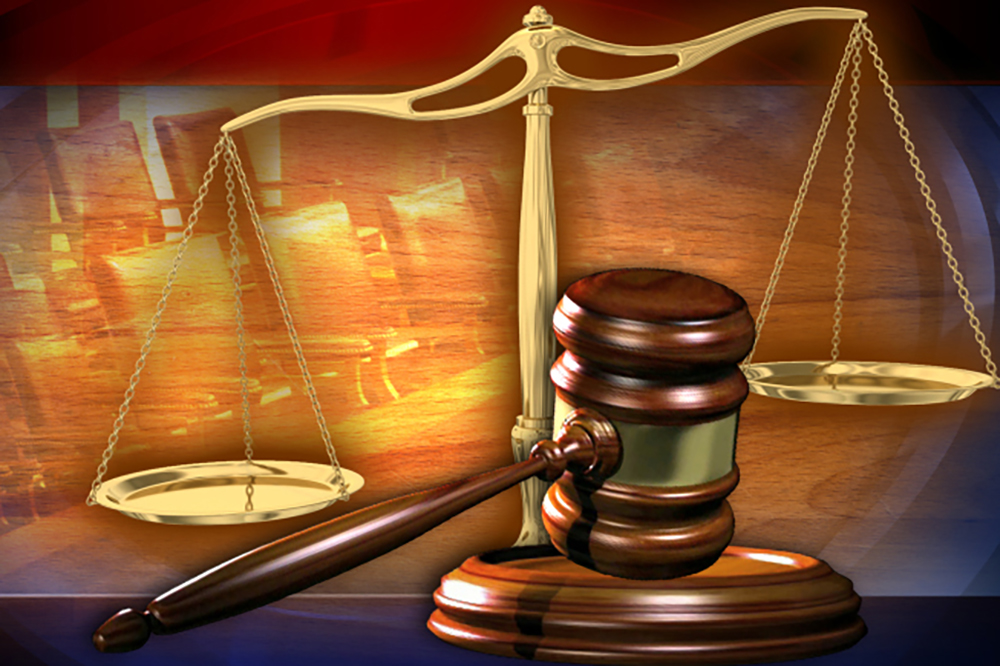 From the Courts
July 29, 2022
Court of Appeal gives teens caught with imitation firearms reprieve
Six month prison sentences handed down to two teens caught in possession of imitation firearms have been set aside on appeal.
In December 2019, at the Calliaqua Magistrate's Court, Braydon Richards and Kelroy Henry pleaded guilty at the first available opportunity to the crime of possession of an offensive weapon.
Richards, then 17 years old, and Henry, 18 years, were nabbed by police at around 10 pm on November 30, 2019. They were found in the vicinity of the Girl Guides Headquarters, searched and revealed to have been carrying imitation weapons wrapped in red bandanas.
The maximum penalty that they could have received for this crime is one year imprisonment.
Magistrate Zoila Ellis-Browne considered the need to deter others from committing similar offences, and that Henry had previous convictions of escaping lawful custody and theft. She also noted that Richards had no previous convictions and that the duo had pleaded guilty at the first available opportunity.
Ultimately she imposed prison terms of six months for both offenders.
Richards spent four days in prison and Henry served two months behind bars before they received bail pending their appeal.
Richards appealed both his conviction and sentence. He said his conviction could not be supported by the evidence adduced and that the sentence was too excessive.
Henry appealed his sentence on the grounds that it was too excessive.
Before the Justices of Appeal on July 20, the crown/respondents, represented by counsel Kaylia Toney, conceded to the duo's appeals against sentence. However, they did not concede with Richards' appeal against his conviction.
They submitted that Henry's sentence should be replaced by a sentence of time served while in Richards' case an appropriate substitution would be that he is bonded for one year to keep the peace. In the alternative, it was noted that the court may also impose a suspended sentence.
The Justices of Appeal(JA) first addressed Henry's matter.
Justice Kelvin Baptiste asked the crown on what basis they were conceding Henry's sentence.
"The crown's position is that although the sentencing guidelines would not have been in effect at the time when appellant Henry was sentenced, even in the absence of those guidelines the learned magistrate should have taken into account the prospect for rehabilitation and age of the offender whilst determining sentence and the failure to do so in the respondent's humble submission is wrong in principle," counsel Toney explained.
The Justice later asked her to elaborate on rehabilitation, and she indicated, "at the age of 18 there is a reasonable prospect of rehabilitation and where sentencing young persons the court ought to have had regard to reintegration into society."
Henry, who is currently imprisoned on an unrelated offence, was asked by the Justices if he wanted to say anything. He said that he did not.
Richards, who represented himself, argued that his conviction was wrong.
He claimed that he only pleaded guilty because his co-accused told him to plead guilty "and I go with his stupid idea".
Richards said Henry made him believe that was the best decision.
The Justice asked him how his co-accused made him plead guilty.
Richards said this was because he didn't know what to do. "I was frightened" he noted.
However, he was informed that there were limited conditions under which a court could set aside a conviction on appeal and this was not a reason for the court to overturn it.
The court deliberated before Justice of Appeal (JA) Mario Michel delivered the judgment.
"Appellant number one Richards gave as his reason for appealing against this conviction the fact that his co-accused Kelroy Henry told him that he should plead guilty and it could make it easier. The court does not find in this any reason on the basis of which his conviction on a guilty plea should be overturned," Justice Michel stated.
He concluded that in all the circumstances, "in respect of Braydon Richards, his appeal against conviction is dismissed and his sentence of six months imprisonment is set aside and replaced by a bond for a period of one year to keep the peace and be of good behaviour or for breach of which the appellant Braydon Richards would serve a term of six months imprisonment."
"With respect to the second appellant Kelroy Henry, his appeal against sentence is allowed and the sentence of six months imprisonment imposed by the magistrate is set aside and replaced with a sentence of time served," the Justice ruled.