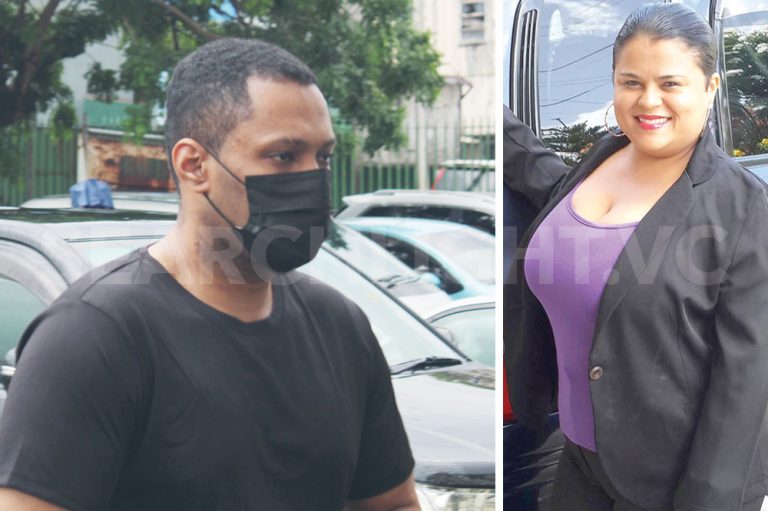 From the Courts
July 22, 2022
Primus came home smelling 'renk' of blood – Witness
On the night that real estate agent Sharleen Greaves was murdered, Veron Primus returned to his home late, smelling "renk" of blood, and with a bloody knife in his possession.
Two months later, Primus confessed to a female relative with whom he was having intimate relations that he had committed the crime, telling her that he didn't know why he did it.
This was some of the key evidence presented during the murder trial of Primus that contributed to his being convicted this Monday, July 18.
After approximately three hours and 25 minutes a 12-member jury decided that they believed the case for the prosecution and they unanimously delivered a guilty verdict.
Assistant Director of Public Prosecutions, Karim Nelson; crown counsel Kaylia Toney and Assistant Superintendent of Police, John Ballah, presented 17 witnesses for their case and one rebuttal witness.
Arguably the weightiest of their witnesses was the female relative to whom Primus had confessed.
The media was not allowed inside the court during her testimony (which was given via live link) but her evidence was included in Justice Brian Cottle's summation to the jury on July 15.
Primus had been staying at this relative's home on November 12, 2015, the day that Greaves was murdered. He had been staying there for some time.
At about 6:30 pm, Primus left home and told her he was going hunting. He had with him a backpack that he usually carried his knives around in.
She estimated that it was around midnight when she saw him again. She said that he was in her yard, and that he carried a knife in his hand.
She noticed a "renk" smell as she conversed with him briefly on the porch. The smell was foul, of blood and one she would not forget, the witness described.
She also observed that the knife appeared to have blood stains at the brink of the handle where the metal meets it.
After she got ready for bed and lay down, Primus took off his shoes and joined her. He began to cry, she consoled him, and the two of them fell asleep.
The next day, she was getting ready for work when she noticed that Primus was also getting ready to leave. He told her he would accompany her into Kingstown. The two were walking together when she noticed silence and turned to see Primus walking towards a Suzuki jeep they had passed. She told him she didn't know that he was driving, and they both got inside and travelled to the Stoney Ground Medical Centre. Primus told her that she would have to walk from there as the person he rented the vehicle from said to park it there. The unemployed Primus then gave her a $100 bill from his bag, telling her to use it.
That week she heard about a murder but did not realize who the victim was until the following week. Upon seeing the victim's photo, the relative remembered Primus showing the same image to her in the first week of November, 2015 and commenting that it was his "sexy friend".
However, when she asked Primus about the murdered individual being his friend he said no.
Primus' confession did not come until January 15, 2016, on the witness's birthday. However, she said she had already formed the opinion before this that he had killed Greaves.
Having not seen Primus for 15 days, she decided that she would visit him at his home in Vermont. She took a taxi there, and also met his then-girlfriend Mewanah Hadaway. At some point during her visit she said he sat her down, retrieved his tablet, and showed her a picture of Greaves. When she told him she remembered her, he told her "I did it". She asked whether he killed her, and he said yes "I did it". They were both crying, the witness said.
He told her he didn't know why when she asked.
The witness said that because "of the bond they shared it just felt real that she was sad as well."
They continued their relationship after this. She told the court Primus instilled fear in her. However, she was convinced by a good friend to whom she had confided to tell the police after Primus was taken into custody in April 2016 for the alleged kidnapping and rape of his then-girlfriend.
During cross examination by defence lawyer Michael Wyllie, the witness said that when Primus confessed, she was heartbroken, frustrated, sad and experiencing many other feelings. She admitted the relationship remained sexual, asking the lawyer what else she could do but continue the relationship until she knew what to do. She noted that one has be wise.
On the subject of the confession she said "I cannot unhear the words. I do not hate the accused man, I never will."
Ronella Bailey, Greaves' secretary, also became an important witness for the prosecution, as she spoke to the introduction of Primus into their world and about the Suzuki Escudo belonging to her boss that had been found abandoned by the police at Wilson Hill.
The police had discovered Greaves' Suzuki key in Primus' house and the defence claimed Bailey had rented it to Primus without her employer knowing on November 12, 2015.
Bailey told the court that she first met Primus when his brother introduced him to her when she was in Kingstown one day. They shopped and hung out together.
After this Primus called her, telling her he had lied to a relative to get her number.
One day after this she and Greaves were in the office, and Greaves mentioned to Bailey she wanted someone to hang out with. Bailey thought of Primus and introduced him to her boss via Whatsapp in late September 2015. Primus, who the two women knew as "Abdon Abbott", was told he could pass by the office.
He did come to the Bijou Real Estate office in Arnos Vale multiple times but Greaves wasn't there. There was only one time that Bailey knew about that he spoke to Greaves at the office.
On November 12, 2015, Bailey left the office to attend a funeral, leaving the Suzuki jeep. Bailey said that she never rented it and did not do so on the night Greaves died. After the funeral she said she went to her mother in law's.
When speaking about the following day, she broke down.
She arrived at the office at around nine and met the Air Conditioner on. She noted that Greaves' office was locked. Calls to her employer were unsuccessful.
She sought the help of a male, who ended up climbing to peer over a partition into Greaves' office. He stumbled back on discovering her body in a pool of blood.
It is suspected that a call that the police received at 11:30 pm on November 12 is concerning this case. An unknown female spoke to them in a hushed voice saying that someone had broken into the office located at the Highway Trading building. She began screaming and the line went dead.
However, there were no signs of a break-in other than a stab to the door. Since the printer and desk had been moved when Bailey arrived, the implication is that the perpetrator also climbed over using the space between the partition and ceiling.
The police systematically processed the ransacked office, also cutting out bloody fingerprints from the wall. However, the ridges were not well formed as they were made in blood. The police say that Primus did not willingly give them DNA and the law of St Vincent and the Grenadines(SVG) says he has to be willing.
Sentencing in this matter is expected to begin on September 21.
Although this case is completed, Primus is further indicted in the murder of Brooklyn teen, Chanel Petro-Nixon, who was strangled to death in 2006.