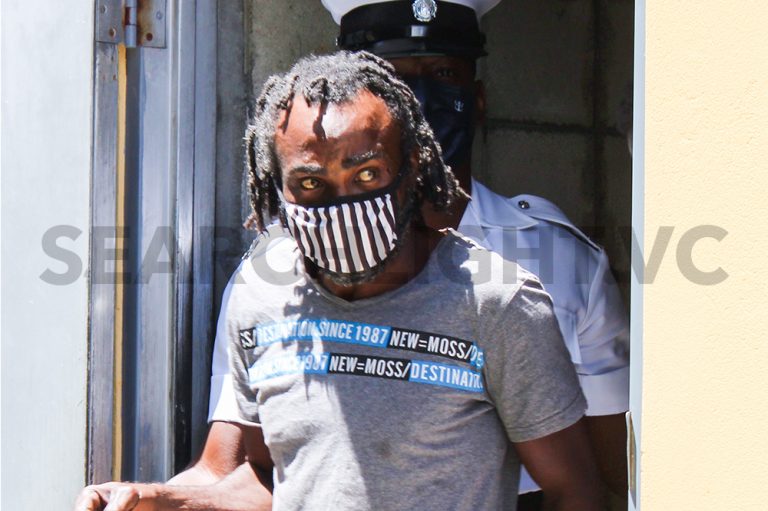 From the Courts
May 20, 2022
Rose Place resident fined $8400 for 56 grams of cocaine
FOR THE 56 GRAMS of cocaine hidden in his pants crotch, a Rose Place resident has been fined a total of $8400 to be split between July and October.
It was a report of theft that the police were investigating when they went on patrol in Rose Place on May 30, 2021, but 44-yearold Michael Thomas was nabbed with more than was bargained for.
It is said that on the date in question, Police Constable 681 Hamilton and a party of other officers, acting on information received headed to an area near the Milton Cato Memorial Hospital (MCMH).
On arrival, while some officers approached the suspect's yard, PC Hamilton positioned himself alongside the building.
From there, he observed Thomas climbing over a 15 ft wall with a phone in his hand that matched the description of the phone in the report of theft.
Hamilton approached him and asked about the cellphone to which Thomas replied "ah Shorne give me fu $30."
While they were still there, Hamilton saw Thomas pushing his hand into the area of his pants crotch where he remove a transparent plastic bag and threw it about five feet away.
The officer immediately retrieved the plastic bag and searched it, finding a whitish substance resembling cocaine.
Thomas told Hamilton: "officer is ah piece of drugs".
Later, at the police station, a thorough search of his person revealed $30.25.
The Rose Place resident was subsequently charged for the offences of handling stolen goods, namely a Samsung Galaxy cellphone; possession of 56 grams of a controlled drug with intent to supply and for the purposes of drug trafficking.
Although he admitted guilt to the charge of handing stolen goods, he maintained his innocence to the charges involving the cocaine.
His trial on these matters concluded this week and a decision was relayed by Chief Magistrate Rechanne Browne on Tuesday, May 17, finding him to be guilty beyond a reasonable doubt. The magistrate noted that having considered all the evidence, the version presented by the prosecution was far more believable.
The defendant was then given a chance to say something to the court, and he asked that he be given a fine.
However, the prosecutor, Station Sergeant Renrick Cato revealed that most of Thomas' past convictions have been for possession of a controlled drug, some of these being cocaine.
Cato emphasised that should the court impose a fine then it must be such that the defendant should be deterred from this kind of behaviour.
The prosecutor also spoke about the prevalence of cocaine, and the damaging effect it has on the country's youths.
"I am asking that the sentence be of such that the defendant must or should take into consideration what would be his actions after today's conviction. What will he do as it relates to cocaine after today's sentence?" Cato stated.
Based on precedent in cases of different amounts of cocaine, the magistrate informed the defendant that the penalty was likely to be significant. She asked him how he would propose to pay a fine, and how he was employed.
Thomas said that he builds blocks.
The magistrate noted that a fine would likely be in the thousands and possibly over $10,000.
The defendant seemed to ask for time to pay.
Browne stood down the matter and returned later to give her sentence.
She chose to start at a non-custodial sentence.
The judicial officer found that the case was aggravated by the attempt to dispose of the evidence.
"…Which is something usually I find curious because it seems the notion of it is 'you ain find it on me so I not in possession'. When the facts speak to throwing or that generally is usually the idea," she stated. However, Browne clarified that possession refers to custody or control of a substance.
The nature of the drug being cocaine was also considered an aggravating factor.
There were no mitigating factors for the crime.
When it came to Thomas himself, working against him was "…your antecedent history which is replete with convictions of drug possession."
There was nothing that mitigated in relation to his personal characteristics.
In conclusion, it was decided that for the offence of possession with intent to supply, a fine of $3600 would be paid by July 30. Defaulting this he will spend eight months incarcerated.
"With regard to the trafficking which is an even serious offence, you are fined $4800 by the 28th of October 2022 in default, 10 months imprisonment," the magistrate ruled.
The drug was ordered to be destroyed. For the offence of handling stolen goods the phone was ordered to be returned to the owner and Thomas has been bonded for nine months in the sum of $1500. If he returns before the court with a conviction nine months after this sentence he must pay $1500 immediately or spend nine months imprisoned.
At the time he received this sentence Thomas was being kept at Her Majesty's Prisons (HMP), having failed to find a surety to stand the $7000 bail that he was given for charges of wounding and wounding with intent.