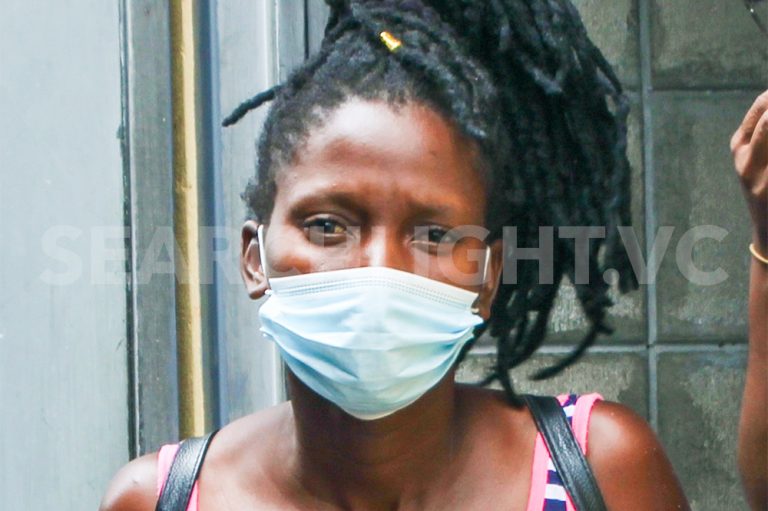 From the Courts
April 29, 2022
Housekeeper charged with possession of 85 pounds of cocaine (+Video)
A 32-year-old housekeeper of Union Island who apparently stashed what she thought was a "small weed" concealed in buoys for a friend but what was instead 85 pounds of cocaine, is remanded in prison until she will be sentenced on May 5.
Zipporah John, who is said to be of little means, is staring at a hefty fine or a lengthy prison term for possession of 38,707g of cocaine with intent to supply and for the purposes of drug trafficking.
John found herself in this predicament after the Rapid Response Unit (RRU) uncovered the substance at her home in Ashton on April 25. The facts read by Sergeant 172 Ash at the Serious Offences Court (SOC) yesterday, April 28, reveal that at around 7:50p.m on Monday, RRU personnel, headed by Corporal 771 Bowens, armed with a search warrant after receiving certain information conducted a search at John's home in Ashton.
During the search John apparently repeated the question "Ah how you all find me?" She also told them to "Search".
While this was happening, Bowens spotted a blue barrel next to John's bed. The barrel with a grey cover was opened and the officer saw three buoys. These were cut open to reveal black and grey packages inside of them all. One package was cut open and a substance resembling cocaine was observed.
John told them it was someone from "Bagga" who gave her to hold.
The search continued but nothing further was discovered.
Later when the packages were counted they were found to amount to 35.
John was charged the following day, Tuesday, April 26.
She was taken to court on Wednesday , and the matter was adjourned for a representative from the Office of the Director of Public Prosecutions (DPP) to be present on Thursday.
Yesterday, defence counsel, Grant Connell read a statement from his client on the issue.
In this statement John explained that she was at home on Monday morning when someone brought some items for her as a boat had broken down on the way to Grenada with marijuana.
"They asked me just hold it till morning when the boat fixed. I tell them rest the ting them in the blue barrel," she said, explaining that she was referring to "The ting them that does float in water and does be on boat."
Connell Continued to read from this statement in which John said, "I show he wey part to put the ting dem in the blue barrel me ha dey. Later in the day police come by me say they want search me for cocaine and gun. Me say me don't have that."
When they looked in the barrel she, "tell them where them come from, who give me and what it be. Is some small weed."
The police then took out the plastic packets and, "Them cut the black square ting dem and some white ting come out. They asked me if I know wey it be and I say no and them tell me is cocaine."
John apparently explained that she didn't know and was asked to hold it, noting,"If me been know is that ting there me would not have tek it."
"Me real sorry, me ain't in them ting there, me don't use them ting there. Me never in dem ting there before," the statement concluded.
Connell said that this "is the raw expression of an innocent woman who was asked to hold a small portion of weed, locally grown – that too was illegal, but the difference is when an angel is by your door and the devil itself you welcome one in but the other you would close out at the door."
"How would she know?" he questioned.
The lawyer also gave some attention in his submissions to the possibility that a prison sentence would be suspended, and therefore not activated unless John finds herself before the court again within a certain period.
Sentencing guidelines outline certain considerations for the court in imposing a suspended sentence, and the lawyer went through them one by one.
When Connell arrived at the consideration of whether John is a good candidate for rehabilitation, he noted, "Of course. There is actually nothing to rehabilitate – this is a good, honest, hard working Vincentian maintaining three children on a salary that I to this day don't know how they actually exist.
When a pound of fish is $10 and you're working for $30. It almost brings tears to my eyes."
A jail term would affect her children who depend on her, he said. It was later revealed after further questioning by Chief Magistrate, Rechanne Browne that the youngest of her children lives with her in Union Island but her two older children are living on the mainland with a grandfather and a father. However, John said that she maintains them all.
Asking for leniency for his client, Connell stated, "She is not a cocaine pusher, she is not a cocaine smoker, she was merely used as a convenience – not even as a mule! which is her humble dwellings and her humble appearance these people used as a shelter to try and hide from the likes of those good officers but it was not good enough."
He said that she was no criminal. Further, that if the sentence was suspended she would be back on the straight and narrow.
Prosecutor, Station Sergeant Renrick Cato pointed out that none of what was said in the statement by defence counsel was ever communicated to the police.
He also emphasised the amount of the drug which is valued at $30,000 per kilo, and that the court has recently imposed a $106,000 fine for charges related to four kilograms of cocaine. "And the court has the power and the authority to multiply that by three. I'm looking at the schedule where cocaine is a class A drug," he said.
Cato also pondered that if the court were to give a suspended sentence for the two charges, "What message is the court sending to persons who are used as mules or her allow themselves to be exploited and cover up for persons who they know?"
The Station Sergeant said that he did not hear the lawyer speak of the defendant's means to pay a fine.
"I am asking the court because the defendant has little means of paying a fine at this point in time, based on the amount of cocaine, the court has at it's disposal seven years imprisonment and I'm asking at this point in time your honour that a custodial sentence as it relates to this offence is most appropriate."
When the prosecution had completed its submissions Connell rose again to reply to certain points, and also noted, "If this matter with these mitigating factors does not warrant a suspended in the mind of the prosecution I don't know what will."
He also said that housing John at the prison would be $6000 a year.
The magistrate said that there were many things to carefully consider for the very serious offences, "so that the objectives of sentencing are met and the sentencing guidelines apply so that the sentence would be reflected of the appropriate punishment."
Sentencing was therefore adjourned to May 5.