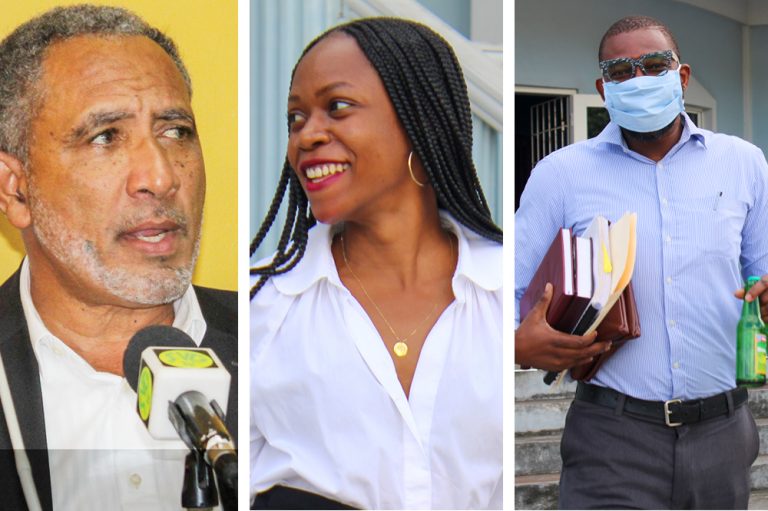 From the Courts
November 26, 2021
Justice has not been served – NDP Leader
The acquittal of Unity Labour Party (ULP) Senator Ashelle Morgan and Assistant Director of Public Prosecutions (ADPP) Karim Nelson is not sitting well with the New Democratic Party (NDP).  
And, the party's leader, Dr. Godwin Friday said on Tuesday during a virtual press conference that justice has not been served in the much publicised and widely discussed criminal case.  
Last week Thursday November 18, the Mesopotamia Magistrates Court, sitting at Calliaqua and headed by magistrate Bertie Pompey, ruled to acquit Nelson and Morgan of charges laid against them following the April 13 incident at Diamond where businessman Cornelius John was shot in the leg on his property. 
This decision was handed down after no case submissions were made at the end of the prosecution's case by defense counsel Duane Daniel and Ronald Marks, representing Morgan and Nelson respectively. 
The prosecution was led by St Lucia's Deputy Director of Public Prosecutions, Stephen Brette who tried to bring Nelson guilty on a charge that he allegedly wounded John and unlawfully discharged a firearm; and Senator Morgan on the charge of criminal assault having allegedly told John she would shoot him in the mouth if he called her f-ing name. 
The opposition leader said on Tuesday that a large cross section of the public is left with the uneasy feeling that justice is for a few and not for all.  
"We cannot have this as being the considered opinion of many in our county because when our criminal justice system is doubted and questioned, we all suffer," he said at the press conference.  
He praised John, stating that he exhibited admirable faith and an indomitable spirit in the face of his ordeal and in the outcome of the case.  
The opposition leader said that from the outset, John's plight stoked outrage and disbelief in the country.  
"It is not a surprise that members of the public have taken keen interest in the verdict and are reacting to it," Dr. Friday said while opining that the verdict has left an unsavoury taste in the mouth of many as "justice must not only be done, it must be seen to be done."  
The opposition leader also noted that the manner in which the case has unfolded is not about John, but about injustice. 
"While I strongly believe that faith is the cornerstone of human strength, the bible teaches us that faith without works, without action is dead.  
"As a nation therefore we must redouble our efforts in ensuring that the Cornelius John case, the history and the progress of that case, does not become the norm and that there truly can be justice for one and all in our country," Dr. Friday said. He added that several criminal lawyers and other members of society share his view that justice is lacking in the case.  
"Ultimately, we must ask ourselves if Mr. John received justice in this case…and it is clear that he did not. Someone shot him in the leg and no one has been held accountable. Someone beat him up as he said and no one has been held accountable so justice has not been done," Dr. Friday stressed.  
He said that as a result, the authorities and the people, because justice is indivisible, should not rest until justice is accomplished, achieved and guaranteed.  
Dr. Friday, himself a lawyer also thinks that the outcome of the case affects everyone and currently there is a lack of faith in the justice system.  
He said as a result, if the NDP were to form government it would ensure that there is reform as a means of restoring faith in justice system.  
"We wait to see what steps will be taken arising out of the decision to acquit Morgan and Nelson. We again reiterate our support for the call for justice and equality in St. Vincent and the Grenadines," Dr. Friday told listeners.   
He said that persons must have confidence that justice happens in SVG, "and now that is not the case sadly, many doubt and when they do that, all of us will suffer."  
Dr. Friday also noted that there are other matters stemming from the Morgan/Nelson/John incident as, in response to what many considered was the slow movement of the investigation, persons took to the streets in protest and were charged.  
The protests the opposition leader was referring to took place on and after August 5. On the latter date, Prime Minister Dr Ralph Gonsalves was struck on his head by a projectile and injured. 
 After these protests, several persons were charged for breach of the Public Order Act, among them General Secretary of the NDP Tyrone James.  
Dr. Friday said these protests were also held to oppose SR&O No 28 — The Public Health (Public bodies Special Measures) Rules of 2021 and as a result, there are persons "who are facing criminal jeopardy in the courts." 
He said the defense of democracy requires eternal vigilance and he is asking persons to support those who he said have stood up on the nation's behalf and as a result have been targeted to be made an example of. 
"Make contributions to the save democracy fund," Dr. Friday urged.