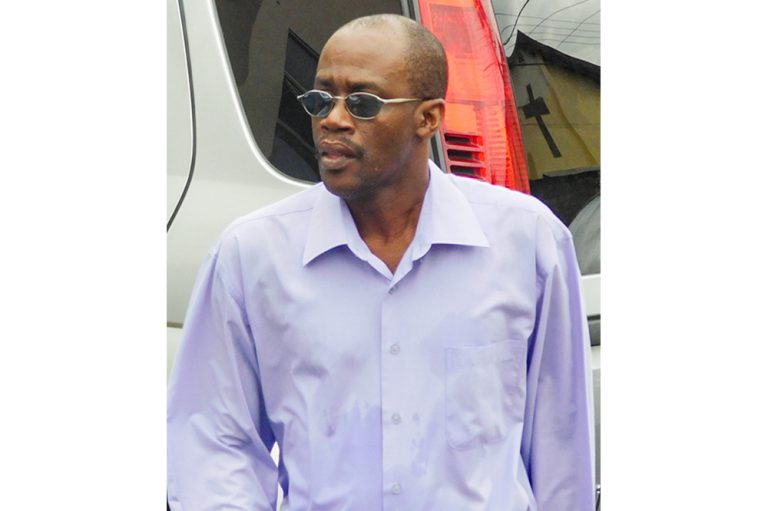 From the Courts
September 3, 2021
Prison officer to spend 1-year, 11 months in jail for conspiring to aid a prisoner's escape
SAID TO BE terminally ill, a 46-year-old prison officer will spend nearly two years incarcerated among those prisoners who he was responsible for guarding, having been found to have conspired to aid the escape of an alleged murderer.
"The prosecution's case is that the defendant Louie Cupid, abused his authority as a prison officer and conspired to aid in the escape of Veron Primus from lawful custody. The defence's case is that the defendant in no way abused his authority or acted arbitrarily, nor did he conspire to aid in the escape of Veron Primus" Chief Magistrate Rechanne Browne revised as she handed down her decision in the 2019 matter on Tuesday August 31.
During the trial against the prison officer of 12 years, a number of witnesses gave oral evidence, and electronic files were viewed from clips inside the prison, to the police interview of the defendant.
At the trial, and during the electronic interview, Cupid exercised his right to remain silent on the charges, but did have two witnesses who gave evidence briefly at the request of the defence. One of these is now a retired prison officer who had been given the task to write a statement from Cupid, because the defendant apparently couldn't see to do it himself.
However, the prosecution relied heavily on a note taken by Sergeant Biorn Duncan of the Major Crimes Unit(MCU). Although this note was subject to a voir dire, questioning the process by which it was obtained, the court ruled that it would be admissible.
"In the said voir dire, when asked under cross examination by the prosecutor 'Did you tell any lie in this document?' the defendant replied, 'No'. When asked again, so you spoke to the officer? The defendant replied 'yes please'," the magistrate recalled.
The note became an important pillar in his case, and Senior Prosecutor Adolphus Deplesche quoted it at length during closing submissions last week, and so did the magistrate this week.
It began "Officer Duncan let me tell you the truth. I assisted Veron Primus to leave the prison."
It continued, "(Primus) told me he wanted to go out and he wanted me to help him escape. I told him he would have to come up with his plan and follow through. He told me he was ready to leave and I told him he can leave however he wants. He asked me if I can pass through the gate, and I told him no. I told him try to make it on his own, I told him he can pass through the gate by the vestibule, come in from the yard, because Officer Richards was sitting in the office."
Browne commented that, from the evidence, "it was clear that the management at Her Majesty's Prisons(HMP) left much to be desired. That poor management affected all areas…" The defendant was a part of this team, she said.
"His duties included supervising, managing and controlling prisoners lawfully, safely, and securely. Keeping an account of those in his charge, and maintaining proper records, performing security checks, and search procedures on prisoners and visitors. Supervising and carrying out patrol duties. Maintaining and keeping proper records, and complying with local law legislation," she said.
Cupid did not fulfil his duties as a prison officer, the magistrate concluded.
Ultimately, she decided that the court is satisfied that the prosecution has met all elements to prove, beyond reasonable doubt, the charges that the defendant faced; and he was found guilty.
From the moment of this pronouncement Cupid went from being someone who was free on bail, albeit suspended from his job, to someone who was in the custody of the state.
All that was left was to sentence him for the offences he was found to have committed. These include, that between September 29, 2019, and October 2, 2019, at Her Majesty's Prisons(HMP) in Kingstown, being employed in the public service in St Vincent and the Grenadines as a prison officer, he did abuse that authority of the office and by an arbitrary act prejudicial to the rights of the Superintendent of Prisons, to wit, conspired to aid the escape of Veron Primus from lawful custody.
Further, that between September 24, 2019, and October 2, 2019, at Her Majesty's Prisons(HMP), did agree with Veron Primus that a course of conduct shall be pursued which if it was carried out in accordance with the intention, will amount to the commission of the offence of escaping lawful custody by the parties to the agreement.
Cupid was presented as a 46-year-old father of three with no previous convictions at all.
However, this is not his first run-in with the law in relation with his job.
None of this was mentioned nor considered at all during sentencing this week because Cupid has a clean record and was treated as such.
Defense counsel Grant Connell informed the court during mitigation that his client was suffering from an illness "of a terminal nature" and, having spoken to Sergeant Duncan, did co-operate with the police. Connell wanted to make the point that "Louie Cupid, from his own admission from the beginning of this case accepted and indicated that he intentionally and negligently permitted the man to escape. But the learned DPP did not bring that charge to court, it could have saved the entire months of judicial time when you bring the right charge." He was referring to a different section under the law with which he said Cupid may have been charged, more fitting with the question of negligence.
The lawyer referred to the four pillars of sentencing (retribution, deterrence, prevention and rehabilitation), asking the court to consider them.
"Is Louie Cupid a threat to society? I say no," he commented.
"…Can he be rehabilitated behind those walls among those who he was responsible for detaining? The minds and hands that he detained, would now have to play a role in maintaining and feeding him, which…I humbly submit would have a few issues which may not be in the best interest, health wise, or survival, for the duration of any custodial sentence," Connell said.
His terminal illness will put a further burden on the state while he is in prison, the counsel also noted.
He emphasised his client's mindset. "…Here you have a man who's told this…who must have thought (Primus) was so entrenched in a flight of his own imagination."
"…but little that he knew…the poor management (of the prison) was at a higher altitude than the flight of imagination of the prisoner."
It was also mentioned that Cupid is losing certain faculties such as his sight, and therefore prison would be difficult for him.
The defence begged for leniency, and suggested a suspended sentence.
The Prosecutor has been praising the work of Sergeant Duncan and did so once more at sentencing.
"Duncan, in his generation, exceptional, exceptional," the senior prosecutor noted. He too addressed whether he believed Cupid could be rehabilitated.
"I will answer to that and say yes. He is not beyond redemption. He can be rehabilitated. The question is, can he rehabilitate himself or would he need help and guidance to be rehabilitated?"
"…He was in a position of trust, where the safety and security of this our blessed nation depended heavily on him. Based on the court's decision, he would have betrayed those trust; having those trusts, can he be allowed on his own, by himself, of his own, to be rehabilitated, questions for the court…" Delplesche mentioned that the state had been plunged into panic when Primus escaped. This escapee had been charged for two murders of women in different countries and faced allegations of having kept a woman prisoner in his home for months during which time he allegedly violated her on several occasions.
Responding to Cupid's loss of sight, the prosecutor said, "…my friend raised the issue of him not having the sight, the vision he would need to write the statement, but that's his physical vision, but what about his mental vision, which direction that was going at the time when he embarked on this foolish exercise?"
However, the experienced counsel admitted that although he does not feel this way often, he felt sorry for Cupid. Nonetheless, he asked that the gravity of the offence not be lost in sentencing.
The Magistrate began at a starting point of 50% of two and three years maximum respectively.
She moved upwards six months for the aggravating factors, to one year and six months on the first count and one year and 11 months on the second.
The two sentences are to run concurrently.