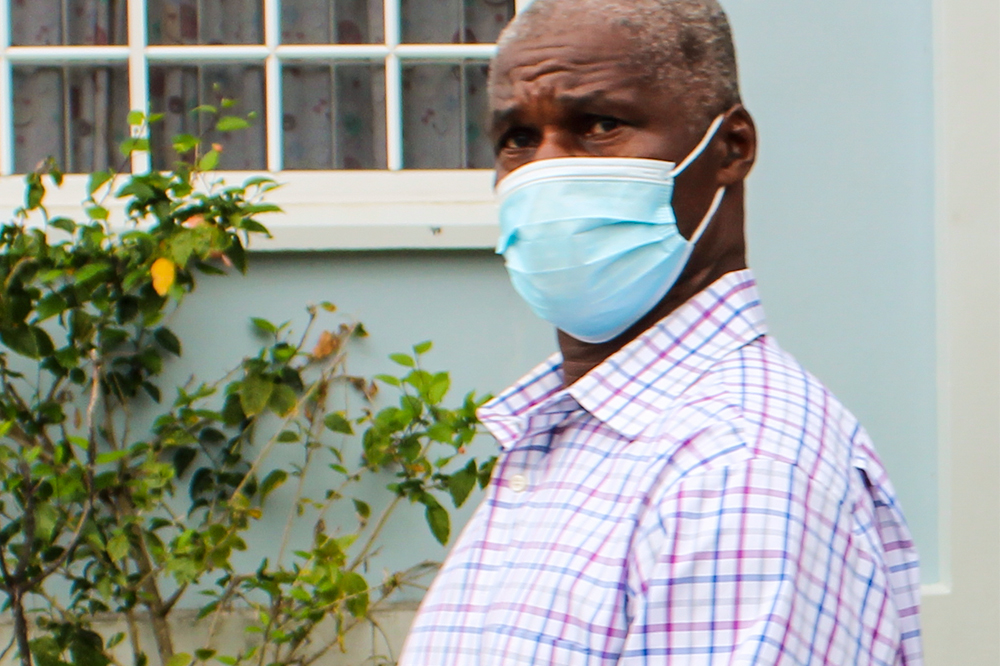 From the Courts
August 27, 2021
Parties in Cornelius John matter to appear in Mesopotamia Magistrate's Court today
THE PARTIES involved in what has become known as the Cornelius John matter will appear in the Mesopotamia Magistrate's Court today after the sitting magistrate at the Calliaqua Magistrate's Court, Zoila Ellis-Browne, recused herself disclosing to the court on August 17 that Ashelle Morgan, one of the parties involved in the case, is her family lawyer.
John, a businessman of Diamond was charged in cross complaints with Morgan, a senator for the Unity Labour Party (ULP), and Assistant Director of Public Prosecutions(DPP) Karim Nelson. The case came up for hearing at the Calliaqua Magistrate's Court on August 17.
John, however has two fewer charges to worry about after his wife indicated last Friday that she wished to go no further with allegations that her husband threatened her.
The defendant John, who was accompanied in his court appearance by his lawyer Kay Bacchus- Baptiste, explained that his wife said she "don't want to press any charges so they dismiss".
In truth, Nicole John, the complainant, whose evidence would have been crucial in attempting to prove two of the three cases against her husband, informed the court last Friday August 20, that she doesn't want to proceed with these charges.
It had been alleged that on April 13, in Diamond, the husband said to his spouse, "You want me to get a machine gun and kill you and your grandchildren and children and take alyo out"; and secondly, that he would chop off her neck, and sacrifice her head and blood to the devil along with her and her children.
However, following the wife's declaration, John no longer has to answer to these charges.
The defendant is left to respond to a sole charge that on April 13, in Diamond, he caused a breach of the peace by threatening Morgan, allegedly saying that he "had grenades and machine guns" and that she should not get in his way, or he will kill her and his wife.
The Director of Public Prosecutions(DPP), Sejilla McDowall, has been appearing for the prosecution in all matters related to Morgan, John, and Nelson. The cross complaints of that day involve a member of the prosecutorial staff that Mc-Dowall directs, and last Friday, she indicated to Magistrate Bertie Pompey who was presiding, that they are intending for the matters to be prosecuted by counsel from outside of the jurisdiction.
Following these events, the case was adjourned to October 12.
Commenting following these developments, John said, "Well it's not so surprising knowing that when you're dealing with certain forces they will try all round to maneouver…" adding, "I always prepare for the unexpected" and therefore "it didn't ketch me too hard."
"I just waiting and looking forward for the day and see what course will take," he also said.
The injured businessman has become the point of great scrutiny by thousands of Vincentians due to the high profile nature of those involved in his allegations. However, with all the publicity surrounding the cases, John said he is "Relaxed, just relaxed. I'm not getting too hype up, hype up. I just take my time, dey calm and trusting in God always."
The businessman said that his wounded leg is still painful and pieces of bullet have caused internal swelling.
John's claim is that this injury stems from an incident that occurred on April 13, in Diamond. He alleges that Unity Labour Party(ULP) senator Ashelle Morgan was present during the encounter, and had some role to play in intimidating him. He also described two other persons being present, and Assistant DPP Nelson was later named as a person of interest.
From the time that these allegations surfaced, the public watched keenly until charges were announced by the DPP on June 24.
Nelson, a Calder Ridge resident, has maintained his innocence to unlawfully discharging a firearm at John, and unlawfully and maliciously wounding him. Morgan has similarly entered a 'not guilty' plea to assaulting John with intent to commit the offence of wounding.