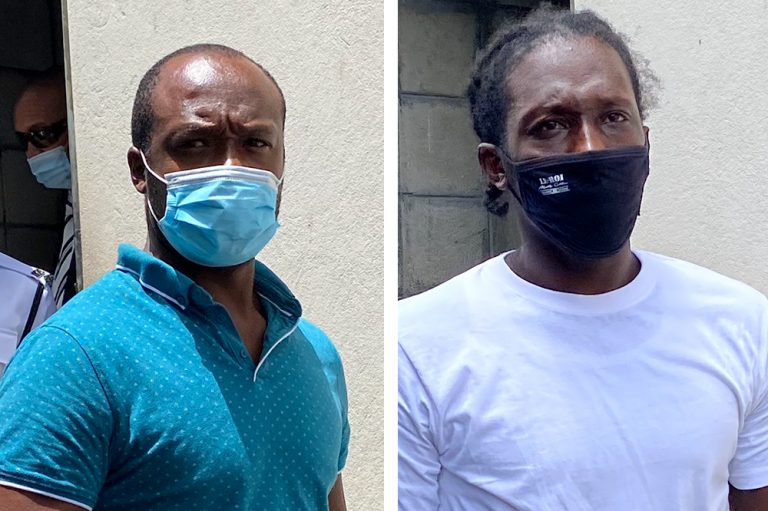 From the Courts
August 20, 2021
Men on charges for possession of 98 pounds of weed
Two men from the Leeward end of St Vincent nabbed allegedly with 98 pounds of cannabis have appeared before the Serious Offences Court(SOC).
Calroy Bruce, a 28-year-old labourer of Clare Valley, and Terrence Gills, a 37-year-old farmer/fisherman of Fitz Hughes appeared before Chief Magistrate Rechanne Browne on Wednesday, August 18.
Also taken into the court were heavy bales of the drug that were hauled up the stairs and into the courtroom by Rapid Response Unit(RRU) officers.
Two charges have been brought against the men. Namely that they, on Monday, August 16, at Rose Bank, did have 44,492g of marijuana in their possession with intent to supply, and further, that this was for the purpose of drug trafficking.
It is said that the two were apparently intercepted at sea by a coastguard vessel.
The prosecution had no objection to bail for the men, but asked that sufficient surety be attached, as well as for travel documents to be surrendered and conditions imposed.
The defendant's lawyer, Grant Connell wondered whether the attachment of a surety could be considered enough, commenting that when documents are seized it adds an extra burden on alleged offenders, and also makes it difficult to receive transferred money at institutions such as Western Union. He said that it was imperative that they are allowed to at least survive and pointed out that the drug in question is only cannabis, a locally grown substance.
However, the country's "porous" nature was noted by the court, and that one of the defendants has a boat.
The lawyer said that things are hard for his clients and they have to receive money from overseas.
Ultimately the court allowed bail in the sum of $50,000 with one surety, and asked for travel documents to be surrendered. The counsel was told that if his clients were having difficulty he could let the court know. They must report twice weekly to the police station closest to them.
Connell asked for a short date for reporting, and indicated that they had no intention of wasting the court's time.
Therefore, their next date to appear in court will be August 31.
A female relative of one of the men offered to stand as surety for the men and she was accepted.