Posted on
Police looking into 'Copperhead's' allegation of assault by senator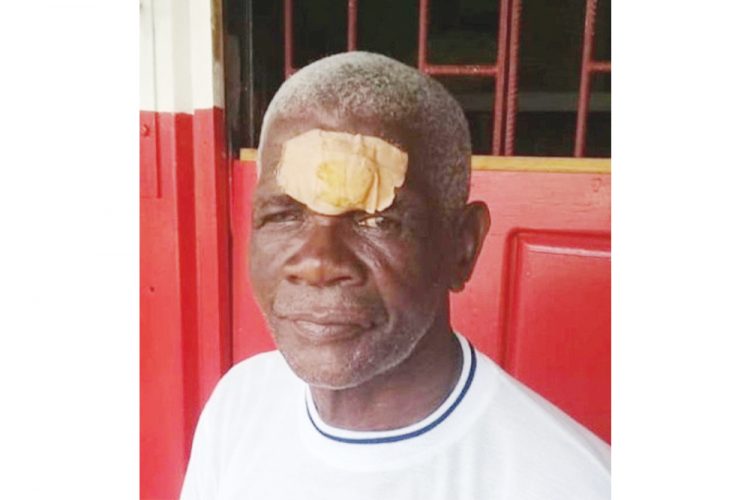 Commissioner of Police Colin John has confirmed that police are looking into a complaint made by a Kingstown man that he was assaulted by Opposition Senator Israel Bruce two years ago.
"I want justice in the same way that persons have been calling for justice for Mr Cornelius John," 65-year-old Cecil Sutton told SEARCHLIGHT on July 19, 2021 as he stood on the spot where he was allegedly assaulted on the evening of Sunday July 14, 2019.
Recounting the incident, Sutton who is also known as 'Copperhead', said he was walking through the area commonly known as China Town, which is opposite the Central Police Station.
"There were four tables with persons playing dominoes, and Senator Bruce was sitting with his back to the door. There was also a police officer … playing."
According to Sutton, he jokingly said: "'Ugly man playing domino, I never know ugly man playing dominoes."
He alleged that Bruce left his table and he and the senator had an altercation, during which they had to be separated.
"I went to the police station and made a report. I was given a form to take to the hospital, and I brought the form back to the police at CID after I saw the doctor," added Sutton.
The Kingstown Hill resident admitted that he had in the past called Bruce names, "throwing jokes at him, but never insulted him". He admitted that some of the "jokes" thrown by him at the Senator were in relation to a court matter involving the two of them, but "I never had any malice towards Senator Bruce."
In 2019, a few days after the alleged incident, Bruce, when contacted by SEARCHLIGHT did not respond to Sutton's claims except to say "I guess Cecil should tell you whether or not he assaulted me, and that's all I'm prepared to say on that."
Two years later, on July 19, 2021, when contacted, Bruce's response was: "Tell the ULP to try a different distraction."
Sutton insists that he has, at no time, made any decision, nor reached any agreement with anyone "to settle the matter outside the court. I want justice."
"Some time ago I met [a police officer] and in joke asked him to buy me a beer. He told me that I would have to sign a statement saying I do not want any case. I told him that I never told anyone that I want no case, and I will not accept anything from no one for me to throw the case."
By letter dated June 29, 2021, Sutton wrote Police Commissioner Colin John, but according to Sutton, "I have not gotten any answer from the Commissioner, and I have heard nothing from no one."
The letter stated: "I have not heard anything since I made the report and went to the doctor. Please give me some information as to what is happening to my report. I am seeking my justice."
Yesterday, the Office of the Commissioner of Police confirmed to SEARCHLIGHT that the letter was received, and the incident is being looked into.
On June 25, 2021, after 10 weeks of delay and public calls for her to step down as a senator, Government Senator Ashelle Morgan was charged along with two other persons in relation to an April 13, 2021 incident in which Cornelius John, a 62-year-old businessman was shot in his leg at his home.
After being charged, Morgan took a one-month leave of absence, in the first instance, from sittings of the House of Assembly.
After a first appearance by the defendants in court on July 5, the matter was adjourned to August 17.