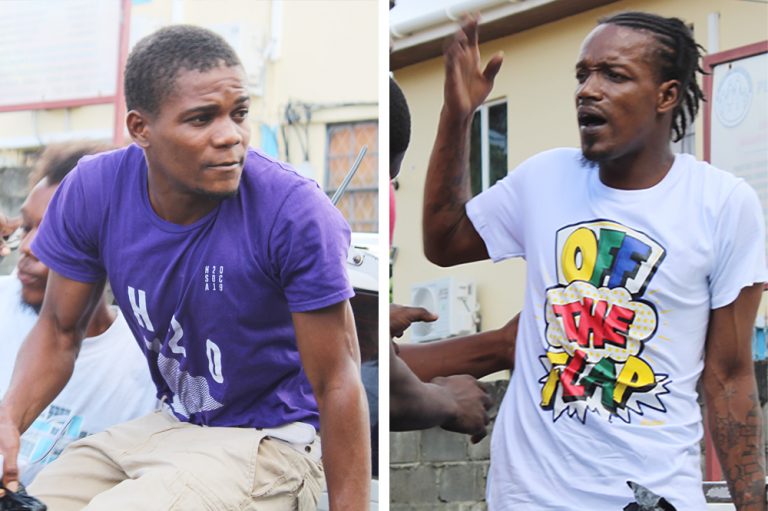 From the Courts
December 1, 2020
Alleged bank burglars granted bail
Two young men charged in relation to the recent burglary of the First St Vincent bank have been allowed bail in the sum of $25,000.
Jason Williams, a 32-year-old labourer of Arnos Vale, and Solomon LaBorde, a 27-year-old labourer of Murrays Village, are charged that they did between 11 am on November 14, and 9:30 pm on November 15, break into the First St Vincent Bank, and steal $37,000 in cash.
Secondly the two defendants are alleged to have, without lawful excuse, damaged one 43 æ x 77 º glass windowpane of the First St Vincent bank, valued at EC$900.94, by smashing it with stones.
The two maintained that they were not guilty of these offences.
However, when they first appeared at the Kingstown Magistrate's Court (KMC) on Friday, November 20, the prosecution submitted an objection to their bail. This was because of the sum allegedly stolen, only $8,000 had yet been recovered. It was submitted that the police were still conducting investigations and they were fearful that if the two were granted bail at that juncture, these investigations would be hindered.
At the time, bail was denied, and Williams and LaBorde were remanded in custody for one week, for a bail review last Friday, November 27.
On Friday, the prosecution offered no further objection to the duo's bail, and thus, they were granted in the sum of $25,000 with one surety.
In order to make bail, the defendants are to surrender their travel documents, and report to the Central Police Station twice weekly on Mondays and Fridays. Stop notices against them were placed at all ports of entry and exit.
Their matters were adjourned to February 24, 2021.
Further, Williams appeared at the Serious Offences Court (SOC) yesterday, November 30, as he is also charged with, on November 17, having in possession one .38 Smith and Wesson firearm and three rounds of .38 ammunition without a license.
He appeared at the SOC in relation to these offences for first time last Monday, November 23, and was denied bail, with the review being yesterday, November 30.
At the review, Williams was allowed bail for this offence as the prosecution no longer offered any objections. The bail sum was set at $15,000, with one surety.
In addition to reporting conditions, a curfew between 7 pm and 6 am was imposed.
This matter is adjourned to January 21, 2021.