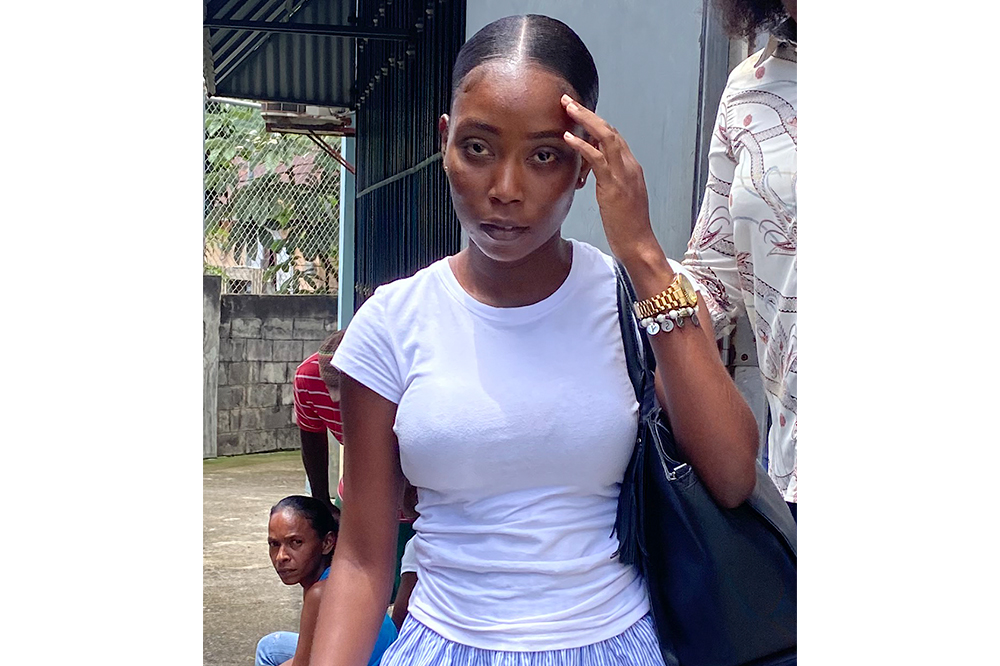 From the Courts
August 11, 2020
Dishonest young mother in more hot water
A dishonest young mother told the court yesterday that she stole several items from a Kingstown department store to give them to her baby.
Additionally, after being given a merciful sentence for these three counts of theft, she returned to court within a couple of hours to be charged for having lied to the police about her name.
Cassy Bradshaw, 21 years of Brighton/Diamond, started off on a smaller scale, stealing only one water bottle and a travel mug, together valued at $53, the property of Jax Enterprises Ltd, on July 31.
She then moved up a notch, stealing one Huggies natural care wipes, two umbrellas, one hot and cold water bottle, two Pear soaps, nine Keywood Fairy Tale children's books, four Know Your Series children's books, two My First Smart Learning children's books, one My First Picture Books, one bible story book, one pink water bottle, total value $207.40, on August 6.
She returned to Jax Enterprises once more on August 7, where she was caught after stealing an olive oil hair polish, an Eskoda pink deodorant body spray, a roll on deodorant, a Softee hair and scalp conditioner, a sunblock, a foot care set, and a four piece set of nail files; together worth $70.20.
Bradshaw was nabbed on August 7 by the Head of Security at the store, who knew of her face from previous CCTV (Close Circuit Television) footage. He was patrolling, but when he spotted Bradshaw in the store, he went to monitor the cameras. He observed her putting items into a trolley before going to another part of the store. Bradshaw then placed the items on the showcase and returned the trolley to the front of the store. She went back to where she put the items, and placed them under her left arm. She travelled to the second floor and then the first floor, where she put the items under her right arm, and then into her handbag. She exited the store without paying but was stopped by security officer under the gallery outside. Jax Enterprises Ltd called in the police.
They had information that Bradshaw was in the store the day before, and when security reviewed this footage, they saw her removing items from shelves and putting them in her handbag.
Once again, her first theft on July 31, involved her removing items from boxes and placing them in her handbag. This was observed after the security noticed the boxes in an unusual position and that they were empty, and reviewed the CCTV recording.
All of the items except for the pink water bottle were recovered, but the court feared that those stolen on July 31 may have been used already.
Bradshaw, who shed tears at one point while speaking, informed Chief Magistrate Rechanne Browne that she is the mother of an eight-month-old baby. When asked what she was going to do with the items, she said that she was going to give them to "my baby."
The 21-year-old was recently employed.
Senior Prosecutor Adolphus Delplesche recommended a bond and compensation in the situation.
"Some things I could understand your intention of giving to your daughter but some I can't because these things are not all baby products," Browne addressed the defendant. "Sometimes when you do not have, you have to learn to live without until we can put ourselves in a position," to be able to afford them, she noted.
"Some of the things are not at all necessary things for your existence," the magistrate stated, adding that persons cannot look at others and want to be like them, because they don't know how they got it.
"…We cannot follow people. Live within our means. Circumstances will not always be like that," she told the defendant.
Browne told Bradshaw that she is young and "You can work and acquire what you want bit by bit," rather than having to get everything all at once.
After committing theft, people may laugh and brand a person for such actions and "that's a hard stigma to get over," she commented.
The magistrate told the mother that she has someone that she has to be striving to set an example for.
"All them flask and flask. You didn't need all them flask", Browne told her, noting that it was only one that a baby needs. She observed that they were fancy and glamorous flasks, commenting "Come on! That's not for baby."
The defendant said that she didn't come to court with any money.
For the theft of August 7, restitution of the items was ordered, and Bradshaw was bonded for six months in the sum of $1500. If she breaches the terms of the bond she will have to pay $1500 forthwith or spend six months in prison.
For the August 6 crime, she must pay $14 (the value of pink water bottle not recovered) by the end of the week or spend a week in prison, and she was bonded for six months in the sum of $1500 with a default prison sentence of six months.
She must compensate Jax Enterprises Ltd for the items stolen on July 31, and if she does not pay $53 by this Friday she will spend two months in prison.
However, Bradshaw returned a short while later, and pleaded guilty to, on August 7, at the Criminal Investigations Department (CID), when lawfully required to give her name and address to a police officer giving a false
name, that is Cassandra Richards.
The magistrate remanded her into custody for one night and adjourned sentencing.