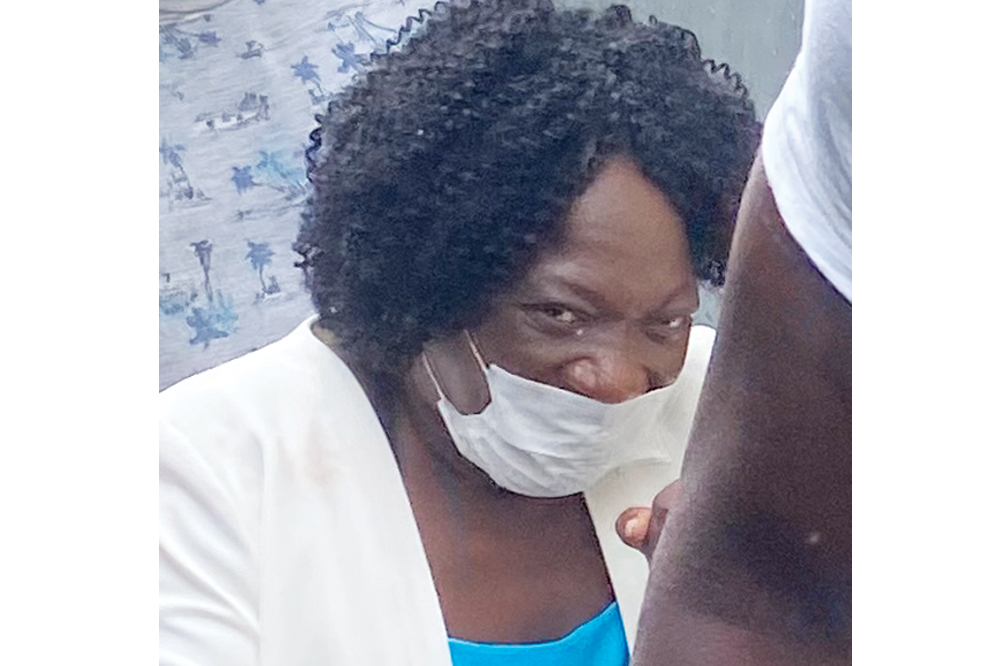 From the Courts
July 31, 2020
Bank fraud accused put on $300,000 bail
THE COURT has set bail at $300,000 for a former clerk of the Bank of St Vincent and the Grenadines (BOSVG) accused of stealing more than $389,000 from her employer.
In contrast, four days before she was allowed bail, her co-accused, 28-yearold Fitzroy Douglas Jr of Murray's Village, who does not face as many criminal charges, was allowed $60,000 bail.
Yvonne Patterson, a 46-year-old from Green Hill, worked with the BOSVG for more than 17 years.
According to bank officials, when the police were called in last Friday, July 24, the BOSVG gave Patterson a letter of suspension before she left the building. Following this, effective on Monday, July 27, her employment with the bank was terminated.
"From our own internal investigations we have determined that we have sufficient cause to terminate the employment which we have done," a senior official from the bank stated.
Patterson and Douglas were jointly charged on Monday, July 27 at the Serious Offences Court, for stealing $53,571.95 on June 18, and $335,584 on July 23, the property of the BOSVG.
Further, Patterson is solely charged with two false accounting charges related to these sums. These read that she dishonestly, with a view to causing loss to the BOSVG, falsified the record of deposits to the account of Fitzroy Jr. Izaras Marcus Douglas, said records required for accounting purposes.
SEARCHLIGHT understands that the allegations are that Patterson intercepted physical instruments received by the bank. The accusation is that these instruments were destined for other types of transactions, but were changed to a situation where Patterson could have had access to the money. A senior official from the BOSVG indicated on Wednesday that all but approximately 15 per cent of the funds she is accused of stealing has been recovered.
"The way the system is, it's very hard to commit [fraud]," the BOSVG representative stated, "and do it persistently, successfully, over a long period of time."
He said that from their "only disappointment" is that they didn't pick up on the alleged misappropriation sooner.
Nevertheless, the second theft, which allegedly took place on Thursday, July 23 was brought to the attention of senior officials fairly quickly, and the police immediately informed.
"That matter was elevated, and elevated fairly quickly. Because within, I would think, a few minutes, not even an hour, within a few minutes the matter was elevated to a sufficient level where we could have taken the decision with respect to getting the police involved," the banker claimed.
Additionally, the BOSVG is fairly certain that no other activity that suggests further theft, or fraud, on any other date, has taken place. "We would have gone back and checked as far back as we can to make sure, and not just check, but check and validate a lot of what has happened, going back over the last couple of months," and they are still in the process of doing so.
Patterson's legal burdens intensified yesterday, after she was charged twice under the Proceeds of Crime Act in relation to the $389,155.95 that she allegedly stole. Douglas joined her with another two charges under this Act, one of them being that he had in his possession criminal property to wit "a silver Toyota Sprinter Car registration number PS996, which he knew or suspected in whole or in part, directly or indirectly represents the proceeds of criminal conduct.
The 46-year-old, who pleaded not guilty to the offences, was denied bail on Monday after the investigator indicated that evidence was being tampered with and destroyed.
However, some relief came to Patterson yesterday as she was allowed bail with reporting conditions twice a week to the Central Police Station. She must surrender all travel documents to the court, and must gain permission from the court to leave the state.
Her counsel, Grant Connell, argued that $300,000 was not a sum that the average Vincentian would be able to meet, and that bail should not be considered as a punishment. He also submitted a doctor's report which shows that his client suffered two strokes in the past, which supported previous claims made about her poor health. Patterson herself seems to have trouble walking and standing for long periods, and needs to be assisted by persons.
Chief Magistrate Rechanne Browne adjusted the conditions to allow two sureties instead of one, so each surety would have to show that they could pay $150,000 at least, should Patterson abscond.
The counsel persisted in arguing the amount, but it was not reduced.
Patterson will return to court on October 5.
Douglas, represented by Bayliss Frederick who appears with Vynnette Frederick, has secured bail, and as he has admitted his guilt, awaits sentencing when the matter ends.