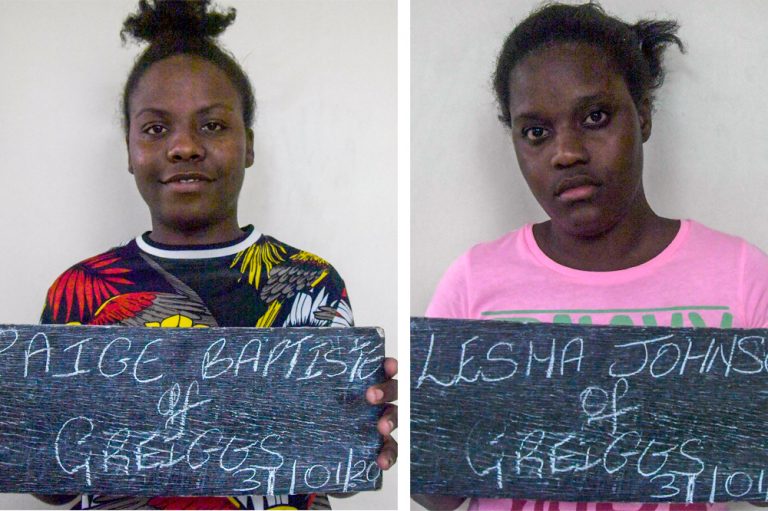 From the Courts
February 7, 2020
Mother recalls learning terrible news of her daughter's attack (+Video)
A mother described as "very dramatic" the information she received that her 16 year old daughter had been violently attacked allegedly by cutlass and knife-weilding villagers.
Kelly Charles of Greiggs, told reporters that she received the news of her daughter's attack on board the cruise ship where she is employed.
"For me, getting that message onboard, it was very terrible for me," Charles said Monday outside the Serious Offences Court where she and her daughter had gone as two persons were appearing on an attempted murder charge.
"It was very dramatic for me because I had to be put to be calm and to be stabilized by pills because my (blood) pressure, everything went up. I didn't expect this to happen because family involved, and they were close friends because many times I call, Paige is in my house," she told reporters.
Paige Baptiste and Lesha Johnson of Greiggs were arrested and charged in connection with the cutlass and knife attack on Charles' teenaged daughter, Z'Annie Charles, who received injuries to her face.
Baptiste and Johnson, appeared in the Serious Offences Court on Monday charged that, on January 29, 2020, at Greiggs, with intent to commit the offence of murder, they did an act which was more than merely preparatory to the commission of that act.
Kelly Charles said that she is related to Johnson and that she and Johnson's mother grew up "as close sisters.
"I didn't expect something like this to come out of it. I am sorry the way it happened and the law will deal with it. That's all I have to say," Charles told reporters.