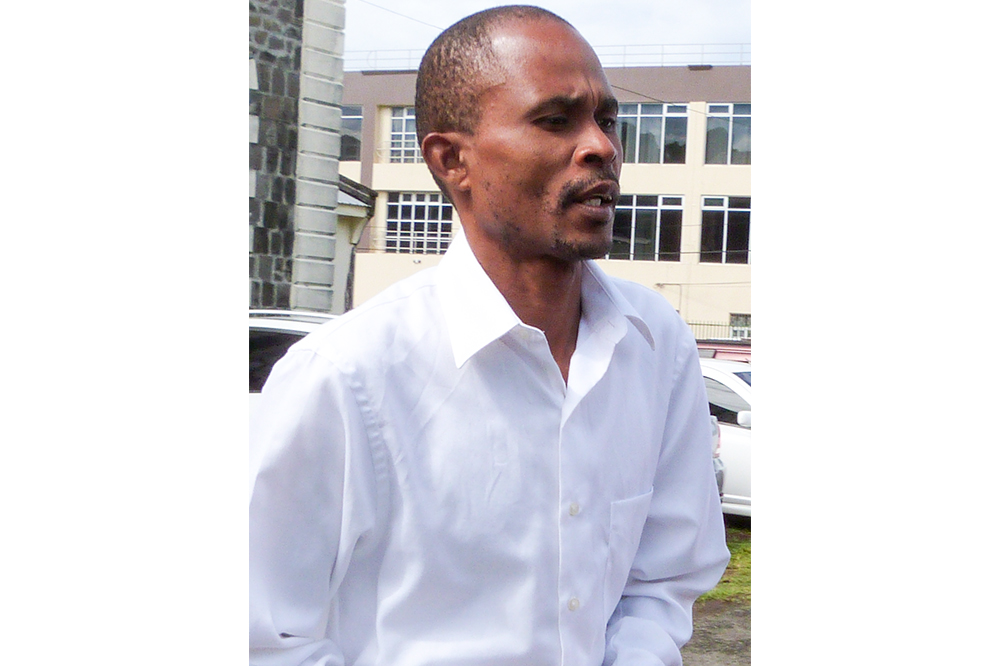 From the Courts
December 20, 2019
Greiggs man convicted of murder and attempted murder, for the second time, after retrial
After a retrial, Aubrey Wilson was sentenced last Friday, after being convicted for the second time of the 2011 cold-blooded murder of his ex-girlfriend and the attempted murder of another woman.
Wilson was convicted by a 12-member jury on December 11, 2019 for the murder of 33-year-old mother of three, Stephanie Daniel, as well as the attempted murder of Vasilka Maloney.
He stood to be sentenced by Justice Brian Cottle at the High Court two days later.
The case against him, presented by crown counsel Rose-Anne Richardson was that Wilson had been in a relationship with the deceased for a number of years until she decided to end it in August of 2011 because of irreconcilable differences. She moved out of the house that they shared together.
On August 14, 2011, Daniel was visiting her neighbour Shirley Wilson in Greiggs. She sat on the porch conversing with Mrs Wilson who was sitting near to her on the porch. During their conversation Maloney came up, stood outside the porch, and was also speaking with them.
While they were in the middle of their conversations, Wilson came into the porch of Mrs Wilson's home and asked them "Wey alyuh ah call up me name for?"
The women told him they did not mention his name. At that time Daniel decided to leave but she was prevented from leaving by Wilson who scuffled her up, pinning her against the wall. He then pulled out a penknife and stabbed Daniel in her neck once.
This blow caused the mother of three to fall to the ground where she bled out and died. After Daniel fell, Maloney attempted to come to her aid but Wilson told her "You too."
He raised his hand and tried to stab Maloney as well but she neutralized the attack by holding onto Wilson's hand. However Maloney received a wound to her face which took five stitches.
The police who came onto the scene apprehended Wilson.
Wilson, a former resident of Greiggs was first convicted of these offences in 2013 and sentenced by Justice Wesley James to 25 years in prison for the murder of Daniel and a concurrent sentence of 15 years for the attempted murder of Maloney.
However, due to error in the summation by the Judge to the jury at this first trial, the Court of Appeal overturned the conviction against Wilson in May of this year.
Last Friday a different judge, Justice Brian Cottle sentenced Wilson.
While Wilson may have received the death penalty for the murder, this sentence is reserved for the most heinous of crimes. In this case the Justice noted that it was accepted that "this case does not fall into that category of the rarest of rare justifying the imposition of the death penalty."
Referencing Court of Appeal cases wherein the starting point of a sentence for murder was 30 years imprisonment, the Justice decided to use a starting point of 25 years.
The aggravating features are that "This was an unprovoked attack on a defenseless woman, carried out in the presence of others in broad daylight." However, the prisoner only struck one blow.
Therefore, Cottle determined that he should not adjust the sentence from 25 years.
Neither did he adjust the starting point based on the personal circumstances of the accused man, who has one previous conviction for wounding which happened a long time ago and is considered spent.
Therefore the sentence for the murder of Daniel rested at 25 years with a subtraction of time already spent on remand (eight years, four months and six days) taking the remaining sentence to 16 yrs seven months and 24 days.
For the attempted murder of Maloney, Cottle began at 12 years incarceration. He felt this was appropriate because, while serious, the offence does not involve the loss of a life, and he noted that for manslaughter the court usually starts at 15 years.
The judge considered that the aggravating features were that "This was part of a campaign in which another woman was killed. This too was carried out in full public view." There were not mitigating features in the court's view, which took the sentence to 13 years in prison, where it rested. For this sentence too, the time already spend on remand was subtracted, taking the sentence to four years, seven months and 24 days.
However, considering that there were two different victims and separate offences, Cottle chose that these sentences should run consecutively. Therefore, from that day Wilson was sentenced to serve a remaining 21 years, three months and 18 days (approximately) in prison.