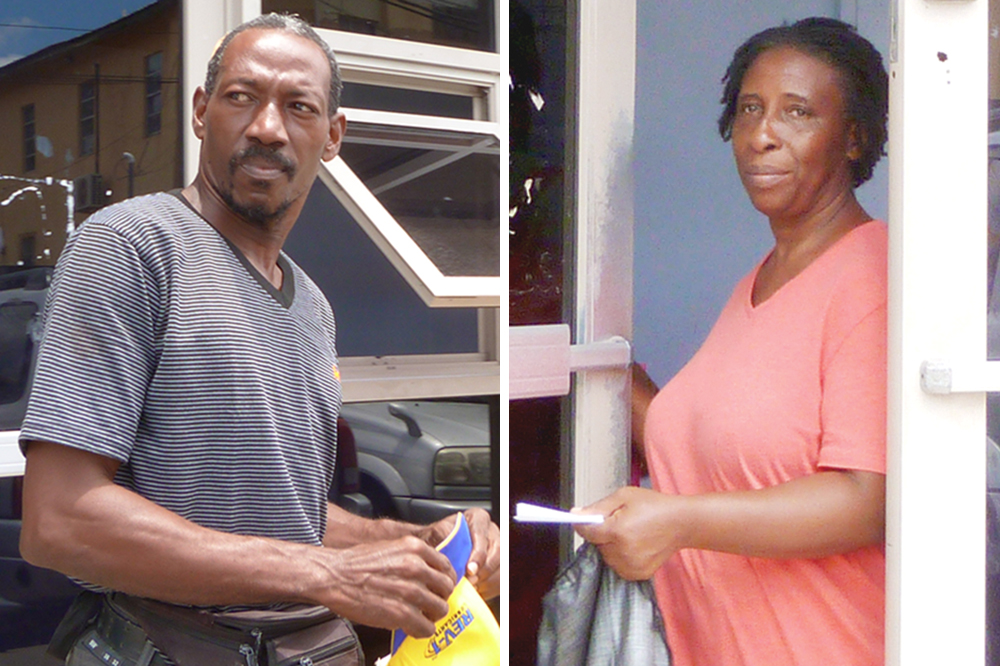 From the Courts
August 16, 2019
Man says he still loves woman who struck him in his head
After he told the magistrate to jail his 51-year-old ex-girlfriend, a 45-year-old man explained, "I still love her, I don't fraid to say so, but, to get out the 'ignorantness'…".
"I brought her because what she do, I want to teach her to see if she would change with the 'ignorantness' and the 'arrogantness' what she have," Desmond Horne, sporting a bandage and three stitches to his head, told Senior Magistrate Rickie Burnett this Tuesday.
Marian Ghent/Browne, his former girlfriend of two years, had admitted that she unlawfully and maliciously wounded him on August 9 in Sally Spring.
The incident took place at Ghent's daughter's home, where Horne was hanging out. The two weren't speaking to each other at the time, but Horne was complaining, to Ghent's daughter's boyfriend about something that happened between him and Ghent. In the midst of this, Ghent threw an unidentified liquid on Horne, who had to go outside to wash his face. After washing his face, Ghent took a piece of board and struck him on his head. Blood started to run, so Horne left.
The 45-year-old who said he is afraid of needles had to receive stitches.
The two parties told the magistrate, who sat in the middle of their cross talk, all of their grievances.
Ghent insisted that Horne was harassing her, that he had met her in the road somewhere and "he started to say you whoring sl*t, you whore." She claimed that on the night in question he came "and he start to feel up my private part and my body, and my breast." She told Burnett that Horne told her that if he can't get her, nobody can. She continued that Horne was telling her daughters "how I must dey with him and I tell him I do not want him."
Horne had more to add. He started by saying that Ghent had a "fella" who was in jail, and then came out. He said Ghent was persuaded to be baptized at the church by himself, and after she was baptized, "the man beat she and she daughter."
Horne claimed that after the beating, Ghent approached him for $300 to go by an Obeah man so that he could kill the man.
"I say I ain dey in them kinda ting there," Horne told Burnett, and his suggestion was that she go by a Pointer in Sion Hill instead, and have the man stay in prison for the rest of his life.
He said that he saw Ghent and, "I meet she by the same man dey and I jump out the vehicle." "You see ya stinking dirty dog like you," he said he told her.
"Kinda life she want when she come by me Monday, Tuesday, Wednesday, after Wednesday… Thursday, Friday and Saturday she go by the children them father right? That's the kind of life she want," he stated.
Ghent said that it was not her, but Horne that wanted to seek the services of the Obeah man. She said that it is when she said, "I don't like to live with him, that is what he geh angry about." She goes by her child's father to collect the money to maintain their daughter, she said.
Horne, who had more say than Ghent, added, "If I did touch the lady the night, the kinda ignorant she is, and the arrogant, if I did touch she the night, she was cooking, and if I did touch she the night, she woulda tek the pot of food and throw it on me."
"You want me to send her to prison for you?," Burnett asked him after he kept saying he wanted to teach her a lesson because she was baptized.
"Yeah just to teach she a lesson," he repeated three times. Horne told the magistrate that Ghent was the only woman he could trust, and if she changed he would marry her.
Ghent maintained that she did not want him.
Horne continued that he gave Ghent things like phone credit but she never called him and he always called her. While saying she was ungrateful, Horne said "nuff" persons have asked him to leave her. "Youz an Isaac or wah?," they asked him, he said (referring to the 2019 Problem Child song "Isaac Hunt" that has taken on a double meaning).
Ghent returned that Horne never gave her anything.
Prosecutor Corlene Samuel observed, "It seems as though he is in love with her, but she is over him, and she is telling the court that she is feeling frustrated because he is saying certain things."
"But you cannot just hit him like that. What you did was wrong," she told Ghent. However, the magistrate had already said that he was not considering a jail sentence, and so Samuel asked that Ghent be bonded.
Horne continued to say that he wanted Ghent to change.
"She is going to change for herself, she's not going to change to be Mrs Horne, you understand me?," Burnett told him.
"Both of you need to change you know, because y'all introduced things that may be criminal as well," he said, noting "taking the life of someone is a criminal offence you know."
He decided to bond Ghent in the sum of $1500, for one year. If she breaches this bond and does not pay the sum she will spend three months in prison.
At first, Horne thought that this would prevent him from seeing Ghent for a year, and so he said that this would be a "hard one."
The two parties grudgingly shook hands in court. Horne looked worryingly after Ghent as she walked down the road.