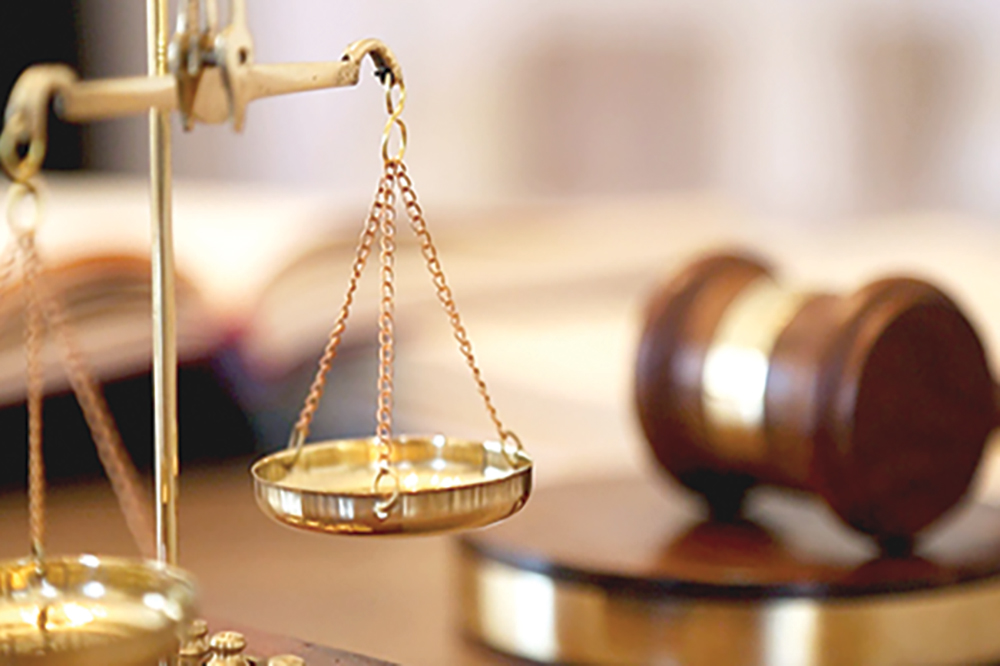 From the Courts
August 9, 2019
38-year-old gunman jailed for shooting death of archenemy
A 38-year-old man will spend nine years and nine months more in jail, for gunning down his archenemy with an illegal gun during a Boxing Day party in 2015.
Matters could have been even more grave for Declon 'Beige' 'Decky' Glasgow, who was found to be responsible for putting O'Jarvi 'Rat' Hooper in an early grave, as he had first been indicted on a charge of murder.
However, after a trial last week, Glasgow, who was represented by defence attorney Stephen Williams, was instead convicted by the 12-member jury for manslaughter by reason of provocation, as well as possession of a firearm with intent to commit the offence of murder.
Using a compilation of the accepted evidence presented during the trial by the defense and crown counsel Rose-Ann Richardson, Justice Brian Cottle relayed the facts to the court.
The judge informed that on December 26, 2015, "the good people of South Rivers were enjoying their annual boxing day dance at the Africana Disco." The children of the village would be involved in the festivities during the day, and the adults would party at night.
Glasgow was present at the dance with three of his friends, and Hooper arrived later, bringing a history of bad blood with him to the party.
Glasgow left the fete, but was followed by Hooper, who apparently drew his gun during a scuffle and fired several shots at Glasgow, wounding him slightly. Hooper then bolted, but Glasgow pursued him with a gun he had brought. Glasgow kept shooting as he chased, and one bullet caught Hooper in his back.
The fatally wounded Hooper reached his father's house, and he told his father who had shot him. According to the father, Haynesworth Arrington, who SEARCHLIGHT spoke to after the incident, blood ran from his son's nose and mouth, and although efforts were made to get him to a hospital, Hooper died en route, in his father's arms, finding it difficult to swallow.
Glasgow retreated to the mountains where he stayed, eating only fruit for a few days, before making his way to the Grenadines and then on to Grenada. "He did not bother with any immigration formalities," the judge stated. Glasgow stayed in Grenada four months before he was picked up by the Grenadian police and brought back.
Williams, among other submissions, noted that his client, "was threatened that very morning while he was on his way home with a pound of rice and some peas to cook," and that Hooper drove up in a vehicle and said that he was going to deal with Glasgow later.
"There is evidence that was brought out in this trial… [that] suggests that the prisoner at the bar made several reports to the Colonarie police station in relation to the deceased person assaulting him, stealing a gold chain, and harassing him on a whole," Williams also said.
He said that it was clear that the deceased was no angel in South Rivers. "Some of the witnesses would have testified that the deceased person would come to various business places, various Ital shops, come in and rest his gun on the table. He was a known gunman in that area," the lawyer posited.
He submitted that these, including the fact that Glasgow had left the dance and was pursued, should be mitigating features.
Justice Brian Cottle noted that it was mitigating in the case that Glasgow was responding to a criminal assault by Hooper who also had a gun. The judge acknowledged that the deceased man was accepted by the jury as no "paragon of virtue" and that this was a powerful mitigating feature, but said that "the court must also send the message that retaliation for criminal assault by resorting to the use of an unlawfully obtained firearm must be discouraged."
Therefore, in the face of the aggravating features, including the use of an unlicensed firearm, an element of premeditation shown by bringing the weapon to the party with him, and the lack of remorse, the prison term went up to 16 years.
"He maintains that he did not shoot the deceased but he offers no explanation as to how the deceased came to be shot in the back during an altercation with him," Cottle added.
However, he went on to look at the characteristics of the prisoner. Glasgow did not complete his secondary schooling, and is the father of three children aged 10, 13 and 17 who reside in Barbados.
He had a conviction for wounding which was eight years ago. A witness from the community came to testify on his behalf as well.
Therefore, Cottle decided to reduce the sentence of 16 years to 13 years, on the count of manslaughter. Glasgow has already spent three years two months and eight days in prison, so he will spend nine years and nine months more.
For the count of possession of a firearm with intent to commit murder, due to the fact that the weapon was never recovered, he was given a term of nine years in prison.
These sentences will be concurrent.