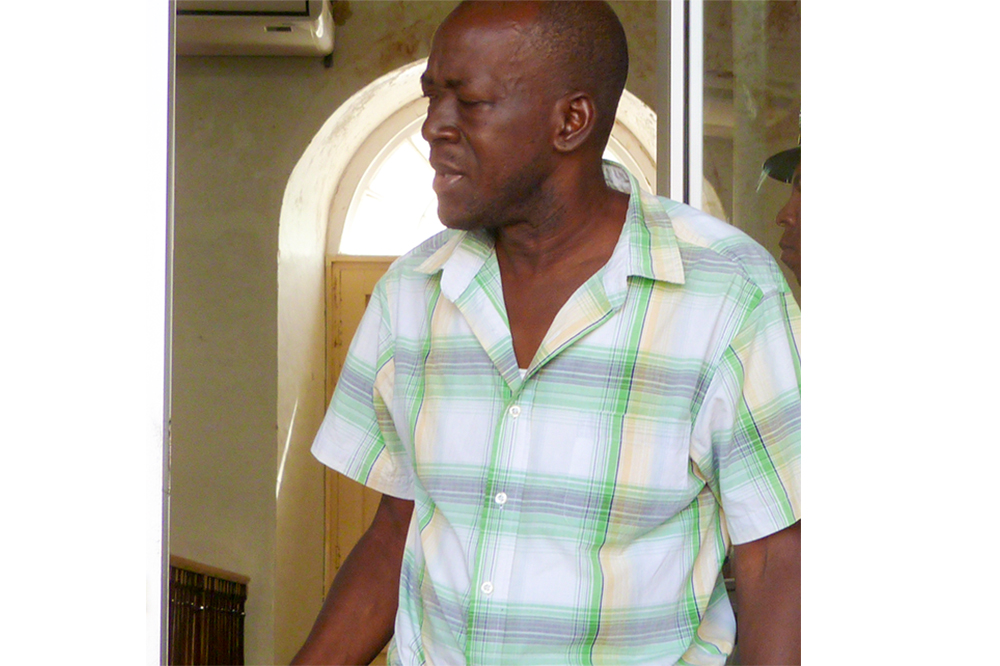 From the Courts
June 28, 2019
Man with kidney failure escapes prison sentence
The man whose vehicle crashed into a New Democratic Party (NDP) rally in 2014, could not be sentenced to prison time because of his kidney failure, which would make any prison sentence a death sentence.
"This court can't be blind to the reality that any sentence of incarceration is likely to result in the rapid decline of his health, and his death in short order," Justice Brian Cottle reasoned at the High Court on Monday, noting that there were no "good choices" in the case.
His conclusion was made during the sentencing of Antoine Quincy Anthony, 43 years, who had pleaded guilty to five charges including causing the death of Edgar Cruickshank of Questelles, on December 6, 2014, by driving motor vehicle P119 dangerously. Further, he had accepted his guilt for driving an uninsured motor vehicle, driving a vehicle without a permit, driving a vehicle without a driver's permit and fraudulently using identification mark P7516 on the said vehicle.
The court has established that what happened on December 6, was that, at around 10:50 pm at the hard court in Clare Valley, a green Lexus Windom car driven by Anthony, collided at a fast speed with a second car parked at the side of the road, propelling it into the crowd.
One of 10 victims, Cruickshank was 78 when he died a few days after the accident. A post mortem revealed that cause of death was "multiple traumas with cardiac taponade due to motor vehicle accident."
The vehicle was examined by a motor vehicle inspector, who declared it to be in an "intrinsically dangerous" condition.
In an interview, the prisoner told the police that he had been driving home when the vehicle closed off. The steering became stiff and the brakes became hard, he said, so he shifted the vehicle into a lower gear to get it to stop, but this had no effect. He lost control. Before driving into Clare Valley, he admitted to removing the fan belt and placing it on the backseat. He had also noticed the battery light was on, and stated that it did cross his mind that the vehicle was not in a good condition to drive.
Crown counsel Karim Nelson appeared in this matter for the state, and the defence was represented by counsel Stephen Williams.
At the point of balancing aggravating and mitigating features, the Justice noted that the aggravating features "heavily outweighed" the mitigating ones.
While in the interview with the police, Anthony had denied knowing that a political meeting was in progress in Clare Valley that night.
However, Cottle stated that the accused must have known. "This prisoner must have been aware that this public meeting was taking place because such events are well advertised, and indeed when they're in progress they're not quiet affairs," he stated.
Further aggravating circumstances, were that Anthony was driving at night without headlights, and the fast speed at which he was driving.
The speed was enough that, "the impact of his collision with another vehicle was enough to propel that other vehicle into the gathered crowd," Cottle commented.
The judge noted that the offender knew very well that his vehicle was in a defective condition and dangerous to drive, and that he knew that what he was doing was wrong because he was using a false number plate.
Cottle noted that Anthony may have believed that he could manoeuvre his vehicle but "as it turns out he was wrong," while emphasizing the word 'wrong'.
The only mitigating features were that he did not have any previous convictions, and that he had pleaded guilty.
It was a comparison between these elements that caused the judge to state at this point that a jail sentence would be appropriate.
However, Cottle was only halfway through his sentencing. The High Court often repeats that it doesn't only sentences offences, but also particular offenders.
Therefore, the judge also needed to contemplate that Anthony was a 43-year-old unemployed father of eight children, and that his youngest child is two years old. The offender is unemployed because he is too ill to work, considering he has End Stage Renal Disease (ESRD).
"He requires daily dialysis, up to four times each day, and even with that regiment he is still quite often hospitalized," the judge informed.
"This court must be alive to the reality that a custodial sentence would result in death in short order," the Justice stated, and that any prison sentence would effectively translate to a death sentence and therefore was not an option. Anthony is not earning an income, and so a fine is unlikely to be paid, Cottle also noted.
"His behaviour was reprehensible, he has taken a life," and as such deserved a prison sentence, but, Cottle mused, "the current conditions of our prison do not allow the continuous medical attention that he requires, the system simply doesn't have the required resources."
After wrestling with the dilemna a sentence of two years imprisonment, suspended for two years, and a lifetime ban from obtaining or holding a driver's license was imposed for causing death by dangerous driving.
Fines were allotted for the other counts, but with no deadline, as there is no expectation that they will be paid.