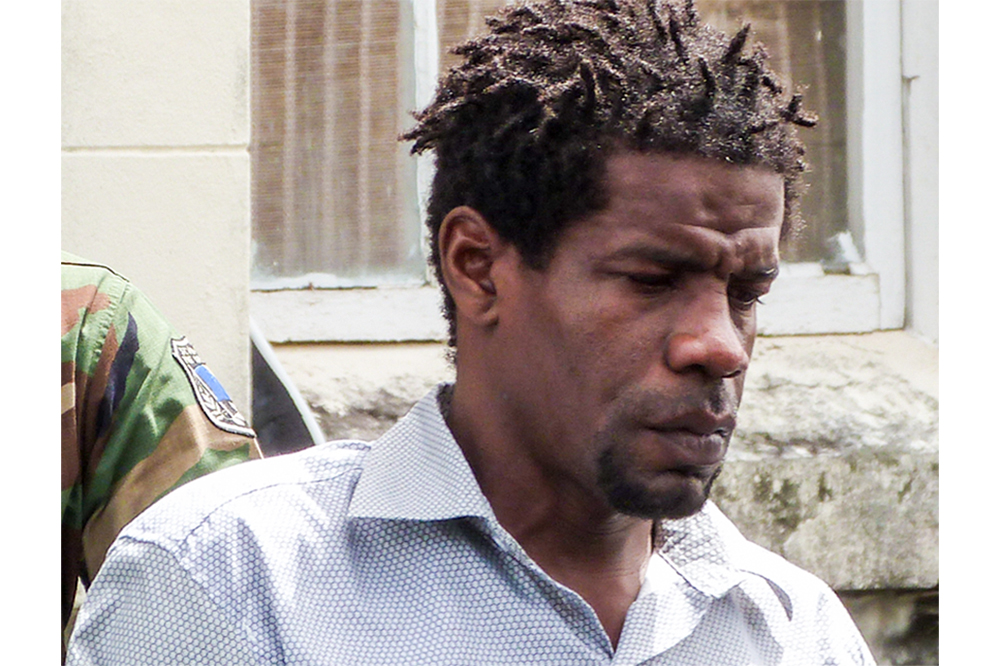 From the Courts
June 25, 2019
42-year-old man blames his criminal ways on obeah
After being cursed by a market vendor that he would not stop "making jail" in his lifetime, Desmond 'Joey' Browne, convicted of robbery, says obeah is the cause of his criminal ways.
The vendor's words became a self-fulfilling prophecy for 42-year-old Browne who has a long criminal record that received a new addition last Thursday when he was sentenced to 17 years in jail for robbing a Vincentian sailor at gunpoint of his 14 karat gold chain worth $2,000.
This sentencing took place five years after Browne committed the crimes of robbery, unlawfully discharging a firearm, possessing a firearm with intent to cause injury and damage to property on May 27, 2014.
His victim, Desmond David was hanging around 'Oriental Palace' in Kingstown at noon on the fateful day when someone called to him "Yo! Yo!". This person had a gun pointing to David's face when he turned around, and a hand on his Cuban link chain.
When David looked at Browne, he (David) said he moved his head simultaneously and the gun went off. The bullet is said to have narrowly missed him, and it instead found a home in the showcase window of the 'Oriental Palace'. Browne pulled the chain and made his getaway in his slippers, cap, shorts and shirt.
There were witnesses who saw him running with a gun in his hand, but this gun was never recovered.
This was one of the aggravating features of the case noted by Justice Brian Cottle, including that the robbery was a daylight one, in the streets of the capital, and a firearm was used. Someone else could have been easily injured or killed, and the victim himself "could easily have lost his life," the judge continued.
Cottle said that he searched for any features which would serve to mitigate but, "the search was in vain."
The Justice contemplated the character of the defendant, and he found that Browne's criminal record began in 1991, when he was 14.
"Three years later, after you racked up your 10th conviction, that was the first time you heard the sound of a cell door being closed behind you. But you continued to commit crimes of dishonesty, and that resulted in your frequent incarceration," the Judge stated.
He noted that this would make Browne's 27th conviction.
"Despite the eternal spring of hope within the human breast, I feel only despair at the prospects of rehabilitation for you," he stated.
When Browne was interviewed by a social worker before sentencing he offered obeah as one explanation for his life choices.
"He said that having stolen money from a market vendor when he was still a very young man, his victim cursed him, telling him that he would not stop making jail until he dies," Cottle informed, and that this belief seemed to guide his behaviour.
Browne listened to all of this simply shifting the rag he had in his hands repeatedly.
Weighing these considerations with the impact the offence has had on the victim, Cottle reviewed that David, a sailor who had travelled to other ports, felt "especially traumatized to be robbed at gunpoint in his own land, where he felt safest."
David apparently refused to leave his home months after the incident, and the thought that he could have been killed had he not moved his head "affected him daily."
Looking at all of this, the sentence was moved upwards to 17 years incarceration.
For the unlawful discharge of a firearm, five years imprisonment was imposed. For possession of a firearm with the intent to cause injury seven years was handed down since the totality principle was applied, and for the damage to property six months.
All sentences will run concurrently.
Browne was convicted last month after a trial prosecuted by crown counsel Rose-Ann RIchardson.