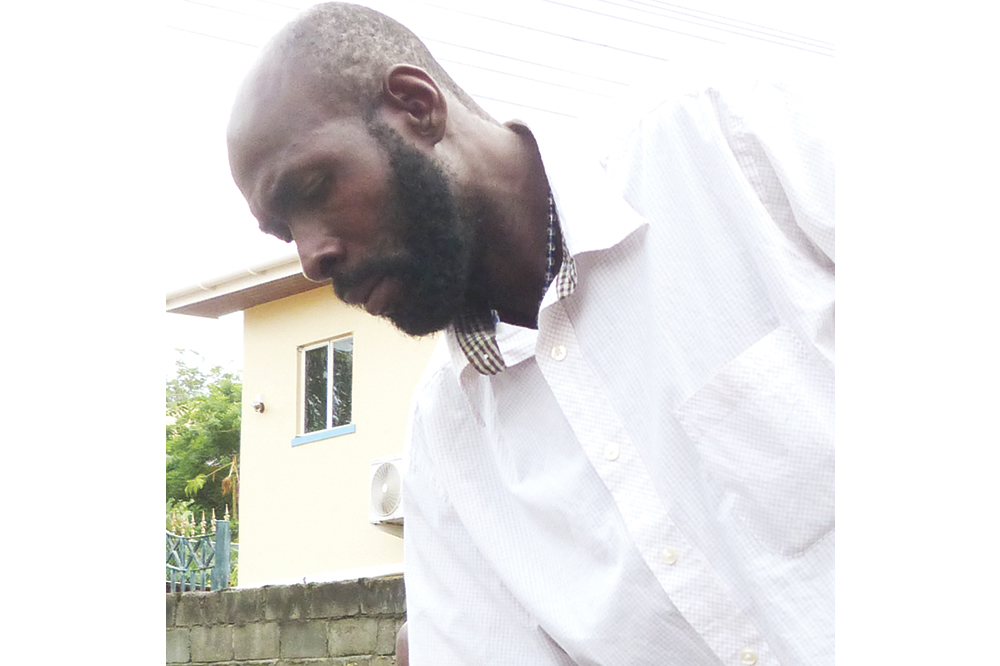 From the Courts
June 21, 2019
Vincy steals money, passport from French 'Operation Tradewinds' soldier
A restaurant employee who stole a passport and money belonging to a French soldier participating in the Tradewinds military exercise has apologized to the soldier saying "I embarassed my state".
Senior Magistrate Rickie Burnett was hopeful that Soldier Frédéric Archambault could be compensated for his brown pouch, which contained his French passport, civilian identification card, his wallet and driver's license, and EC$500 before he left the country. In total items worth €210, and cash EC$500 were taken from the soldier.
Defendant Sheffield Blucher, after he pleaded guilty to the offence at the Kingstown Magistrate's Court this Monday, had told the magistrate that he would be able to compensate the soldier .
The facts were that on June 7, Archambault went to have dinner at Chill Spot at Arnos Vale. He had a pouch with him containing all of his documents, and some cash. He got up and left the pouch, and when he returned to find it, it was missing. He inquired with management, and nobody saw the pouch. However, when the CCTV footage was viewed the defendant was spotted taking it.
According to Blucher he forgot the pouch as well. He said that he took up the pouch, and he took it outside. His boss called him at that point in time, and so he went to do something in the kitchen, forgetting and leaving the pouch on a fence. After he went to do what his boss asked of him, Blucher was given some money to buy a drink, and he said he bought a three for ten. When he remembered, and went back to the fence, the pouch was no longer there.
The senior magistrate was assured by Blucher that he would be able to compensate the soldier and as such the defendant was given until this Wednesday to do so or spend three months in prison. Blucher was also fined $1500 to be paid by September 30. If he fails to pay that fine, he will spend six months in prison.
Wednesday was also the day that the defendant was to apologize to Archambault.
However, when Wednesday rolled around, Blucher came to the court empty handed.
The defendant said that he had tried to get the money but "my family did not get the money to give to me."
"I went also and try to do my own investigation and asked my boss was to lend me the money and check a footage that on the other side of the road to see who took the package after me, and he bluntly refused," Blucher told the magistrate.
He said he tried again on Tuesday, and his boss told him that the persons to check the camera couldn't do that then.
The magistrate reminded him that on Monday he had convinced the court that he would be in a position to compensate the soldier on Wednesday. "And having convinced this court that you would have been in that position, an order was made for you to pay by today, because the court was also mindful that the complainant is a non-national, and is likely to travel back to his home sometime between today and tomorrow," Burnett stated.
Blucher tried to say that he wanted it to be Friday, but Wednesday was "kinda hard" for him.
"The issue of hard for you…I am not too sure that that was raised on Monday. You convinced me that you would get your boss to help you with the money, and based on that the order was made," Burnett noted, as Archambault, in his camouflage uniform with French flag colours stitched on the side, listened closely from the witness stand.
The magistrate said that he could not vary the order he had already made, and that his hands were tied.
"…but the complainant is here before you. I suppose that there is something that you may want to say to him," the magistrate told Blucher.
After asking the soldier what his name was, Blucher addressed him, saying "I owe you a big apology because I embarrassed my state."
"I'm being honest to myself and my heart, I did not went in your package. I took it up, is right, and I'm very sorry. I wish I could pay you back today for every damage that I caused you, and caused your country. Unfortunately, this did not work out that way today," he said. He repeated that he was sorry, and asked Archambault to forgive him.
Archambault, who had furrowed his brow at a point during this, said that he thanked him for the apology but "I don't believe you, I don't believe." He said that he had "proposed" that Blucher gave him his items and documents back. This did not happen.
The defendant was informed that the court order would take effect immediately, and he would be taken to prison.
He pleaded for just one more hour, but was told that this was something he had to negotiate with the police.
This did not seem likely, since a police officer sitting in court commented that he (Blucher) was given two days to get the money, and he was not able to, so one more hour wouldn't make a difference.
Archambault, accompanied by another fellow French soldier, and the defendant both left the court shortly afterwards. One party walking, the other heading to the prison transport.