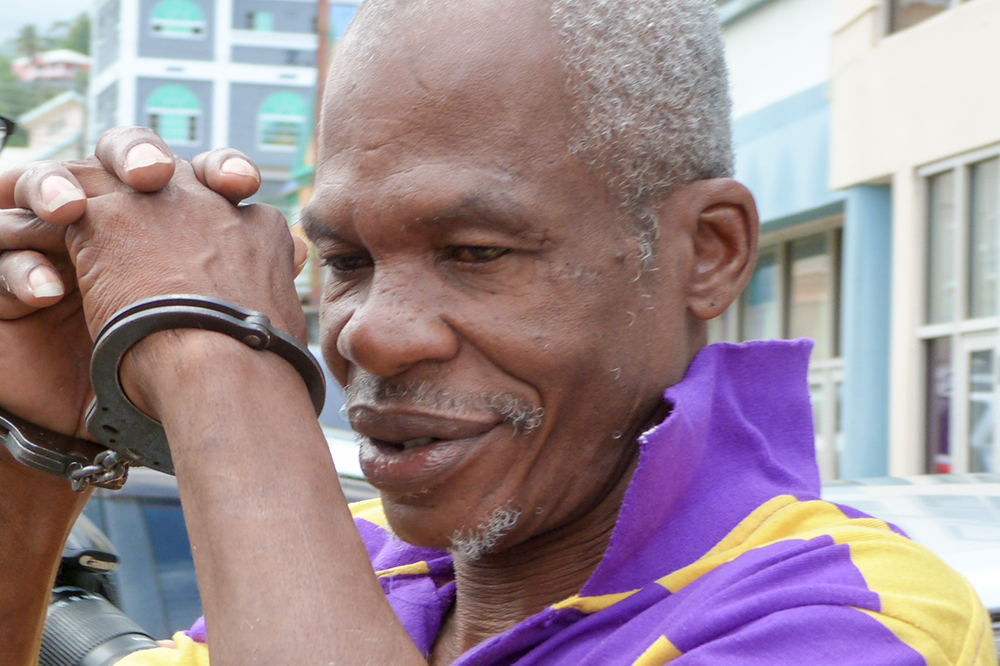 From the Courts
June 4, 2019
57-year-old man found guilty of beating his former lover
A 57-year-old man has been found guilty of beating his 53-year-old girlfriend after he concluded, based on a physical examination, that she was cheating.
Bertram Wright of Campden Park was found guilty of assault occasioning bodily harm at the Kingstown Magistrate's Court after a short trial yesterday.
Senior Magistrate Rickie Burnett convicted him, stating that he believed the ex-girlfriend's evidence.
"I looked at her while giving evidence, and I believed her. I don't see the justification in law for what was done by the defendant in this matter," he commented, adding that he also looked at the injury form report.
"Mr Wright, I'm very disappointed in you. I mean, very, very, very disappointed in you. I believe you search her, you know? You did exactly what she said. I believe that," he noted.
Wright's girlfriend had stated that on the morning of April 20, she was in town at the Leeward Bus terminal.
Her boyfriend found her there and accused her of having sexual relations with other men. She responded, while in the toilet, by pulling down her pants and challenging him to check her. The 53-year-old woman uncomfortably explained that Wright stuck his fingers up her vagina, and said that it looked "slippery". After this, they wrestled; he held on to her, and she tried to pull back. In the process she fell on her bottom, and he started "feeding" her with "cuff". He hit her in her side, and she tried to pelt something at him.
She reported pain and injuries to her face and knee, and she was examined by a doctor. The police officer to whom the matter was reported had noted that the complainant had a swollen right eye when she made the report.
The woman had been in a relationship with Wright for three years, during which she said she had been abused a number of times before.
After the defendant was convicted, the ex-girlfriend told the magistrate that she had ended it with the defendant before, but decided to give him a second chance.
In Wright's cross examination of his former lover, he insisted that she was lying, that he didn't search her, and that she got the injuries while they were wrestling.
His ex-girlfriend showed a variety of expressions from a serious one to an exasperated and frustrated one, at one time raising her hands to the ceiling of the courtroom and exclaiming "Oh Lord, Jesus." She told the magistrate that Wright had indeed done what she said, and "I'm not telling you no lie."
Wright still believes that he and the complainant are together, and said that they were "never done", even after he was locked up on April 21. On that morning, he said he only asked her about being late, and she responded by asking why he was arguing with her, if he felt that she had been anywhere, and if he wanted to search her. He said she went into the toilet and took off her pants, boxers and panty. He said he asked her if that was how she was behaving in town, in a toilet, and she pulled her clothes back up. He continued that she ran into him and the both of them started to "wrastle" which involved both of them "pelting hands". Further, after they left the toilet, she came at him with a stick, which he pushed away after she tried hitting him for a second time. He said he told her that he wasn't in anything with her and then he went home. Later at the hospital, Wright noted that she didn't talk to him.
The sentencing is adjourned to today, June 4, so that Wright's previous criminal record may be consulted.
"It's a bit worrying to me, that in his mind, he's still with you. I don't understand these men at all. He beat up the woman on the 20th of April, and today is the 3rd of June, and in your mind, she's still your girlfriend," Burnett commented.
The matter was prosecuted by Corlene Samuel.