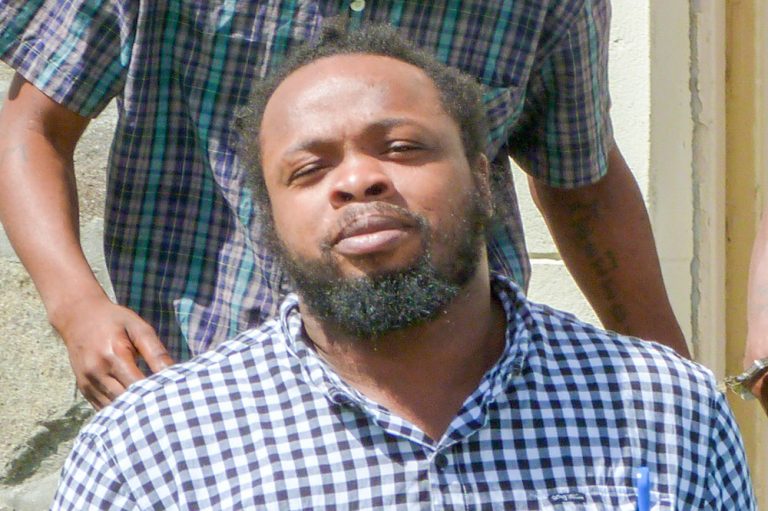 From the Courts
April 18, 2019
Prisoner jailed for eight years for causing paralysis of fellow inmate
A prisoner who beat a fellow inmate, causing him to become paralysed from the chest down, has been sentenced to eight years incarceration.
Yesterday, Justice Brian Cottle remarked during the sentencing of Jelani 'Bolo' John, who was found guilty of grievous bodily harm with intent, that provocation is not a defence for the charge. However, he also concluded that the victim, Damani 'Damo' Williams, was the "co-author of his own misfortune."
The offender, 32-year-old Jelani John, was in the prison cell 'Star Class 1', or informally called "the zoo" on January 26, 2017. 'Damo' was also a prisoner in this cell, along with at least two dozen others.
The argument between the two began after 'Damo' went to the bathroom twice, and passed through John's Domino game with other inmates. The victim did not have to go anywhere near the game to get to the bathroom.
On one occasion, 'Damo' sprayed water on 'Bolo' and on the other he was said to have hit 'Bolo's' foot. On both occasions 'Damo' was asked to apologize. He did not apologize but apparently replied with expletives and threats. He also apparently said things that implied he worshipped Satan.
The prison authorities told 'Damo' to calm down, but he did not. The 'Godfather' of the cell, "Daddy P" or Malcolm Polin, also told them that he didn't want any fighting in the cell.
After the second occasion, 'Damo' had bent down to spread his blanket to go to bed, and with his back turned, John fetched a broomstick/mopstick. He beat 'Damo' with the broomstick until it broke, and then he used a wrestling move he called 'the spade' to toss 'Damo' over his shoulder more than once.
'Damo' landed on his head and received an injury to his spine. He lay on the floor of the cell in a lot of pain, for what he said was half an hour, before he got assistance. He is now paralyzed from the chest down.
'Bolo' John was convicted after a full trial. He was prosecuted by crown counsel Karim Nelson and Rose Ann Richardson.
John, who had represented himself and carried a stack of papers always, asked the judge if it was against the law to threaten persons and impose unwanted bodily contact. He was told that it was. From this he posited that the other man was the aggressor, and asked for the court's sympathy.
Cottle saw no reason to deviate from the court of appeal's instruction to start at 10 years imprisonment for such cases.
"This prisoner inflicted the injury by throwing the complainant to the floor over shoulder height, in succession. The result was a severe injury, and permanent paraplegia. I am not persuaded that the prisoner displayed remorse for his attack," he listed, commenting on the aggravating features.
In mitigation Cottle noted that 'Damo' Williams had initiated confrontation and persisted in his use of threatening language. He also said that 'Damo' was the co-author of his own misfortune.
Considering all of this he moved downwards by three years. However, with previous convictions, the sentence moved up again by one year.
However, from the final sentence of 8 years, the time on remand, two years, one month, and 14 days was subtracted, leaving 5 years 10 months and 2 weeks.
"You may be provoked but you must not do wrong to answer wrong," Cottle told him.