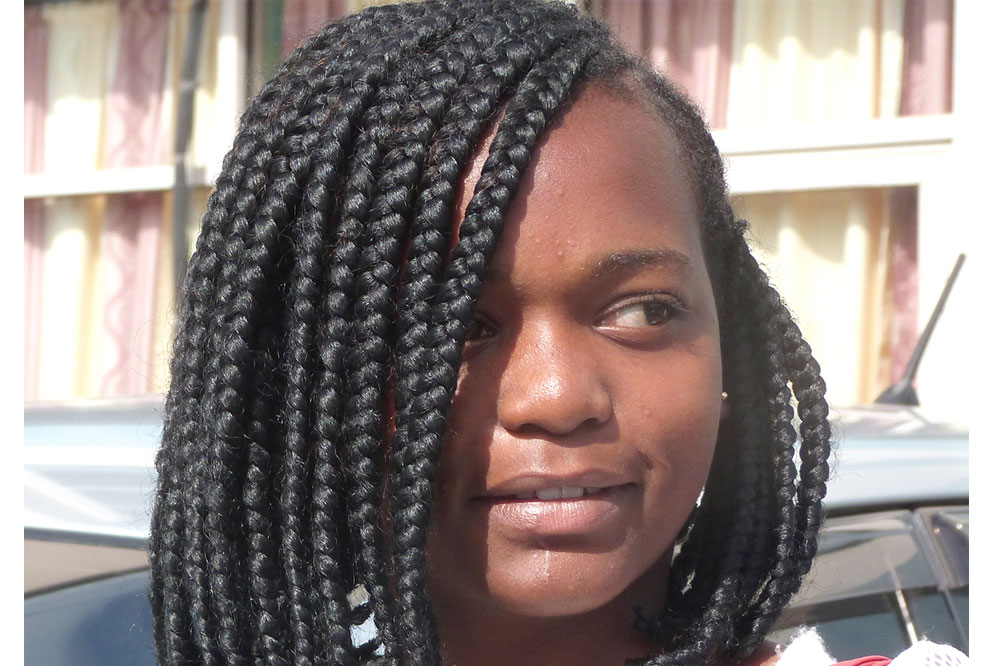 From the Courts
July 17, 2018
'She wanted to kill me,' says teen with slashed lip
A broken kitchen knife lying in evidence, and a former college student alleging that it was used by the young woman opposite her to cut open her lip.
This was the scene in the Kingstown Magistrate's Court last Friday as the dissection in a case of unlawful wounding began.
Chante James, of Old Montrose, had been charged with wounding Sakiana John, of Lowmans Leeward in March, but the trial only began last week after a long adjournment to facilitate John's exams.
Whatever history the two had, before it seemingly became bloody, was also exposed before the court.
The two, it seemed, knew of each other through their associated with the same man, who is John's current boyfriend. James had, John said, had something with her boyfriend in the past.
The virtual blows had begun on Instagram. John under cross-examination by defence attorney for James, Carlos James, stated that the young woman had sent her a follow request on Instagram.
When James apparently posted a screenshot of a conversation, John became upset because it was "something pertaining to somebody close to me," which she later said was her boyfriend.
John was asked if she had posted a nude photo of the defendant in retaliation, which she emphatically denied, explaining that the photo was edited to conceal the private parts.
James had also apparently appeared at the college a week before, wanting to speak to John, who did not want to speak to her, she said, because of her "mannerisms."
Recounting the incident, March 28, John said that she was on her way to her mother's place of work, in the company of an old school friend Jézell Prescott.
Opposite the Bishop's College, they said that they saw James staring and mumbling in their direction.
John then apparently asked her what she was saying, and James supposedly told her that she felt she was "bad" because she had a friend with her.
James, who John said was in company of a small child, allegedly told the child to sit down on a nearby flower pot.
John then turned to her friend saying, "see how she behaving," and told James, "When you see me, please do not interfere with me."
Her evidence detailed that she was attacked suddenly from behind, and it was when she turned around that she glimpsed James pushing her bag behind her, and unwrapping a black cloth surrounding a knife.
The evidence further detailed that the defendant was shouting "girl, girl" while charging towards her.
After her lip was cut, John said she stood still before pushing James into the corner when she came to herself again.
She spoke of receiving two more cuts, one below her right eye and one in her head, as a result of James wielding the knife above her head.
In order to get the knife away, John said that she cut four of her fingers by holding the blade, and that she threw the knife on the floor.
"She wanted to kill me," John said.
Carlos James went down a line of questioning, putting it to John that she had approached James and that there was a scuffle before the knife came out.
"I did not fight her, she came to me," John said, insisting that she had been minding her own business.
The defence attorney asked John's friend, Prescott, whether or not the two were in a tangle, to which she stared calmly back at him before replying, while wiggling her shoulders, and not breaking eye contact, "yes, they were having a little tangle."
The third witness to take the stand was a justice of the peace who was sitting in his vehicle at the time of the incident, and apparently parted the two ladies. He said that James spoke to him after the fact, and told him that John had been threatening her. He also said that James said to John, whose blood was running, "Don't mek your blood spout on me."
On the fourth witness, an adjournment was requested as full disclosure had not been made to the defence, with regard to the caution statement.
Attorney Carlos James said it was his first time hearing about a caution statement, but Prosecutor Corlene Samuel said that he had read the document already.
The matter was adjourned to July 24, to facilitate travelling schedules and disclosure.