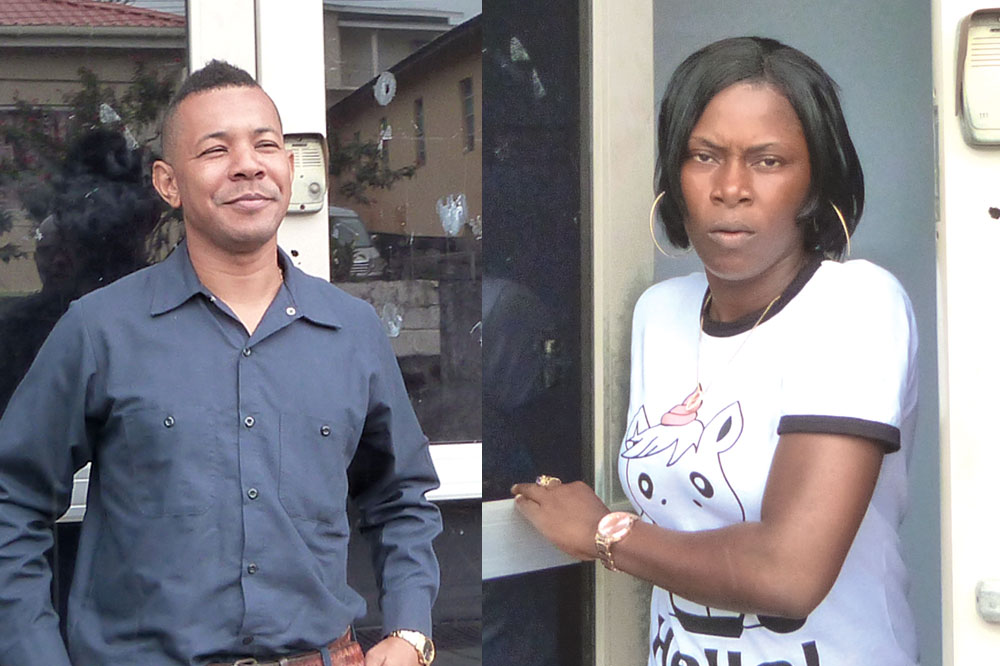 From the Courts
June 22, 2018
Young woman charged with threatening journalist's life
THE COURT WILL rule next week if a young woman is guilty of threatening a journalist's life. Shanet Williams of Layou is charged that on October 20, 2017, in Kingstown, she made use of threatening language to Lyf Compton, a senior reporter at SEARCHLIGHT.
The words Williams is alleged to have used are: "Wait 'til Cocoa come out. Yo' go see. Ah go mek he kill yo."
Colin 'Cocoa' David, who is Williams's fiance, is incarcerated.
When the trial began on Monday, the first to give evidence was Compton, who said that on October 19, the day before the incident, he was at court taking pictures in his capacity as a journalist. He stated that while doing so, Colin 'Cocoa' David, who was there on an attempted murder charge, and, who he knew was in a relationship with Williams, said he would spit on him for taking his photograph.
Compton said the following day, he was passing Williams on the side walk of the Building and Loan Association headquarters in Kingstown.
"She began cursing at me, telling me that I was wrong to try and take his (David's) photograph," Compton stated.
"She began telling me that when David comes out of prison that she will make him kill me for that, and if she had a knife she would stab me," he continued.
The journalist said that after an exchange of words, he went to the police station to make a report.
Describing Williams, he indicated that she was 'loud' and 'very aggressive', and describing his own feelings, he stated, "Me, knowing the kind of person David is, it's kinda upsetting."
Defence attorney Roderick Jones, among other things, submitted that Compton first called to the defendant and referred to her as a 'demon,' to which Compton responded that there was "absolutely no truth to that."
Jones also inquired about Compton telling Williams that he had a licensed firearm, "Yes I told her that, so that she could stay away from me," he responded.
"She threw threats…I said what I had to say and I backed off, and I went to the police station," Compton told Jones under questioning.
The evidence of the police involved in the case followed this, and could have resulted in the case being thrown out. This was because the police had not, as is apparently the norm, taken a statement from the defendant before the matter was put in court, and the case had proceeded solely on Compton's statement.
"What a justice system," Jones had intoned.
Although senior magistrate Rickie Burnett was not pleased at the way this was done, he ruled the following day that there was a case for the defendant to answer, and dismissed Jones's no case submission.
When Williams took the stand on Tuesday, she said that all events took place on the same day, October 20.
She spoke of an interaction at the court where she accused Compton of writing a false article on her fiancé, and said that she would sue the next time "y'all write them fast article about Colin."
The defendant presented a few differences in her evidence, saying that Compton was first to approach her, repeatedly calling her a demon.
Williams said that she was asked "You feel Cocoa alone could shoot?," and at the end of the exchange of words, that she was told, "Girl f**k you. Girl remember I have f**king license gun eh?"
Under cross-examination by Prosecutor Corlene Samuel, Williams denied making any threats, and denied saying she had a knife.
Samuel asked, "Out of the blue he (Compton) came and called you a demon for no reason at all?"
Williams said that this was so and, "If he know the truth he should talk the truth in courts, becah he know exactly what I'm saying is the truth. I would not come to courts and tell a lie your honour, I swear on the Bible. I would not." She gave similar responses on a few occasions.
The defendant reluctantly responded to a question about her fiancé, revealing that he was on a gun charge. When asked if David had any other charge other than a gun charge she responded, "No- yeah." "What was it?" Samuel asked. "Murder" Williams replied.
Both sides made closing submissions while summarizing the facts as they believed it to be. The prosecution said that a case showing threats made to instill fear was made out, and the defence saying that the evidence of the prosecution had not shown this.
Burnett, in his usual fashion, noted that after reviewing everything, he would give his decision at a later date, this being next Tuesday, June 26.