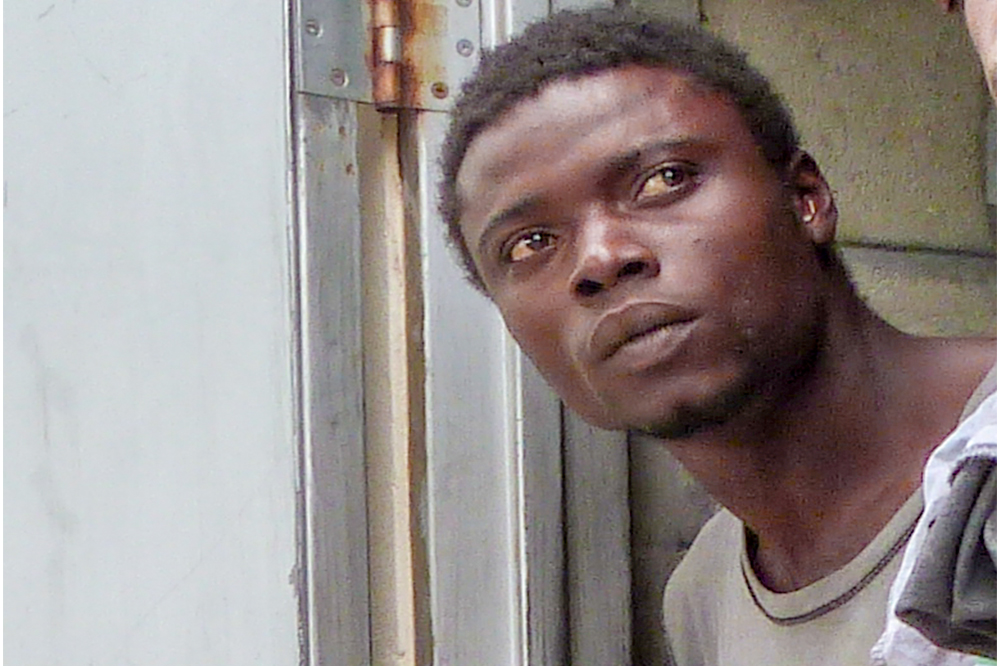 From the Courts
June 12, 2018
Enhams man jailed for three years on gun, ammo possession charges
An Enhams man decided to cook up trouble by keeping a gun he supposedly found on the beach at a cookout, and thus will likely be 30 before he finds himself out of prison.
Uroy Lewis, who is currently 27 years, was charged that he did, on June 4 in Diamond have in his possession a Smith and Wesson semi-automatic revolver, serial number unknown, without a license.
The firearm was loaded, and therefore Lewis was charged with being in possession of 13 rounds of 9mm ammunition, without a license, as well.
The Serious Offences Court went on pause as Lewis weighed his options when his first charge was read to him, unable to come to a conclusion on his plea.
The defendant smiled at Chief Magistrate Rechanne Browne-Matthias, and gave a long sigh.
"Not a soul to pressure to you, think about it," Browne-Matthias told the stumped defendant.
"Zone out everybody else," and decide, she told him.
He wanted to call somebody to consult with them, so the matter was stood down for a while, Lewis asking the police officer if he had credit.
When he came back to the stand, Lewis pleaded guilty.
The police indicated that they spotted the 27-year-old at the side of the road in Diamond, with a blue backpack on his back, while they were patrolling. A search of this backpack revealed a silver and black Smith and Wesson, containing a magazine with 13 bullets. When cautioned on his possession of the deadly weapon, Lewis apparently said, "Officer is find I find it down Brighton Beach." Lewis had no previous convictions before this one.
After a pause, wherein Lewis again seemed unsure, Browne-Matthias decided to inform him that, "Let me just let you know, this is an extremely, an extremely serious offence, these are extremely serious offences, for which the maximum penalty – seven years imprisonment, or $20,000 in fine, or both."
Lewis gave the fastest response he had given yet in the courtroom, the words asking for a fine shooting out of his mouth.
He said he found the gun on the beach, when some people were there having a cook up.
The Chief Magistrate, in an effort to 'work with' the defendant's story asked, "You found it on the second of June. You know where the RRU base is? You know where the RRU operate from in Diamond?"
Lewis said that he did.
Browne-Matthias asked the Enhams man, "Okay so you have to pass there, so you pass there to go home on Saturday? You nah pass there?"
"Your honour I-I," Lewis stammered.
"You pass there? I didn't stutter when I spoke to you…you pass there to go home on Saturday?" the Magistrate repeated.
Lewis said that he had passed by a shortcut to get home. He said he spent Sunday working, but it took another couple times asking him where for him to give a relevant answer.
Since the answer was Fairhall, Browne-Matthias asked him if he went to the Calliaqua police station, but was given no answer.
Lewis said that he had not been walking up and down with the gun, and that it was only when he was going to carry it to the police, that they came and met him with it.
"You must be the most unlucky man in St Vincent. The minute you going to carry it in, police come the same time," the Magistrate said, while the defendant repeated 'same time' at the same time as she said it.
The defendant said that that was correct.
"Ain't that something? Mhmm?", Browne-Matthias mused, continuing, "These people (the police) are telepathic, they thinking and seeing your mind and all ah that."
The Chief Magistrate informed him that she didn't believe him, and that a fine was not an option for the serious offence.
She handed down a sentence of three years for illegal possession the firearm, and one a half years for the ammunition, to run concurrently.
"You have many more years ahead of you so you have the opportunity to serve your sentence and come out and do something positive, there are many opportunities in prison, utilize them well," she ended.