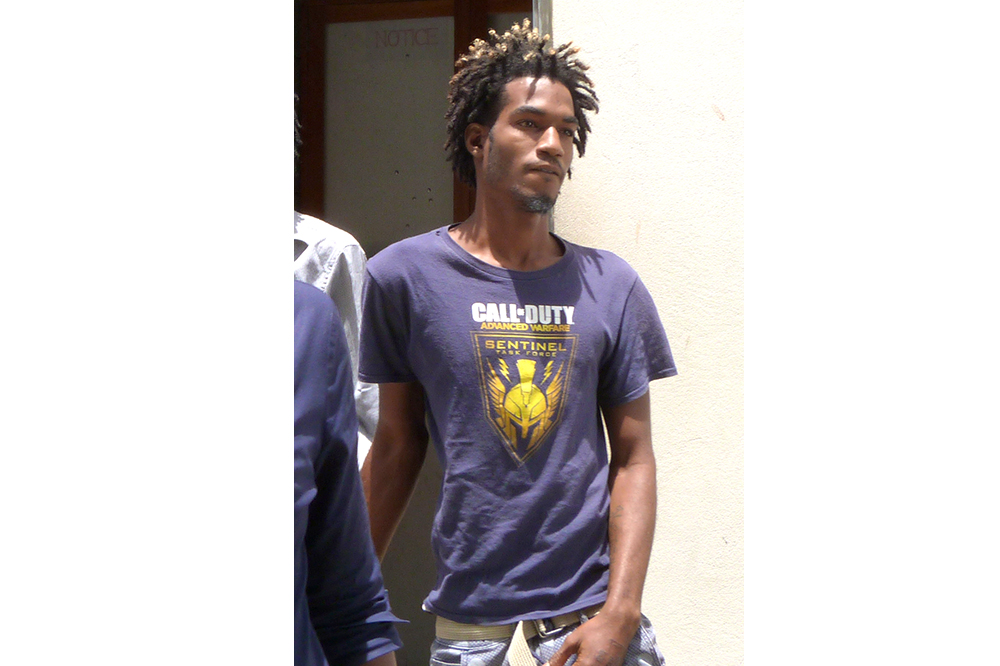 From the Courts
May 8, 2018
Foul mouth lands man in trouble with magistrate
A verbose young defendant tried his best to use words to get a light penalty for the indecent use of other words towards a prosecutor when he came before the court.Shanley Gumbs, 22 years of Park Hill, was to be charged with two offences before the Serious Offences Court, but the prosecutor withdrew one charge against Gumbs after he pleaded not guilty.
Therefore, the young man was charged and pleaded guilty to using indecent language to prosecutor Delroy Tittle on May 3.
The words he said to Tittle were "You get f**king bad mind."
The incident happened while court was in session at Georgetown, when the defendant took the stand to answer two new charges against him. He was also said to have two other matters in court.
When Tittle made an application to have him remanded before the next court date, before Magistrate Bertie Pompey could say anything, Gumbs chimed in with his colourful language. After having to be escorted out of the court room, the defendant was arrested and charged.
Gumbs gave a long account of all his thoughts, starting off with appealing to Chief Magistrate Rechanne Browne-Matthias.
"Me not the best person…I try my best to stay out of trouble," he intoned, but saying that they are always bringing him back to the police station.He then began to speak of one of the matters he had in the court with another young man, and stated that the "boy" was always troubling him, and he was always reporting it to the station.
The Chief Magistrate told him that he did not need to tell her about that, but the defendant insisted that he had to explain.
He continued that the guy involved went to the station, told lies on him, and the police charged him.He indicated, "Now me have a so called aunty," who assumedly was the woman he was openly glaring at in court.
He stated his displeasure with her as well for going down to the police station with, "all kinda going on. You think it right?" he asked."You feel that you were wronged but what did that have to do," with his use of the language to Tittle, the Chief Magistrate queried.
"I had bail," the defendant said, "Just once I didn't show (up for court)…last one I didn't show.""You were sick? You forget?" asked Browne-Matthias, "No Ma'am," Gumbs answered firmly. The Chief Magistrate continued, "You just decide you're not going?""I didn't know!!!" the defendant claimed, saying that the Colonarie Police station was supposed to tell him.Finally, after Browne-Matthias reminded him that the language was inappropriate, the defendant got to the heart of the matter. "The reason why…the prosecutor know I talkin truth," he claimed Tittle had said he would tell him about the court date."The man ah see me every day.
Every day me wake up. Every morning me ah see e go work…so the man can't say that Thursday go courts?," he stressed.He said he never told him anything, but told him he was lying.Browne-Matthias reiterated that the language was not appropriate and asked Gumbs if he couldn't restrain himself."Yeah but…it came out and I kinda regret…," Gumbs admitted."So you regret?" the Chief Magistrate asked.
"Me nah must regret…look where me reach? Just because ah word," Gumbs said, "Jail ain nice…Jail is not ah nice place."Browne-Matthias chided the defendant saying that he needed to practice more self control, but saying that she could not make it okay to speak to the police officer like that.While saying that the defendant did acknowledge that he was wrong, she told him that he was too hot tempered.She chose to fine the defendant $400.